'Happy Days' Exec Who Nicknamed Fonzie and Had Him 'Jump the Shark' Dies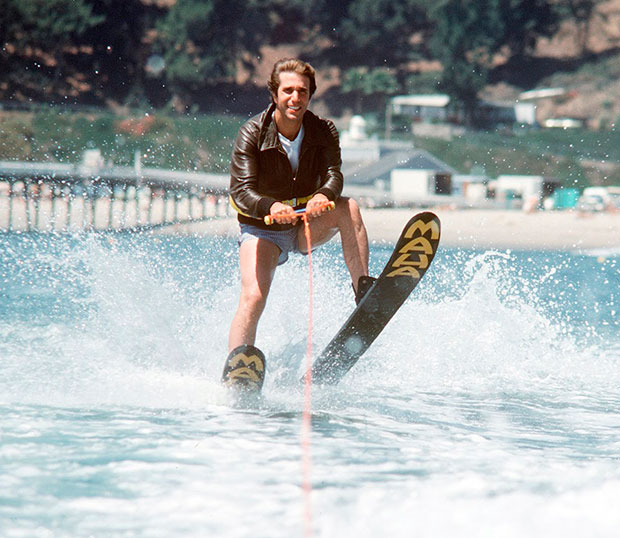 It's one of the most infamous, and dreaded, phrases in the pop culture lexicon: "jumping the shark." The moment when a TV show veers irrevocably into decline. Now, the man who gave us the phrase, by literally having Henry Winkler's Fonzie jump over a shark on waterskis, has died.
Bob Brunner, a writer-producer on ABC's Happy Days, who also served as showrunner at the time of the "Jump the Shark" episode, passed away after a heart attack at his Northridge, Calif. home on Oct. 28. He was 78 years old.
Brunner's ongoing relationship with Happy Days creator Garry Marshall began when the two met as copy boys at The New York Daily News in 1959. Breaking into showbiz as a publicist for Louis Armstrong and Tony Bennett in the early '60s, he reteamed with Marshall when the TV producer launched Happy Days in 1974. Brunner would not only go on to write 15 episodes and produce 37, he would invent the iconic nickname of smooth, grease-haired biker Arthur Fonzarelli: "Fonzie." He also coined Fonzie's trademark line "Sit on It!"
But for pop culture aficionados today, one contribution of Brunner's may tower above the rest. In 1977, while serving as Happy Days' showrunner, Brunner planned a three-part season premiere to transport the action from the series' usual Milwaukee milieu to Hollywood. While in Tinseltown, Fonzie would take part in a screen test that involved a water-skiing challenge against a local kid. To seal the deal, he'd have to jump over a shark in a netted pen–all while still wearing his black leather jacket, of course.
Former Happy Days writer-producer Fred Fox Jr. wrote an article for The Los Angeles Times in 2010 in which he defended the "Jump the Shark" episode and attributed the idea to Brunner. "My friend Brian Levant, then a talented new member of the writing staff, believes that Garry Marshall, the show's co-creator and executive producer, and Bob Brunner, the showrunner at the time, made the suggestion. But what I definitely remember is that no one protested vehemently; not one of us said, 'Fonzie, jump a shark? Are you out of your mind?'"
Brunner would go on to write for Laverne & Shirley and Diff'rent Strokes, among others. He is survived by his three children and six grandchildren.
[Photo Credit: ABC]
More:
'Arrested Development': Henry Winkler to Appear in Season 4
Gary Collins, Actor and Host, Dies at 74

Lady Gaga Dons Strapless Bikini Top, Waves to Fans in Brazil (PHOTOS)
(Celebuzz)