'Happy Endings' Recap: 2013 Is Going to Be a Happy Year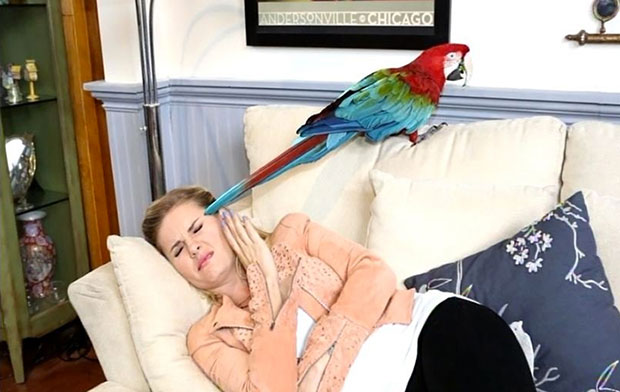 January is a time for reflection. A time to think back upon the past year, to assign merit to the 365-day conglomeration through which you trudged and toiled all in the hopes of getting one step closer to that new Lazy Susan for the backyard patio. B
ut when we take our dear, departed 2012 into consideration, we might find the results unnerving. Of the 52 weeks to comprise the year in question, only about three of them (and that's rounding up) could be described, in any fortuitous way, as happy.
A mere 19 nonconsecutive days out of this latest Year of the Dragon amounted to whatever semblance of joy with which American public has not yet become entirely desensitized.
Delivering a pure, simple, heartfelt expression of comedic wealth, the ingredients of this scattered fortnight-and-change can be referred to as Happy Endings days — those incomparable calendar marks bearing that oh so special 30 minute period during which an otherwise unfathomable bliss overtakes all caught in its beam, courtesy of the good minds at ABC.
And courtesy of the clearly improving minds at ABC, 2013 will up the ante on its bestowal of glee, as Happy Endings is now set to air two nights a week.



The first new episode of the week, and of the year on the whole, broadcast on Sunday, instilling within anyone overwhelmed by January depression or just good old winter madness the good faith that 2013 is worth tolerating, if only for these semiweekly half-hour spurts of jubilation.

In keeping with its perfect pattern of revisiting old sitcom tropes with an inscrutable flare, the latest ep transforms two very old hat scenarios into fresh, vital displays of postmodern comedy.

The Destruction Coverup

The old joke: One or more parties (Brad and Penny) inadvertently destroy something precious that belongs to their friend (Alex), and go to extreme and manic lengths to cover up their transgression, usually to discover that the friend in question doesn't care all that much about the thing to begin with… or, in some cases (including this one), is actually at fault for its destruction.

The new twist: Brad and Penny accidentally smash a beloved ceramic plate of Alex's… and in attempting (successfully) to glue to back together, they accidentally kill her pet parrot, another misdeed they must then spend the bulk of the episode covering up.

Shows that have done this before: The Brady Bunch, The Golden Girls, Saved by the Bell (twice), Three's Company, Hey Arnold, Community (in a surprisingly conventional fashion).

The Happy Endings touch: It's not easy to take such a well-tread territory as this storyline and make it as funny as this episode of Happy Endings does.

But the humor can be accredited to the unparalleled commitment by Damon Wayans, Jr., and Casey Wilson in their peril over the discovery of their unintended bird-killing. Additionally, the return of Tyler the bigoted parrot is a sure-fire win.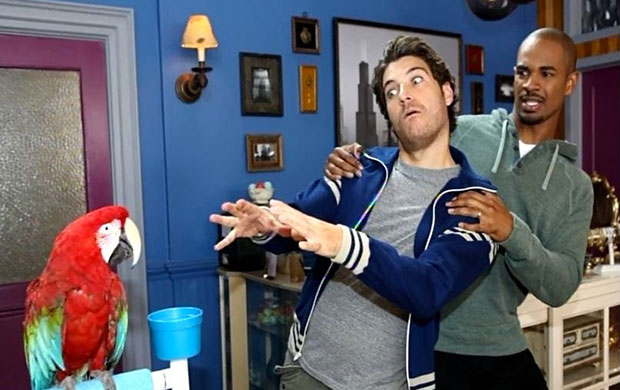 The Setup Competition

The old joke: Two or more parties (Dave and Jane) compete in a mission to find the perfect suitor for a third friend (Max), usually supplying inadequate dates for said friend, and perhaps even leading him or her to a third party.

The new twist: Both Dave and Jane unwittingly attempt to set Max up with carbon copies of themselves — Dave's date for Max is a painfully laid back, John Mayer-loving musician, and Jane's is a fatally uptight and obsessive-compulsive aggressor.

Shows that have done this before: Friends, Cheers, Frasier, Seinfeld had a variation.

The Happy Endings touch: The humor in this storyline comes from our pure affection for these characters. Watching Dave match wits (or lack thereof) with a Dave doppelganger, and Jane teaming up with a man-Jane in the pursuit of Max's love will fuel nonstop laughter for any time-tested fan of the show and these people.

All that and a historic cold open featuring a wordplay battle royale, and a call to attention of just how obnoxious these people would be to actually sit near in a public eatery, make for a great start to 2013. And the best part: the next new episode is Tuesday night!

ABC, you're a wonderful enabler.

[Photo Credit: ABC]

More:

'Downton Abbey' Premiere Recap: Getting Mary-ed

'Revenge' Recap: Absolute Power Corrupts Absolutely

'The Biggest Loser' Premiere: Are You Glad Jillian Michaels Is Back? — POLL

'Texas Chainsaw': Top 5 Leatherface Kills (Moviefone)

Quentin Tarantino's Most Bad-Ass Music Moments (Moviefone)