'Happy Endings' Recap: A Nearly Perfect Episode of Television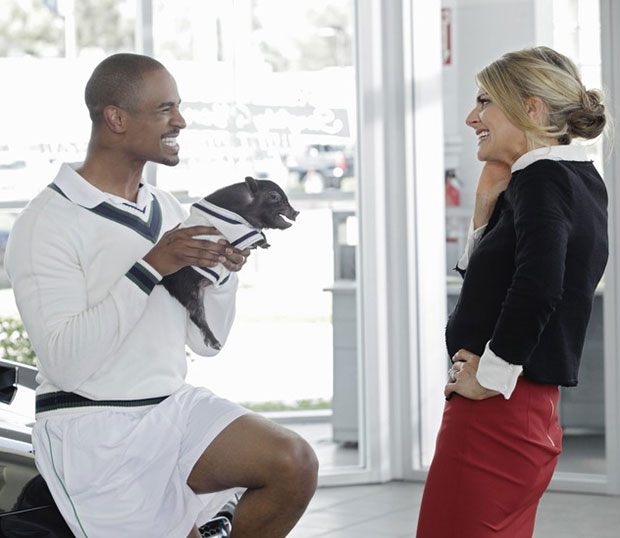 What makes an episode of television work? What has made The Honeymooners' "Better Living Through TV," Mad Men's "The Suitcase," and oh so many episodes of Seinfeld stand out as memorable and important contributions to the medium of small screen storytelling? The cases vary altogether — not just between the genres of comedy and drama, but within them. If there is an established formula for a perfect episode of TV, it has not yet been made public… although, rumor has it that Joss Whedon locked it in an underground safe long ago, and that J.J. Abrams has been hot on its pursuit ever since.
I'm not going to assign the historical significance to this week's episode of Happy Endings, titled "P&P Romance Factory," that has been upheld by the aforementioned television greats, as well as by many installments of I Love Lucy, M*A*S*H, The Sopranos, and plenty of other hits. It's not in the realm of quality that Happy Endings falls short of such shows, but in reach. Not a lot of people watch it, or even know about it. And although everyone who happens upon it seems to enjoy it, the show doesn't engage the cult mentality that other low-rated comedies like Community and Arrested Development have. This is because Happy Endings isn't out to accomplish the wide spectacle of tasks that Dan Harmon and Mitch Hurwitz have with their programs. It doesn't delve dark, experiment too much with format or structure. It doesn't look to develop anything remarkably new. What the show does do, though, is perfect the established.
Two of Happy Endings' three plotlines this week are sitcom staples so worn, you can likely predict every step of the action upon the stories' inceptions. First, we have Penny, who takes on the "Keeping a Secret from a New Romantic Interest" shtick that has been done by every half-hour comedy from Three's Company to Boy Meets World to Friends, and so on. Her secret: she has to wear a helmet for a month as a result of a concussion incurred from falling down a flight of stairs in the season premiere. Her romantic interest: Pete (Nick Zano), a nice guy who plays along with all the odd helmet-appropriate dates she forces upon him (segway tours, moped safety classes, picnics on construction sites) as a guise for the real reason for her skull-protection.
Next, Jane and Brad, plunging into the well-worn tradition of "One Spouse Sells Out Other Spouse to Gain Popularity at Work." In order to fit in with her alpha-male chauvinist coworkers at the car dealership (a pack headed by Rob Corddry), Jane jumps on their wife-mocking bandwagon by joking about Brad's expensive tastes and candle-making hobbies and all that jazz — the sort of thing her colleagues find fault with in their own better halves — riding the wave of popularity until Brad finds out what she has been doing. His response: going full on "trophy wife" at Jane's place of work, complete with vociferous cell phone chats, sprawling about on the hood of a car, and the purchase of a tiny, like-dressed pig.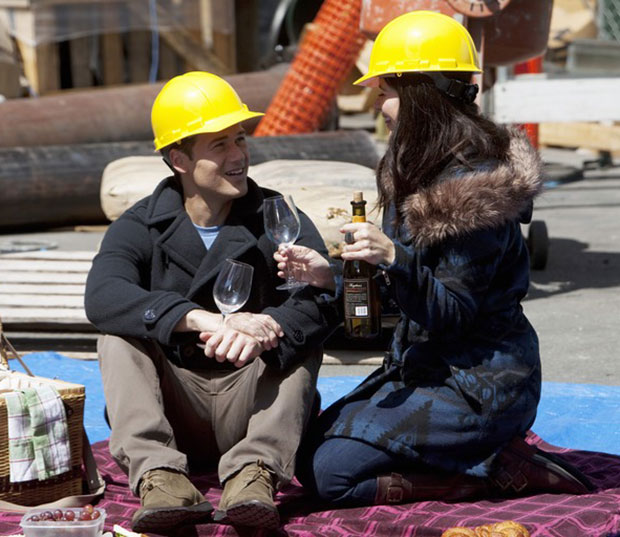 As expressed, neither of these plots is one we haven't seen before, many, many times. But that simple fact doesn't rob the episode of its humor. If anything, it invigorates it further: knowing just how many times these antics have played out in the past and still laughing as hard as we do at Happy Endings' incarnation of them is something that can only impress. Happy Endings' revitalization of these tired cliches with its incredibly animate, colorful characters proves that it has more to it than just well-timed ideas.
It's almost as if the writing staff sorts through a sitcom portfolio — file folders of wacky misunderstandings and relationship high jinks — picking one or two out every week upon which to work their magic. "Remember when Felix Unger, Will Truman, and Balki Bartokomous accidentally misplaced their roommate's favorite whatever? Well, let's do that with Max and Dave!" And it always works. Why? Because the people behind this show don't appear to be interested in pointing out the maladies of sitcom history, but in pointing out the majesty. Happy Endings loves its predecessors, and wants to honor them by upholding, and perfecting, their glory. And it does, week in and week out.
But Story No. 3 of the latest episode proves that this show isn't just running the well dry. It has plenty of original tricks up its sleeve, such as a furtively odd story about Max being denied a fist bump by a fellow in a bar, which triggers memories of childhood trauma — a heartbreaking flashback of young Max falling victim to a dastardly "down-low-too-slow," which then (yes, there's more!) overwhelms Dave with a cloud of guilt as he believes himself to be the original creator of the "down-low-too-slow" phenomenon. It's all extraordinarily bizarre, complicated, and utterly meaningless. And it is by far the funniest thing I've seen on television in weeks.
To call this a "perfect" episode of television, to rank it among the company of classic All in the Familys, M*A*S*Hes, and Simpsonses (sorry for that one, I saw The Hobbit last night) will of course incite fury. But there's something magical about Happy Endings, as exemplified by "P&P Romance Factory." Its simultaneous admiration for and irreverence in dealing with the sitcom formula. Its extreme accessibility, yet incredibly challenging wit. Its propensity to master both the television norm and the furthest thing from it in one half hour. Happy Endings might never reach the level of legend that these other shows have, but it certainly deserves to.
[Photo Credit: ABC (2)]
More:
'New Girl' Recap: Trapped in the Closet
'Apt. 23' Recap: Flamenco Boots and Martini Glasses
The Dos and Don'ts of Dating from 'The Mindy Project': Midwives Edition

Harry Styles Spotted Outside Taylor Swift's Hotel Room The Morning After Their Date Night (PHOTOS)

Fall Bikini Bodies: The Good, The Great, The OMG (GALLERY)