'Happy Endings' Double Recap: Why It's Worth Staying in on Fridays For (Week 2)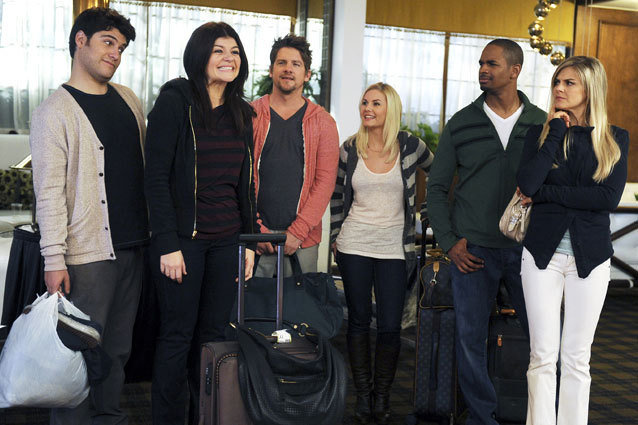 It's Friday night, and you've got options: there's a Jessie Ware concert in town, Jurassic Park 3D is playing at the theater up the block, your friend Brian just made a boatload of salsa. But forget all and any of that. You know where your true loyalties lie: with that Chicago sextet famous for its '80s references and insult pile-ons. You're staying in to watch two new episodes of Happy Endings.
Sure, it might sound a bit more glamorous to hit the town with your non-fictional acquaintances, but trust us: at hoem watching Happy Endings is where you want to be. After all, when you go out with your pals, you're inevitably going to wind up dealing with a conflict of sorts. In a group of friends, two people are bound to get into a fight once in a while. Such is the case for Jane and Alex this week, whose secret catty insults about one another are brought to the forefront when Max begins using their hair stylist and reveals all of the nasty things they've been saying for years. But instead of dealing with the problem in a boring way, like your friends might, Jane and Alex explode in a mass of rage, attacking one another with broken broomsticks in public places. And while your ordinary chums might resolve this issue in a boring, mature way, it is only through the Sister Dance (courtesy of Serbia's own Nana Kerkovich) that Jane and Alex reconcile.
RELATED: 'Happy Endings' Double Recap: In the Heat of the Noche & The Straight Dope
Friends are always asking to borrow things. You'll want to avoid this at all costs, because it's bound to erupt into some cataclysmic array of wacky high jinks, resulting in 30 minutes of pure comedy. Oh, wait, no. That's not real life. In real life, people just borrow things and then return them responsibly. But on Happy Endings, Penny borrows Dave's steak truck to move her armoir, only to have it stolen by a master chef who turns the mobile food emporium into a gangbusters business. Dave, more impressed than anything else, wants to learn from this ingenious artiste… until realizing that he's a sexual deviant who has been defiling the meat of the sandwiches he sells. I bet none of that's gonna happen when your pal Chuck borrows your Chevy.
But that's not all. It's only about half, in fact. There are plenty of other reasons to avoid human contact on Fridays. For instance: your friends' love lives. Sure, one of your nearest and dearest is bound to date someone you don't like. But it's usually just going to be a minor irritation to bear with… hardly worthy of starting a massive food fight over. When Max takes up with the son of Dave's food truck archrival, the Brazilian, Dave feels betrayed. And when Max promises to stay loyal to Dave and end things with the Brazilian, Jr., only to buckle under pressure and reveal Dave's plans to launch his own truck to greatness, Dave feels betrayed-er. But Max makes it up to Dave on the fields of battle, when the Happy Endings crew faces off against the Brazilians in a heated war of projectile vegetables. That is how you deal with your friend dating someone you're not too fond of.
RELATED: 6 Reasons to Watch 'Happy Endings' on Friday Nights
And how about your friends' families? It's always awkward chatting with the father of one of your buddies, isn't it? How about when he shows up after abandoning her as a child, trying to overcompensate for lost time by insisting on paying for her entire wedding? Yeah, never had to deal with that, did you? Well, Jane and Alex did when Penny's deadbeat dad Roy (Andy Richter) comes to town, eager to reconnect with his daughter. It backfires, as things are wont to do in this cracker jack universe, but not without a few strides made between father and daughter.
So that's what you're missing, people with lives. So don't make this mistake again on Week 3. Stay in every Friday!
Also, Brad was there.
Follow Michael Arbeiter on Twitter @MichaelArbeiter
[Photo Credit: ABC]
---
From Our Partners


Hayden Panetierre Bikinis in Miami (Celebuzz)


Every Jurassic Park Dinosaur Ranked From Best to Worst (Vulture)