'Happy Endings' Recap: The Kickball Episode Finally Arrives!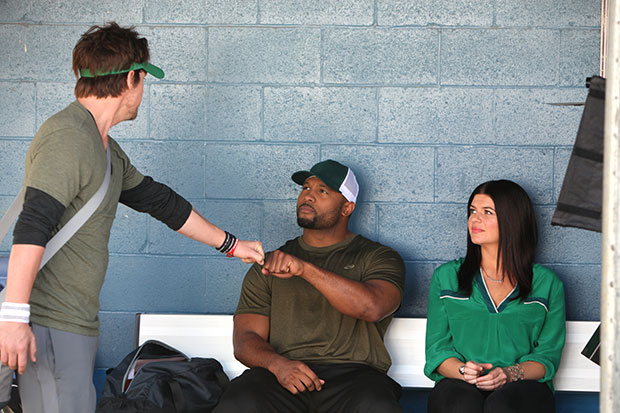 This week, fans of Happy Endings are invited to take a trip back in time. We pay visit to a simpler era, one peppered with Scotty appearances and devoid of Dave/Alex romances. I'm speaking of course about mid-2012, from whence the latest episode of the ABC sitcom originated. See, amid the shuffling and rescheduling of Happy Endings' second season, one wayward episode was doomed to oblivion, never reaching American broadcast during its allotted period of pertinence. But not wishing to let a perfectly good half-hour of television comedy go to waste, the network has opted to implant the ep in Season 3, landing it as the third new entry of 2013.
It's not a terribly uncommon practice, but one that seldom goes off without a hitch these days. In-universe chronology is becoming more and more important a quality for episode management as overarching story is playing a greater role than it ever has among television comedies. But Happy Endings, as proven with the unqualified success of "KickBall 2: The Kickening" (titled as such not to indicate itself a sequel to a past episode, but entirely as a joke concerning events within this week's show), is one of a dying breed.
Those not already aware of the existence of the long anticipated phenomenon that is this "sport"-themed episode might not even notice anything strange about the timeline. The only giveaway is an opening tag that indicates that Alex and Dave have not yet moved back in together (nor do they appear to be dating, although there is no explicit dialogue to call direct attention to this). Other than this, and an ostensible springtime or summertime setting, "Kickball 2" could easily take place one week following whatever the hell these crazy Chicagoans were up to last Tuesday. On Happy Endings, each week is a standalone adventure — sure, the show will occasionally guest cast a boyfriend for Penny, who'll hang around for a few consecutive weeks. Or maybe attention will be called to Brad having recently lost his job or Jane having switched hers. But even newcomers to the show won't be in wanting for more context upon these elements — offhand mentions are all you need to get caught right up.
Two weeks ago, we covered how Happy Endings models its internal structure (episode plots and jokes) after sitcom tradition, borrowing tropes and molding them into fresh, new magic. But the triumph of "KickBall 2″'s timelessness highlights the show's adherence to a dissipating attitude on television storytelling once upheld by each and every on-air sitcom (in the pre-Seinfeld times), and just how valuable an asset it is in the present day. It is so difficult to draw new viewers into the fandom of our television comedies of the utmost quality — those like Community, Girls, Parks and Recreation, and Veep, among others — with precedent warnings like, "You have to start from the beginning!" With a devotion to chronology being mandated in so many of today's sitcoms, it is a rare treat to find a show that is both brilliantly written and capable of being enjoyed from just about any point in the series on.
And so very enjoyable is "KickBall 2," not to mention so very silly. Alex signs the whole gang up for a kickball tournament, not knowing that her hyper-competitive sister Jane has already teamed up with a more athletically skilled troupe of mechanics (sparking some traumatic childhood memories of Jane selling out Alex for a spot onstage at a primate-themed children's program).
So, feisty Alex is left with her scruffy, perpetually inebriated self-appointed manager Max; a heels-wearing, just-in-it-to-meet-guys Penny; bunts-only Brad (they call him Bunt Cake); steroid-addict and all around weirdo Scotty; and Dave, who, thanks to the haunting guilt of having nailed Penny in the face during a past game of kickball, cannot, for the life of him, get on base. And it all plays out the way you might expect — Alex and Jane reconcile and unite, Dave gets over his phobia and kicks a conclusive line-drive (again, right into Penny's face), Brad branches out beyond his bunting fixation, Penny finds "true love" (in a star-gazing Chicago Bears linebacker Lance Briggs, no less), and Scotty suffers the fate of intravenous drug abuse side effects. All in all, everybody has a happy ending. (Hey, wait a minute!)
[Photo Credit: ABC]
More:
'Revenge' Recap: Revengers Assemble!
'Girls' Season 2 Premiere Recap: Theme Night
'House of Lies': Don Cheadle On Marty Kaan's Reaction to His Globe Win, and What's Next

Megan Fox's 12 Hottest Moments (Moviefone)