'Happy Endings' Recap: What Are We Supposed Do Until the Show Comes Back?!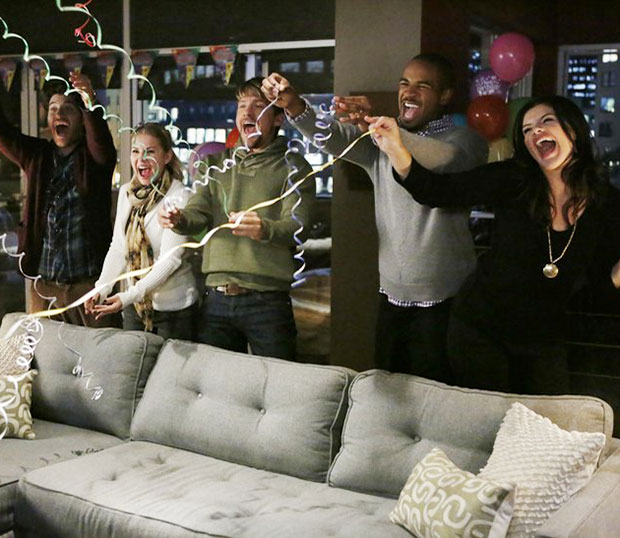 In lieu of the form my standard weekly celebration of the splendor that is Happy Endings takes, I will instead be preparing my fellow devotees of the ABC sitcom for the dark, cold winter ahead of us: the holiday hiatus, during which Happy Endings and its network peers are off the air.
See, the latest installment of the show — appropriately, a Christmas episode (and more appropriately, an anti-Christmas episode… because Happy Endings is a master of putting new twists on old jokes) — is quite the bittersweet exhibition. It reminds us with vigor just how much we need this program in our lives. And with that fresh on our minds, it disappears in a mere 30 minutes, leaving us with no new Chicago-set, rapid fire, pop culture-referencing misadventures within which to invest the entirety of our souls.
So what the hell are we supposed to do in the meantime? How are we supposed to enjoy our Christmases, Kwanzaas, post-Chanukahs, winter solstices, and so forth, when there is a dire absence of all that Happy Endings brings to our lives? Simple: BECOME Happy Endings. Gather your five closest friends — perhaps a sibling, a few pals from growing up, old flames, college buddies, and some dude you met on the set of an unaired The Real World season — and embody the very festivities depicted onscreen this week. Make your own Happy Endings "No Ho Ho" holiday — here's a few tips how to make it work.
First, figure out which Happy Endings character best suits you. Then, act accordingly, based on this week's eps recommendations.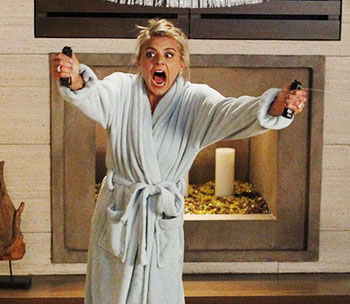 If you're a manic type-A nutjob (Jane)…
Then begin obsessing over how you've been cursed all your life with sharing your birthday with Christmas (even if your birthday isn't on Dec. 25, a true Jane can pull off this degree of self-involvement nevertheless). Then, sneakily guilt your friends and family into throwing you an anti-Christmas birthday celebration. One that will go terribly awry. As such, you should find hospice in a bar full of Christmas babies, all lamenting their tragic lives. But you will also be charged with realizing just in time that your new company is a bunch of crazy people, prone to acts of violence, and you're happier with your screw-up cronies.
If you're a doting and debonair goofball (Brad)…
Take the lead on making your spouse's anti-Christmas birthday a success, despite your idiotic companions' inability to keep a lid on their eccentricities. Go a bit haywire when things don't work out, and then sate yourself with a bag of caramel popcorn.
If you're a marginally psychotic, head-in-the-clouds imp (Alex)…
Set forth with the best intentions of making your sibling's birthday the best he or she can possibly hope for, but become enrapt in your odd obsession with something like opening presents, which suggests some kind of fixation with destruction of purity. Make sure people keep an eye on you, you cannot be trusted.
If you're a selfish adult-child slacker (Max)…
Get really drunk on eggnog. Go to any means necessary to ensure this fate.
If you're an insecure, relationship-obsessed mess (Penny)…
Avoid this anti-Christmas nonsense in large, instead freaking out over what to buy your new significant other. Of course you'll be too tortured by your own anxieties to be able to handle this task yourself, so rope in your old pal.
If you're Dave…
Declare yourself the "gift whisperer" and assist your friend in the retrieval of the perfect gift for his or her new love. Also, consider shaving your goatee, but don't actually do it.
Merry anti-Christmas birthday, everyone!
[Photo Credit: Jordin Althaus/ABC (2)]
More:
'Don't Trust the B—- in Apt. 23' Recap: Create Your Own Bender
'The Voice' Recap: There Can Only Be One
'HIMYM': Nobody Asked You, Patrice! Well, Actually… We Did Ask Patrice!

'A Few Good Men': Where Are They Now? (Moviefone)

Best Mother and Son Movies: 'Forrest Gump' and More! (Moviefone)