'Happy Endings' Season Finale: David Caspe Teases Wedding Wackiness and a 'Big Revelation' For Penny And Dave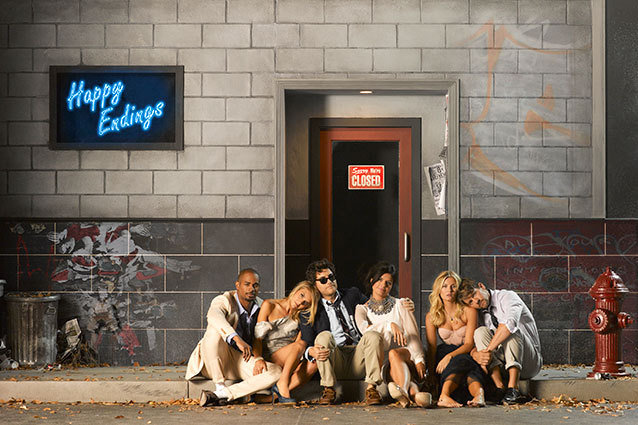 Tonight is the season finale of the best show on TV that you're not watching — so we're going to beg you one last time to tune into ABC's perfection of a comedy, Happy Endings. We chatted with creator David Caspe about all the hilarity and amahzing guest stars coming up in tonight's final episode, and his hopes for Season 4.
The Season 3 finale "Brothas & Sisters" is the second episode of this week's glorious TGIF hour. Every ever Happy Endings fan knows that the season finale always ends with a wedding and this year's nuptials are going to be the best ones yet. A few months ago Hollywood.com was the first to report that the powers-that-be at Happy Endings were searching for a third Kerkovich sister and now we're finally going to meet this mysteriously perfect woman just in time for her wedding bells to ring.
Caspe explains, "Stephanie March comes in as the third Kerkovich sister and she sort of out Janes Jane. When she's around Jane sort of melts into more of an Alex-type figure, and Alex gets to remain the cute little baby. Jane has always had trouble dealing with Brooke."
While Jane is running around in a frantic craze trying to be the world's best maid of honor, Brad is not ready to welcome Brooke fiancé into the family. "Brooke is marrying Elliot, played by James Lesure, which kind of throws Brad for a loop," Caspe reveals. "Brad feels like he is the Jackie Robinson of the Kerkovich family — meaning that he broke the color barrier— and he had to deal with all the racist comments from all her cousins and aunts and uncles. And now Elliot comes along and coast right in and Brad doesn't like that."
We're thrilled to see how Penny reacts to all of these wedding day plans considering she recently broke things off with her hunky fiancé Pete. Caspe laughs, revealing that the interactions between Penny and bride-to-be Brooke are hilarious because Penny is faced with something that never ever happens: she is forgotten. "Penny is in the situation they've always been in with their older Kerkovich sister, which is she never remembers Penny. Even thought she's know her since third grade she never remembers her," Caspe says. Goodness, how could you ever forget Penny?!
We're definitely not forgetting that in last year's season finale, Penny realized she may have feelings for Dave — and those feeling are finally going to be addressed. "You'll see the whole Penny and Dave stuff but you've got to watch to find out what happens," Caspe teases. "I will say there's a big revelation in their relationship in the finale." Suh kewt!
Looking ahead we're still keeping our fingers crossed that ABC gives our Chicago-based gang another season (or that USA Network snatches up the group) and so is Caspe. When asked what he would like to see for the Happy Endings characters in a Season 4, Caspe humbly reveals that the cast and crew are just hoping to keep making the show they love.
"Now that Penny is single again, those stories are really fun to write, so we'd love to get back to some of those. We'd love for Max to meet someone serious. He did last year but this year he's sort of had the Year Of Penny for Max a little bit so it's be great for him to have somebody that he really likes," Caspe says.
As Season 3 comes to a close and the fate of more episodes are still in the air, Caspe says he owes all his success to the diehard fans of Happy Endings. "You guys are the only reason we're still on the air. Our ratings are low and our fan base is small but they're rabid and strong so that's the reason why I think we're able to kind of survive," Caspe says. "So really just a huge hank you to our fans and to the critics and I hope that we can keep making shows that they like and that we like."
Follow Leanne on Twitter @LeanneAguilera
MORE:
The 'Happy Endings' Guide To Getting Over Your Ex — Exclusive Clip
'Happy Endings' Moving To Usa Network Actually Makes A Lot Of Sense
The New TGIF: 6 Reasons To Watch 'Happy Endings' On Friday Nights
---
From Our Partners:


Nina Dobrev, Julianne Hough Bikini in Miami (Celebuzz)


33 Child Stars: Where Are They Now? (Celebuzz)