'Happy Endings' Season Finale Recap: I Dujardin!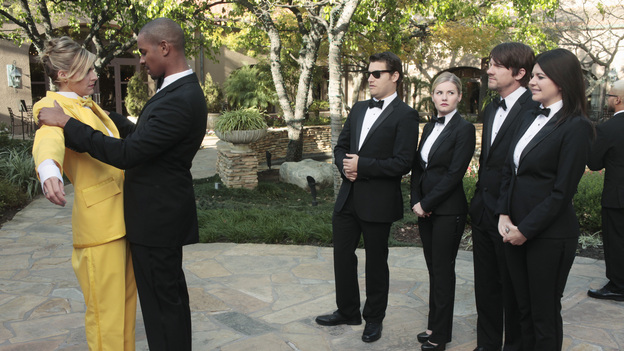 They sure didn't make saying goodbye easy on us, did they? Wrapping up a stellar sophomore season, Happy Endings gave fans a finale that combined all the elements from this past year — lightning-fast humor, self-awareness, saccharine-free sweetness, and Damon Wayans Jr. uncanny ability to churn out a hilarious weekly catch phrase — that made the show so great.
In the episode, titled "Four Weddings and a Funeral (Minus Three Weddings and One Funeral)", the gang geared up for their pals' Derek and Eric's nuptials. ("All weddings are pretty gay if you think about it," cried Max, founder of thingsthataregay.biz.) But, as is the case with any wedding, gay, fictitious, or otherwise, things didn't go quite according to plan.
Brad (Wayans, the aforementioned season MVP) attended the nuptials with a heavy burden weighing over him: He'd just gotten fired from his job. Too scared to tell Jane (who was already dealing with her own dilemma when she discovered she was the only one in the group not in the wedding party) he was forced to scale back on all his favorite delicacies, from milk bath spas to smelly cheeses. ("Make it stiiiiiink!") Of course, Jane eventually found her way into the wedding party (and an exquisite yellow tux that would make the guys from Dumb & Dumber jealous) and Brad found a way to tell his wife the truth.
While Brad and Jane faced an uncertain future, Max had to come to terms with his past when the members from his all-male, Chicago-based Madonna cover band Mandonna (eat your heart out, MaDonald and Material Earl) were slated to perform at the ceremony. Feeling self-conscious about his body, Max eventually threw on his old, incredibly tight duds and performed a rousing rendition of "Like A Prayer." Step aside Glee, this one takes the (wedding) cake.
Of course, no season finale would be complete without a cliffhanger. Depending on whether you're rooting for Dave and Penny (Denny?) or Dave and Alex (Dex…did we get stoned?!) the last few moments probably felt bittersweet either way. Penny, having been dumped by her latest Boyfriend of the Week and engaging in a Skype romance with a long-distance wedding guest (played by guest star Brian Austin Green) was particularly vulnerable when she and Dave exchanged friendly "I Love You"s at the wedding (Hey, we all hear things how we want to hear them when we have a crush, don't we?).
Penny contemplated telling Alex about her feelings for Dave but decided against it, as to not make things even more complicated than they already are. A little too late for that considering Dave and Alex, who already rekindled their romance earlier in the season, wound up exchanging longing glances, a possible kiss (or more?) in their hotel room, and holding hands at the wedding reception. Boy, Brad was right, those two really are the Ross and Rachel of the group. (And Max was, fittingly, Fat Joey.)
While we'll have to to wait to find out the fate of the Alex-Dave-Penny love triangle in season three, there's still plenty to soak in about last night's season two ender. The episode had some of the most sincere moments in the show's run, including Alex's heartfelt chat with Max about his looks, Penny and Dave's heartbreaking mixed messages, and Jane's assurance to Brad that there's beauty in the unknown. But, in the true Happy Endings spirit, it also took potshots at itself ("I don't even know what you're saying half the time, the back and forth, it's exhausting!"), masterful physical comedy sight gags (Max's "gotta poop" run), and on-point pop culture references. ("Sean Penn looks like a Hulk-ed out, 'roided-up John Waters.") No one ever said goodbyes were easy.
The lines and moments from Happy Endings finale that made me happiest:
– Alex's pronunciation of Wilmer Valderrama as "Wilver Valderramo"
– Dave looking suave in a tux is "So Dujardin."
– Jane's hilarious riff on Angie's leg. ("You guys look amazing, I look like an idiot.")
–  Max's declaration: "Eating three meals a day instead of one long super meal? It's disgusting!"
–  Penny's confession that her prom date was "one of those Murderball champions."
–  Brad's backup plan is to become the future first black Sheriff of Mars. Or Arizona.
Were you satisfied with the Happy Endings season finale as well? Will Brian Austin Green simply become another one of Penny's Boyfriend of the Week? Are Dave and Alex back together for good? Sound off in the comments section!
[Photo credit: ABC]
Follow Aly on Twitter @AlySemigran
More:
Happy Endings: The Best and Worst From Season 2
Happy Endings Recap: "Big White Lies"