'Happy Endings': The Best and Worst From Season Two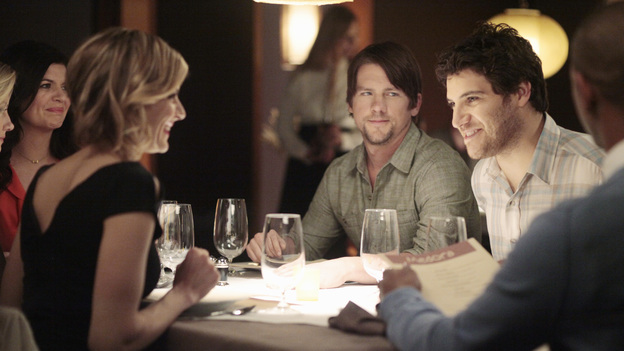 Bad news, fellow whisker basket collectors: Tonight ABC will air the second season finale for the fan favorite comedy Happy Endings. (If your reaction to that information looks exactly like this, I feel your pain.)
The good news is that the show had a vastly improved sophomore season and earned higher ratings as word-of-mouth got out that it's one of television's best kept comedy secrets.  But before we bid adieu (sorry Jane, I know how much you hate the French) to the Happy Endings gang for the summer (don't worry, we'll all visit at the lake house!) let's take a look back and the highs —and very few — lows from season two, aka The Year of Penny.
Best Episodes:
– "The Code War": Brad has a work wife and Jane tries (and fails miserably) to get a work husband, but it's Max and Dave's battle royal after breaking "the code" that made for one of the most laugh-out-loud eps.
– "Cocktails and Dreams": Dave befriends Colin Hanks and inceptions the gang's sex dreams after making a potent cocktail at his food truck. Plus, we all learned what a "whore's bath" is!
– "Secrets and Limos": Penny creates a vision board, Max illegally starts a limo business, and Alex finally made a joke that landed. ("You and your board need to get a room. A board room. Yes!")
Worst Episodes:
– "Full Court Dress": Max and Penny make for terrible babysitters, while Alex tries to pawn off a J. Crew dress to Jane as her own. In a season low light, Dave and Brad befriend a creepy mailman (Rob Riggle) who eventually dies.
– "The Kerkovich Way": Penny and Max compete in a silly pointless scavenger hunt, and Jane manipulates her way into everyone's hearts. Sadly, despite their hook-up in "Cocktails and Dreams," Alex and Dave let fans down and decide to stay just friends.
– "You Snooze, You Bruise": Dave faces down a bully at the gym, while Jane learns to "relax." A bit of a snooze, really.
Season 2 Highlights (Or How I Learned to Stop Worrying and Love the DVR):
– Dave's ballad "Love to the Power of Love"
– Max accidentally stabbing Brad in the leg with a oyster shucker. ("I stabbed you, dude!")
– The gang's Halloween costumes, particularly Max as a baby and Jane as bacon
– Inspired cameos from Fred Savage, Busy Philipps, Megan Mullally, Colin Hanks, and James Wolk.
– The Steaktanic.
– The "Trove."
– Dave's perm. ("Temple Grandin!")
– Dave's permanent desire to feel cool. (Ahem, v-necks.)
– Penny eating floor pie.
– Alex's "Ellen dance." (DJ Alex Haley would be proud.)
– Max holding his horses. Literally.
– Max the Bear.
– Max the "Fat Joey."
– Brad the Bird Whisper.
– "Indecent Proposal-ing."
Season 2 MVP:
This is a tough one. Almost too tough. While Eliza Coupe's type-A lunatic Jane and Adam Pally's slacker king Max were consistently hilarious throughout the season, Elisha Cuthbert's under-the-radar Alex all but dominated the second half of the season. While the entire ensemble (including a top-notch Casey Wilson and an improved Zachary Knighton) fired on all cylinders, in the end, nobody could trump Damon Wayans Jr. and his lovable Brad. Between his flawless execution of physical comedy (parkouring, kicking his leg over people's heads, falling on mousetraps, fighting a bird in his car, a memorable visit to the dentist) and his delivery of gut-busting one-liners ("Them thiiiiiings," "Hold up, that's a husk," "B**ch, it is 5:30!") the devoted husband, friend, and Dinosaurs enthusiast emerged the reigning champ.
Best Lines From Season 2:
– "You're an acquired taste, like goat cheese or Mr. Bean."
– "Remember that time you guys went to pick apples without me and you found Ricki Lake's wallet?"
– "Arbor Day is the Wimbledon of having sex."
– "Good news. Whatever I have is not from the bird I kissed!"
– "TV is nature's babysitter."
– "Guess you could say I'm a knitter with attitude!"
– "I hate kids. And I'm not talking the type I hate that goes away after a series of zany misadventures where we grow to love each other. I'm talking about a blistering hate for them and their creepy tiny little features."
– "[Your hair looks] like John C. Reilly after a kickball game."
– "That place is harder to get into than Obvious Joke Here, that new alt-comedy club downtown."
– "How could you let me out of the house being this fat?!"
– "It could be just like The Butterfly Effect. That one little movie led to Ashton Kutcher doing a lot of bad movies"
– "You guys have fun, because I just got the Criterion Collection of Clueless, so I'll see you guys later. I hope not sporadically."
– "I signed us up for a mini-triathlon. So if anyone asks, we're dwarves."
– "This morning I didn't want frittatas and now if you told me I could never have one again, I would kill you in cold blood, assassin-style"
What was your favorite moment from this season of Happy Endings? How about your favorite character? Sound off in the comments and be sure to check in tomorrow morning for a full recap of the finale!
[Photo credit: ABC]
Follow Aly on Twitter @AlySemigran
More:
James Wolk Talks Max Romance On Happy Endings