'Hart of Dixie' Showrunner on Zoe and George: 'That Might Not Happen… and That's Okay'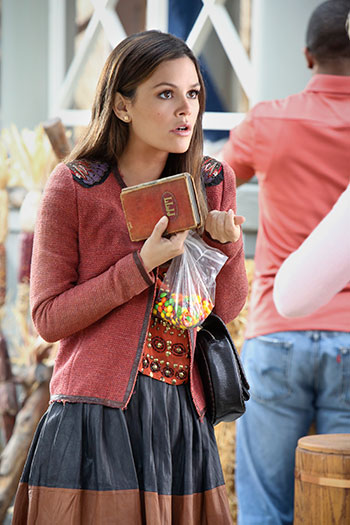 It's been a while since we last saw our favorite CW Southern charmer, Hart of Dixie, and in preparation for tonight's midseason premiere, Hollywood.com got the chance to chat with Executive Producer Leila Gerstein about the back half of Season 2. Get ready for a whole new saga of Zoe and Wade's "fledgling" relationship, as those two crazy kids try to make it work in the only ways they know how. But what does that mean for Zoe and George? And how about the rest of our favorite Bluebell pairings? Read on for all the juicy scoop, and be warned: mild spoilers ahead!
Hollywood.com: The last time we were in Bluebell, a lot of relationships shifted drastically, between Zoe and Wade, Lavon and Ruby, Lavon and Lemon, George and Tansy, Brick and Shelby…
Leila Gerstein: Yeah, it was a big Christmas.
So do we jump back in right away, or is there a time jump?
There is a time jump. I think approximately a few weeks later. So Zoe and Wade are a few weeks into their fledgling relationship. They've been in the honeymoon period and this episode will show their very first conflict and how they're going to deal with that. And Zoe, who has very limited relationship experience, is freaking out because she doesn't want to fight. And so we're going to get a lot of humor from that. And at the same time, Lavon has asked them to play this founding couple in the town's Pioneer Days.
And I'm assuming Zoe will do what she always does and inadvertently mess things up trying to not mess things up?
Yeah, yeah. She has a way of messing everything up, that Zoe Hart. But it will all be fun. And I think it's actually an interesting window into a relationship, because they are opposites and they are going to hit a lot of hurdles. Wade will continue to behave completely irresponsibly, he's going to be completely Wade-ish, and Zoe's going to be Zoe-ish, and they're still going to drive each other crazy. But the question is, how are they going to make it as a relationship? How are they going to drive each other crazy and still care about each other and find a balance of what their relationship is going to be? I think it's a pretty fun episode.
Ever since the beginning of the show, George has always been in the back of her mind as the end game for Zoe. Has Wade finally shifted her focus, or is that still her goal, to end up with George?
I think that for Zoe, she's with Wade right now. We're going to delve back into that question in Episode 12 and talk about it, because I feel like the audience kind of wants to be on board with that as well. It's a really good question. I think that yes, George always was in the back of her mind as the end game, but the more she's with Wade the more she has feelings for Wade. I think she's starting to realize that that might not happen and that's okay.
It's so surprising at how well Zoe and Wade have worked out. In the beginning, it was set up as this big love story for Zoe and George, but now they couldn't be any further from getting together, since she's so happy with Wade.
It surprised us, I would say, as well. We love Zoe and Wade together, [but] by all means I'm not saying that George and Zoe are not going to get together one day, because it is hopefully a long series. But for right now, coming back, Zoe and Wade are making a go of it. And if you stop and think about it, Zoe and Wade, I don't know really what the long-term picture is for them. They're very different. What do they look like in 10 years? I don't know. And at some point, obviously sooner than 10 years, I think that Zoe will have to start asking herself those questions. And the possibility that George is out there is always going to exist.
Was this always planned for Zoe and Wade to test things out, or did it just happen organically as time went on?
It happened kind of organically. We loved them together last year and we obviously did not plan so super much into the future. So we are kind of feeling it out, that there is not necessarily one true love in this show. We are very much feeling Zoe and Wade right now, and I think the audience is feeling it. And we're going with that, and we're going to kind of take it to its natural place this season.
Are there any big reactions from the people of Bluebell when Zoe and Wade finally make their relationship official, or did everyone just expect this to happen anyway?
Everyone kind of assumed it. We don't feel like it's scandalous in any way or anything.
So the only ones who didn't see this coming was Zoe and Wade!
Right, exactly! Yeah!
Let's talk about Lavon now. Is Ruby out of the picture for good now, or can we expect a reconciliation down the line?
Ruby is really out of the picture. For now. For a while. He's taking it really hard for the first episode back, and he's really blaming Lemon. And that all plays out in this first episode back. But he's not going to be moping around for long. He'll get back on his feet pretty soon. And he will find love again.
"He will find love again"… Does that mean good things for Lemon?
In this season, he is going to find out about … well, I don't want to keep him in the dark about Lemon's feelings. He is going to find out about Lemon's feelings. I can't say when or how, but he's going to do that.
And what can we look forward to in tonight's midseason premiere, "Old Alabama"?
Tuesday's episode as a whole is Pioneer Days, so it's a fantastic town event. Everyone is going to be wearing period costumes from the time that Bluebell was founded. And we are going to see George and Brick together working on the Shelby of it all. And Wade and Zoe giving it their first go as a real couple.
Hart of Dixie returns tonight at 8 PM ET/PT on The CW.
[Photo Credit: Danny Feld/The CW]
Follow Sydney on Twitter @SydneyBucksbaum
More:
CW Shows Go 8-Bit In Honor Of 'The Carrie Diaries' Series Premiere
'The Vampire Diaries' Spinoff Details Plus Renewal Odds for 'Supernatural' and More CW Shows
A 'Vampire Diaries' Spin-off Starring Joseph Morgan is in the Works

Megan Fox's 12 Hottest Moments (Moviefone)