Has 'Downton Abbey' Gone Too Far?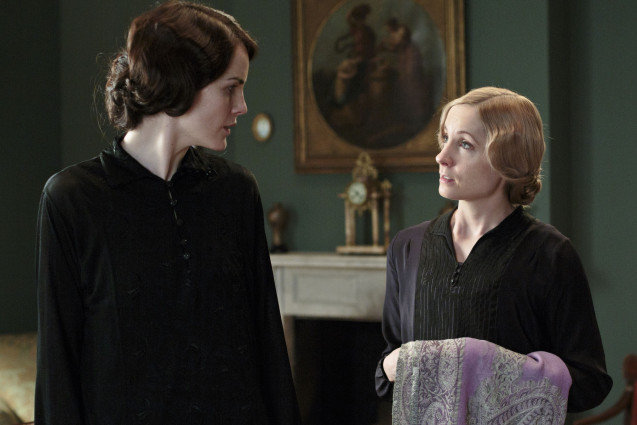 PBS
If you haven't started Season 4 of Downton Abbey  beware of major spoilers.
 There are only two episodes in Season 4 and, so far, we have seen a major character die and one of the series' most lovable characters brutally raped. Matthew Crawley (Dan Stevens) was in a car crash last season and the season premiere proves he didn't survive. In episode 2, Anna Bates (Joanne Froggatt) gets raped by Mr. Green (Nigel Harman), Lord Gillingham's vallet. What's next? Are Mrs. Hughes (Phyllis Logan) and the Dowager Countess (Maggie Smith) going to get into a fight in the salon? Are these topical stories or are they gratuitous soap opera shock moments?
This is a huge departure to some prior storylines. Sure, there have been some scandalous activities at Downton. Lady Mary (Michelle Dockery) lost her virginity out of wedlock to a man who died in bed with her. But the issue was handled more like a comedy of errors and the film Clue than a graphic body disposal. They didn't chop up his body and hide it in a silver chafing dish. Thomas Barrow (Rob James-Collier) did have an affair with a secretly gay member of the aristocracy. But it was more about Thomas' struggles in society at the time. However, Anna's rape was violent and intense. It seemed to come out of left field. Is it gratuitous?
Granted, this is topical for aristocratic society because it is very possible for a rape to go unreported when it's a servant that is raped. However, wouldn't a servant raping another servant be hastily dealt with? It may have been more topical had Anna been raped by a member of the aristocracy. It wouldn't make the crime more permissible. However, it would give a voice to the great number of victims that were raped by members of a higher class and forced to stay silent. Instead, Anna stays silent because she fears Mr. John Bates (Brendan Coyle) will go wild and kill him. Bates may be a convicted criminal but he isn't a murderer. What's scary and unexpressed is if Mr. Bates is so wild and crazy is he beating Anna? If not, why shouldn't she tell someone what happened?
Is Downton Abbey  veering off course or is it delivering the level of drama you'd expect from the series? So far, nothing is anachronistic. Yes, Lady Sybil (Jessica Brown Findlay) died of complications of childbirth. And yes, if Matthew got into a car accident he wouldn't survive. But are all these horrific events gratuitous?
Despite the intensity and randomness of these events it seems like the show is venturing to express life at that time. As the series approaches the 1920s, so comes modernism. As sad as it is to see the utterly lovable Anna violated, it does give her character a storyline that transcends dressing Lady Mary. Hopefully, she is able to tell someone and get vindication for this violation. But I guarantee you that if Mrs. Patmore (Lesley Nicol) becomes a prostitute it may be time to stop watching Downton Abbey.