HBO Pulls 'Game of Thrones' Episode with George W. Bush's Head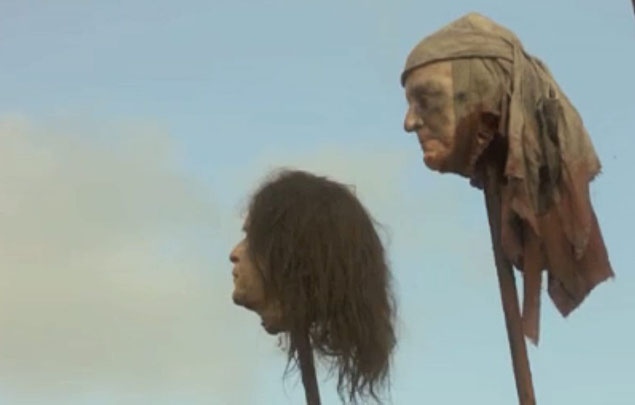 In a story that's turning out to be almost as bizarre as the show itself, HBO has pulled an episode of Game of Thrones that featured a severed head that very much resembled that of former President George W. Bush — and demanded it be adequately edited before reentering the DVD and streaming markets.
An updated version of a statement first issued by HBO on Wednesday reads: "We were deeply dismayed to see this and find it unacceptable, disrespectful and in very bad taste. We made this clear to the executive producers of the series who apologized immediately for this careless mistake. We condemn it in the strongest possible terms and have halted all future shipments of the DVDs, removed it from our digital platforms and will edit the scene for all future airings on any distribution domestic or international."
According to The Wrap, the episode in question the Season 1 finale "Fire and Blood," and on the DVD commentary of the episode, creators David Benioff and D.B. Weiss confirm that the prop head was indeed a replica of the President's, but they stated that it was absolutely not a form of political commentary.
The two issued a joint statement on Wednesday in an effort to clear up the issue: "We use a lot of prosthetic body parts on the show: heads, arms, etc. We can't afford to have these all made from scratch, especially in scenes where we need a lot of them, so we rent them in bulk. After the scene was already shot, someone pointed out that one of the heads looked like George W. Bush. In the DVD commentary, we mentioned this, though we should not have. We meant no disrespect to the former President and apologize if anything we said or did suggested otherwise."
And now, our only remaining evidence of this almost unbelievable story, will be the thousands of already sold DVD copies of Season 1 and of course, a few thousand screengrabs all over the internet. 
[Image: HBO]
More:
HBO Apologizes for George W. Bush's 'Cameo' on 'Game of Thrones'
'Game of Thrones' Puts George W. Bush's Head on a Pike