HBO's 'Veep' Teasers: Hail to the 'Seinfeld' and 'My Girl' Alums! — VIDEO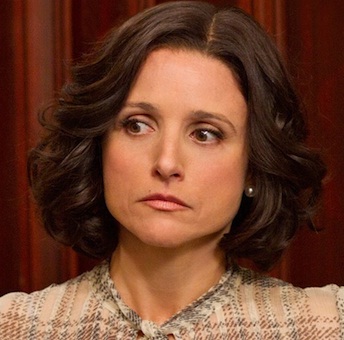 HBO's new political comedy Veep has a pretty fruitful subject matter—the behind-the-scenes dysfunctions of the White House staff—and a very impressive name behind it in Armando Iannucci, creator of another political satire, In the Loop. But if that isn't enough for you, it has got a cast that pulls from some of the greatest pieces of pop culture from the early '90s.
Julia Louis-Dreyfus leads the cast as the apparently inept Vice President of the United States, in the first role that seems suitable for her comic prowess since Seinfeld. Right beside Louis-Dreyfus' VP Selina Meyer is an edgy, ambitious Chief of Staff, played by an actress who will really tug at your affection for early '90s nostalgia: Anna Chlumsky, star of My Girl.
In addition to these leading greats, Veep boasts power players from Arrested Development, the Upright Citizens Brigade, My Boys, and even a Star Trek alum. Check out the character videos below, and the trailer for the upcoming show. Veep will premiere Sunday, Apr. 22 at 10 p.m. ET/PT on HBO.
Selina Meyer, Vice President—played by Julia Louis-Dreyfus, a.k.a. Elaine from Seinfeld
Amy Brookheimer, Chief of Staff—played by Anna Chlumsky, a.k.a. Vada Margaret Sultenfuss from My Girl
Gary Walsh, "Body Man"—played by Tony Hale, a.k.a. Buster Bluth from Arrested Development
Mike McClintock, Director of Communications—played by Matt Walsh, founding member of the Upright Citizens Brigade
Dan Egan, Deputy Director of Communications—played by Reid Scott, a.k.a. Brendan from My Boys
Sue Wilson, Executive Assistant—played by Sufe Bradshaw, a.k.a. an alien in Star Trek
Jonah Ryan, White House Liaison—played by Timothy Simons: newcomer!
More
HBO Votes for Julia Louis-Dreyfus as Veep
Video: Teasers from HBO's Veep Starring Julia Louis-Dreyfus and Judd Apatow's Girls
HBO Sets Premiere Dates for Game of Thrones, Veep and Game Change