Heating Up Winter: The Athletes to Watch at the Sochi Olympics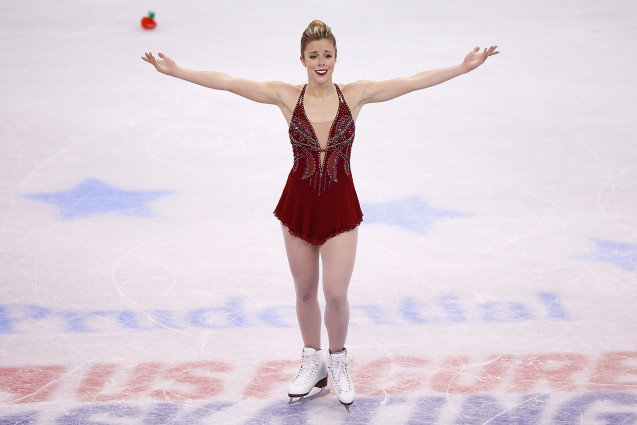 When Lindsey Vonn had to pull out of the Sochi Winter Olympics with a knee injury, it not only robbed NBC of the chance to show Tiger Woods during its broadcast, but it deprived the network of one of the faces of the Games that it so desperately craves. In addition to being a world class athlete, Vonn is well known and beautiful — a network promotional executive's dream.
While a missing Vonn doesn't help NBC, there are plenty of other athletes representing the United States that the Peacock will try to get the audience to care about. These eight athletes are likely to get the star treatment and get hearts racing for their athletic talent… and more.
Ashley Wanger, Figure Skating — Wagner is sure to get all sorts of attention after she finished fourth at the Olympics Trials and was put on the team anyway. The fact that she has a lot of sponsors hoping to cash in on her looks should she win a medal probably had nothing to do with it.
Julia Mancuso, Alpine Skiing — She's going to slot into the role that Vonn would've played. Not only does she have the looks to pull that off, but she has her own line of underwear called "Kiss My Tiara." At the 2010 Games in Vancouver, Mancuso passed out thongs to fellow competitors.
Zach Parise, Men's Hockey — Studies have shown that women make up a large chunk of Olympic viewers, so it's only right that there's plenty of eye candy on that side of the ledger as well. Parise, normally a winger for the Minnesota Wild, has the sort of rugged good looks that one would expect from a hockey player…and all of his teeth.
Ellery Hollingsworth, Snowboarding — Since it doesn't appear that swimsuit model Clair Bidez nor Instagram hottie Hannah Teter are going to make the team, Hollingsworth should be next in line to carry on the tradition of snowboarders that can make temperatures rise.
Gretchen Bleiler/Elena Hight, Snowboarding — OK, so women's snowboarding is to the Winter Games what beach volleyball is to summer…just with more clothing. Bleiler, who's been around long enough to have some name recognition outside of the X-Games set, and Hight, who's Hawaiian, are the next most likely candidates besides Hollingsworth to gain new followers. Really, there should just be a reality show devoted to the whole group of them.
Bode Miller, Alpine Skiing — Along with snowboarder Shaun White, Miller is probably the best known of the returning athletes. This will be his fifth Olympics and probably his swan song. Since he's aged in much the same way as David Beckham — seemingly getting better looking — NBC will be sure to give him plenty of attention.
Lolo Jones, Bobsledding — There's no guarantee that Jones will actually make the squad, but if she does, there will be an NBC camera assigned to follow the Summer Olympics hurdler and proponent of abstinence at all times.