'Hell's Kitchen' 11 Premiere: Gordon Ramsay's Best Insults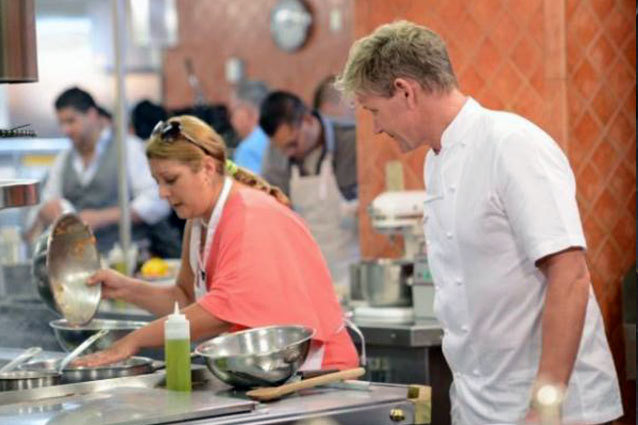 Gordon Ramsay has approximately 25 shows on television right now, so there's plenty of opportunity to watch him berate folks into feeling shame about their life choices. But nothing beats the angry British insults the chef slings during the show that put him on the map, Hell's Kitchen.
The 11th season of the American version of his hit show debuted Tuesday, March 12 on Fox to a "massive twist" (the network's phrasing, not ours): The chefs cooked their signature dishes live in front of a studio audience! But, actually, the kitchen was behind the scenes, they just got judged by Ramsay — something they all knew would happen, since this is the eleventh time this show has done it — in front of a crowd.
RELATED: 'Hell's Kitchen' Celebrates 100 Episodes
Following the judging session, the first night in Hell's Kitchen was chaotic, but Ramsay wasn't on his best insult game during the second half of the episode. In case you missed the two-hour premiere, we've compiled the chef's greatest zings from the installment, which all happened to occur during the first half when the chefs were judged live. Without further ado:
– "Taste the garlic in there — no wonder your f***ing hair is standing up." —to a chef with a mohawk
– "What happens in Vegas should stay in Vegas, right? And honestly, what happened in that kitchen should've stayed in that kitchen."
– "Are you seriously trying to kill me? Do you want to go home right now? You can f*** off now."
– "I've got one very important question: Did you pick this up at the buffet? Seriously, did you throw up on that plate?"
– "Julia Childs would be turning in her grave right now if she saw that."
– "It's fitting that you made this in Vegas, because whoever eats this is sure to get the craps."
– "Congratulations, you've certainly butchered your dish." —to a butcher (clever!)
Burn! What did you think of the Hell's Kitchen premiere?
Follow Jean on Twitter @hijean
[Photo Credit: FOX]
---
You Might Also Like:


Topanga's Revealing Lingerie Shoot: Hello '90s!


Stars Who Have Lost Roles For Being Too Hot (Celebuzz)