Helpful Foreign Pop Culture Phrases for Olympic Athletes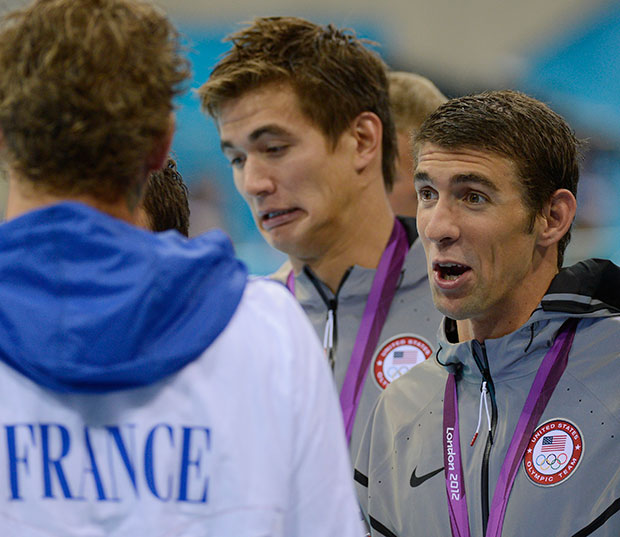 Bridging a language gap is never easy, especially when all the world's countries have coalesced, and you have to talk to every single one of them. But what do you say!? Do you talk politics? No, because you don't know your prime ministers from your poohbahs. Do you chat about the weather? No, because that's stupid. So what do you talk about? Michael Phelps!?
Pop culture, obviously! There's no greater equalizer in international conversation (except unrefined things like music and literature) than the sound of two cultures converging into one harmonious dialogue about what happened last night on True Blood. So consider it my gift to you, American Olympic athletes, as a way of saying thank you for wearing skintight leotards and swimming and stuff. If you've been struggling to come up with something topical to say to your new French amis or Spanish amigos, feel free to consult my wildly helpful list.
(NOTE: All translations are thanks to Google Translate, which kind of works, sort of, sometimes.)
"Magneti, stronza!" (Italian)
Magnets, bitch!
"Mes amis disent que je suis un Phoebe, mais je pense que je suis plus d'une Rachel." (French)
My friends say I'm a Phoebe, but I think I'm more of a Rachel.
"Hast du gesehen, Cee Lo Katze?" (German)
Did you see Cee Lo's cat?
"Hiyo ni nini alisema." (Swahili)
That's what she said.
"Jag hoppas att någon hittar en lämplig bil för Jason Sudeikis." (Swedish)
I hope someone finds a proper vehicle for Jason Sudeikis.
"Usted no es la próxima top model de Estados Unidos." (Spanish)
You are not America's Next Top Model.
"Wiedzialem, ze wyspa byla czysciec caly czas." (Polish)
I knew the island was purgatory the whole time. 
"Kan familien forstå babyen? Eller bare hunden?" (Norwegian)
Can the family understand the baby? Or just the dog?
"Blair og Chuck eru tímalaus ástarsaga." (Icelandic)
Blair and Chuck are a timeless love story."Ito ay panahon walong at hindi pa rin namin nakilala ina!" (Filipino)
It's season eight and we still haven't met the mother!?
Follow Marc on Twitter @MarcSnetiker
[Photo Credit: David J. Phillip/AP Photo]
MORE:
A History of Ugly Outfits from the Olympics Opening Ceremonies
7 Queen of England Memes (From The Olympics Opening Ceremony)