'Here Comes Honey Boo Boo' For A Second Season: Internet Implodes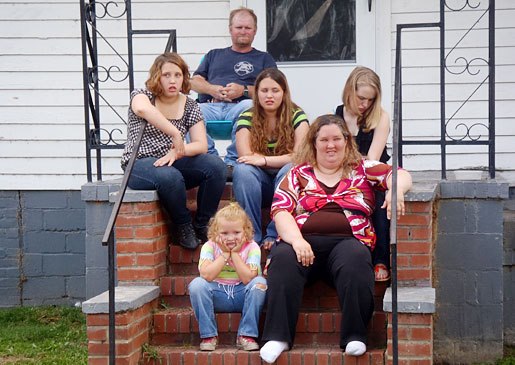 Did you hear all the commotion this afternoon when TLC announced that it had picked up a series of specials in addition to a second season of their controversial hit, Here Comes Honey Boo Boo? It seems impossible that anyone could miss it: The roar of horror was so loud it was nearly palpable. The news broke just today, according to The Hollywood Reporter.
"Here Comes Honey Boo Boo has become a pop culture phenomenon," said TLC General Manager Amy Winter. "What you see is what you get and we are excited to share even more of Alana and her family's unbridled hilarity, sincerity and love with our viewers."
For those that have lived on Mars for the past year and are completely unaware of the Boo Boo phenomenon, the show documents the lives of 7-year-old beauty pageant contestant Alana Thompson (aka Honey Boo Boo Child, aka Smoochie) and her family, including her mother June (aka Mama, aka Coupon Queen), father Mike (aka Sugar Bear), and her sisters Lauryn (aka Pumpkin), Jessica (aka Chubbs), and then-pregnant Anna (aka Chickadee).
To call the show the subject of heated debate would be an understatement. From being regarded as a sign of the apocalypse, a glorification of the unhealthy ways of American culture, to a gross exploitation of southern redneck culture (the family members gladly classifies themselves as "rednecks"), everyone and their mother's mother seems to have an opinion on the family. A big, angry opinion — though there is the occasional supporter mixed in there for good measure.
The arguments seem to generally fall under two camps: those that believe that fame should only showcase aspirational culture and those that embrace the "it is what it is" of it all (a quote frequently used by Mama June on the show). So the question begs: Which one is right?
Well, it seems as though finding a "right" answer for the Honey Boo Boo phenomenon is impossible, but it does seem silly to lambast an entire family for what can only be described as a blip in the general reality television landscape. We have shows about hoarders, addicts, people with fetishes, and rich housewives shot up with Botox and drama. But somehow, people tend to find these other series "okay" because either, a) they're rich, b) they're conventionally attractive, c) they make you feel better about yourself, or d) there's a happy ending. But, arguably, Honey Boo Boo doesn't do any of that. The family prides itself on things generally seen as aspirational (love yourself, love your family, live your life without worry for others' opinions), but is packaged in a wildly unconventional manner — at least by television's standards. They embrace the more unsavory bits of human (or American, or Southern, or what-have-you) existence that many deem unseemly. And this lack of shame is a huge point of contention for Team Honey Boo Boo versus Team Everyone Else.
So what's the problem? Well, some purport that the show seems to reinforce a wildly accepted stereotype of Americans as being fat, lazy, rude and crude. Some worry about what it says about the wider American culture to the rest of the world. But riddle me this: Has the show My Big Fat Gypsy Wedding led everyone in the world to believe that all Brits are roving gypsies that live in trailers? No, obviously not. (Though if everyone in England lived lives just like on Downton Abbey, I would move there immediately. Dowager Countess 4-eva.) There are all sorts of family modules and ways of existing.
That isn't to say that the show isn't without warranted criticism. There is certainly something to be said about the exploitation of children in reality shows such as this (discussion of the effects of fame on the daughter Pumpkin can be read in a great profile of the family by Gawker's Rich Juzwiak), but that speaks to a larger issue of children on television, anyway. And do they maybe need to learn proper nutrition (that Mountain Dew feeding of the baby was awful, there's no doubt about that)? Yes, definitely. But don't treat Honey Boo Boo as the only one with that problem, because the cast members are not. That sort of thing happens on a whole bevy of reality programming, and also speaks to a larger societal issue in this country. Otherwise, the family is relatively harmless. They take their level of fame with a grain of salt not commonly seen in today's society. And the best part is: You don't have to like it! The power of ignoring that which annoys you saves you the angst of its existence, and can also lead to shows being cancelled (the power of ratings is very real, America).
So if you want something better from your network programmers: ask for it. Stop watching the trash. Demand more, and have everyone else do it, too. These networks are out to make money, which means they're out to get viewers and advertisers. If you don't watch, they go back to the drawing board. I promise! Everything has a shelf-life, and the expiration date is dependent upon the viewing public. So with Glitzy as my witness, I leave you with this: It's amazing what you can do with yourself, Internet, when you stop complaining and just… ignore it all. Continue to live your definition of the "best life" for you, and stop worrying about the rest. Remember: It's a television show, not a public ordinance for the way you should live your life. And if you dig the life of the Honey Boo Boos, that's fine, too.
[Photo Credit: TLC]
Follow Alicia on Twitter @alicialutes
More:
The First-Ever (Fake) Annual Reality TV Emmy Awards
What Happens When Reality Bites Back at Honey Boo Boo?