'Here Comes Honey Boo Boo': Halloween Haunts and Horrors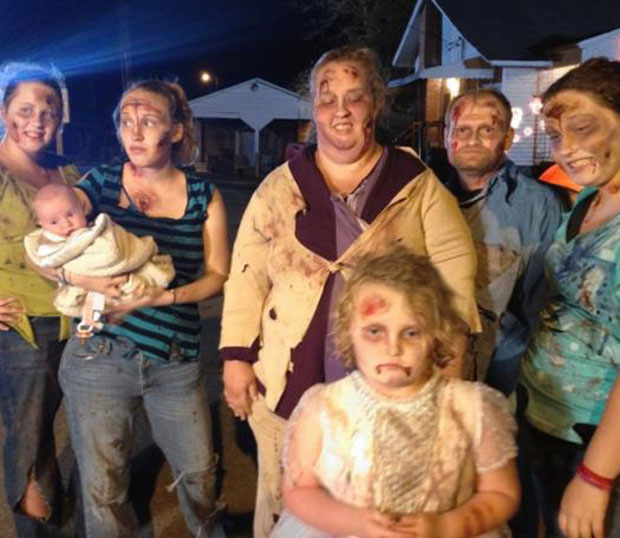 October, 2012: a time for frights and scares, ghouls and dares—it's Halloween on Here Comes Honey Boo Boo, family of America's favorite pageant queen, Honey Boo Boo/Smoochie/Alana Thompson. Everyone was here! Uncle Poodle, all the girls, and Sugar Bear—who has been renamed Spooky Bear for the holiday festivities in 2013's post-holiday world. It was over-the-top, ridiculous, and everything you'd expect from one of the most unconventional families on television.
And, as is the way with the McIntyre, Georgia clan: s**t got real messy. In fact, messes of all kinds seemed to punctuate the episode, from Pumkin's penchant for grossing people out unidentifiable objects from the outdoors! June was a mess! Uncle Poodle was a mess! Pumkin was a mess! Poor Sugar Bear's legs, too, were also a mess. But that's life, eh? Messy. The family, of course, threw in some costumes and candy for good measure. Lots of candy. Pumpkins and Pumpkins! This family was made for days like Halloween.
The episode is sure to spawn a thousand GIFs, as the family's no-holds-barred attitude was on full display—even Sugar Bear (who we saw in the hospital and unable to walk at the beginning of the episode) was letting his feelings be heard. And for that, June was ready for him to get back to work.
But a lot of planning goes into a Very Honey Boo Boo Halloween (you better redneckognize!): there are pumpkins to be picked, costumes to be worn, and candy to be consumed. But not without a few side-stories along the way. First, the family goes pumpkin picking on a farm equipped with metal barrel cows to cart them all around the farm. Chants of "Corn!" and "We're gonna die!" filled the crisp autumnal air.
It is here that we learn the definition of wop-sided. You see, to be wop-sided means to be just like Mama June: flat in the back with a big belly. But Mama cries foul: she's not wop-sided, she's curveous. The nerve of family, huh? It didn't stop there, though, as the family's seemingly-ritualistic antics of throwing things at each other continues with balls. The balls, they went flying. Balls everywhere. So many balls, so little time! Poor Mama June went and got herself a ball to the face. That's when it was game over. The girls tried to escape the wrath of Mama, and left Sugar Bear and Kaitlyn behind to fend for themselves in the process—up a thumb, but down two working legs.
Before Halloween's evening of costumery and dress-up, June wanted a bit of a makeover for herself. The girls help her go blonde, which was…a mistake. Let's just be frank and state what all the girls said, and what we're all thinking: she looks a mess. June, blonde is so not your color. Go for a warm chestnut brown if you want a makeover! Something with a lot of depth of tone to it: blonde just washes you out, Coupon Queen. Though this was not the only opinion in the room: June actually loved it. And Sugar Bear really loved it.
"Seeing June as a blonde would definitely make my loins perk up." Frisky McBrisky over here was ready to go—all episode long Sugar Bear was in the mood for some affection from his lady. June was not having it, though. Even threats of a black-crusted biscuit wouldn't deter the fire of Sugar Bear's desire.
But enough of all that mushy love stuff: it's time to get messy again! Bring on the pumpkins and an Uncle Poodle for good measure. Almost immediately, pumpkin seeds and guts went flying. They were shoved, caressed, smooshed, and flung onto every body part, and into several orifices. Caught in the crossfire and then used as a plaything, Kaitlyn's face was covered in seeds: she looked like a sesame seed bun and inspired cravings for burgers. Uncle Poodle put the wop-sided pumpkin on his head and, of course, got stuck.
After Uncle Poodle bashed his own, giant pumpkin head in The Great Mayonnaise Experiment began. Mayonnaise, you see, is the devil, according to Mama June. Unless it's in a potato or tuna salad that somebody else makes (then she'll eat it and it's OK), but mostly, it holds a great psychological power. Long ago when June was just a wee bairn, June had a babysitter who was possibly part monster (because there's really no excuse for this) or alien, as she would only feed them mayonnaise sandwiches for every.single.meal. Breakfast, lunch, dinner, sketti time: mayonnaise on white bread and nothing else. It's time to face the fear, Mama June—there are so many coupons for mayonnaise, Coupon Queen! You have to overcome it for the good of the DEALS!
Alana is on a mission to cure her mother. It is her quest to bring peace and joy to every member of her family: quelling every fear with the flick of her wrist and the shake of her head. Her mama will not be afraid of no mayonnaise Honey Boo Boo, child! So she empties three jumbo-sized jars of mayo into a bowl and presents it to her mother, who immediately retches. June's chest tightens and her throat closes up as she covers her eyes, aquiver with fear. Get thee mayo away! She rushes from the room, overcome with what we can only imagine to be post-traumatic stress disorder. Alana's verdict? "It tastes like vanilla ice cream." Hmmm…they must be a Cool Whip family. In the end, all was not lost, as we did learn something: the jury might still be out on the vegetarianess of mayonnaise, but marannaise does not have meat in it—this we know definitively.
Then came time for the ancient tale of the Fart Ghost. You know Fart Ghost, of course, don't you? It's Fart Ghost! The ghost that you can smell before he enters a room. I believe his origins begin in 1640s era Paris, France. His name was Pepe LePew (I'll pause here for the sake of your uproarious, never-ending laughter at that joke). Fart Ghost seems to follow the family wherever they go. Perhaps he feels a kindred spirit in this flatulent family.
Down at Kackleberry Farms, a corn maze finds itself playing the role of outdoor bathroom for Mama June, who—while stuck in the seemingly never-ending maze—needs to pee, real bad. So she blazes a trail to the middle of the maze's corny barriers and takes a quick pee. Oh, there was also a giant bouncy pillow, some bellowing, and a zip line.
But this was just a precursor to: Costumes! Alana wants a costume made of bacon, but they're fresh out. Aww shucks! She settles for a blue "power wig" (Shh! It's a wig!) to help her make the right decision. They decide that Kaitlyn needs to either be a cheeseball or a crab (you know, because her extra thumb looks like crab claw. Their words, not mine! I don't like to make fun of children). Then Sugar Bear and Mama dress up with afros and caftans and call themselves "village people" in a moment that was seconds away from feeling sort of racist? The show moves on quickly, thankfully.
In the end, the family decided on the following: a hot dog costume for Kaitlyn, with coordinating ketchup and mustard bottles for her mom and aunt Jessica. Alana was a gothic vampire. Sugar Bear was an actual bear that Alana accessorized with a pound of sugar. June was Marilyn Monroe for 3 seconds, which turned Sugar Bear into Horny Bear. But June was not a fan of the dress' lack of modesty, so Mama became a Mummy…or a crap paper monster, according to the girls.
Pumkin got hit in the face with keys thanks to Sugar Bear, and is on bedrest and antibiotics to stop her eye from bleeding. So she can't go trick-or-treating. But have no fear! Alana gets her an eyepatch with a mini-pumpkin bucket covering the eye—enough for a few pieces of candy! They promise to bring back extra candy for Pumkin. And did they ever! Alana and Co. ended up in the rich part of town, with a mission: to bogart as much of the best candy as possible. Four bags each (!!!) later, it wasn't all confectioner's delights: somebody gave them dental floss! (The horror, the horror!) There were even a few pieces of fruit (the horror, continued!), but the family knew what to do with those: throw 'em to the deer before s** gets messy.
What did you think of tonight's Halloween-themed episode of Here Comes Honey Boo Boo? Let us know in the comments!
[Photo Credit: TLC]
Follow Alicia on Twitter @alicialutes
More:
Redneckognize It! Honey Boo Boo is One of Barbara Walter's 'Most Fascinating People'
'Honey Boo Boo' Halloween Special Promo: It's Spooky How Staged This Looks
'Here Comes Honey Boo Boo' For A Second Season: Internet Implodes

20 Hottest Bikini Bodies of 2012: Katy Perry, Miley and More!