Hey Giiirl, Whatcha Doin'? Prepping for 'New Girl' Before the Premiere, That's What!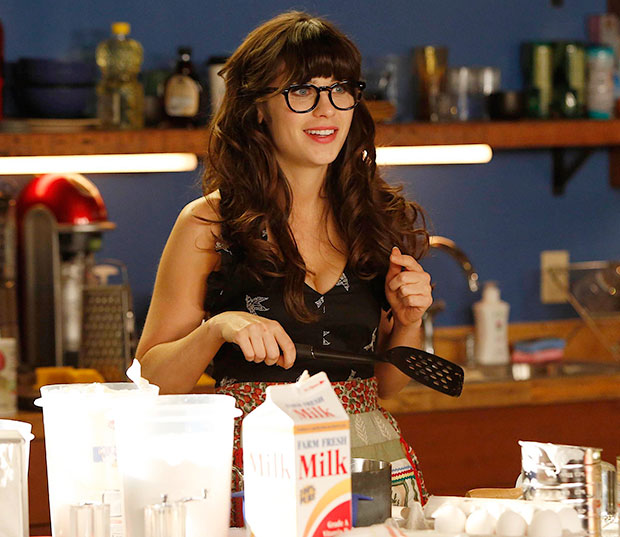 Over the next few months, we'll see new series soar, old series sour, and so much Jersey Shore madness, we'll want to shower. Let's face it: The Fall TV season is intimidating. With dozens of new and returning shows hitting our small screens, we know we have some big choices to make. So, to help you determine what to watch, we're digging deep into the most notable series premiering this season. Where did each show leave off? Where is it headed? And who should you watch it with? Next up is Fox's returning comedy New Girl.
Series: New Girl
Premiere date: Tuesday, September 25 at 8 PM, with an encore episode at 9 PM
Number of seasons on air: This will be its second.
Cast: The human light-up yo-yo Zooey Deschanel leads a cast of newbies: Safety Not Guaranteed's Jake Johnson, Veronica Mars recurring player Max Greenfield, former Space for Living host Hannah Simone… and Lamorne Morris as Winston.
Synopsis: Following a breakup with her unfaithful, dimwitted boyfriend, glimmering beam of all things joyous Jess Day, an impassioned elementary school teacher, moves in with three complete strangers seeking a fourth roommate: spider-in-a-drainpipe Nick Miller, swashbuckling, exfoliation enthusiast Schmidt, and whatever Winston is (technically, she moved in with Nick, Schmidt, and their old roommate Coach, but we're not supposed to bring that up). In short, three well-meaning, listless jerks welcome a beacon of glee into their home: a good deal of self-contained humor and endearing character development are the result. Additionally, love stories are entertained between Jess and Nick and between Schmidt and Jess' lifelong best friend, the affectionately embittered Cece.
Where we left off: Following an ill-conceived plan to reunite and move in with his ex-girlfriend, Nick realizes that he's happier living in physical and emotional squalor with Jess, Schmidt, and Winston, and calls off the relationship once and for all. Additionally, Schmidt and Cece call it quits as well following a fight (and a reference to White Fang) but feelings are bound to linger. Other than that, business as usual. Hijinks, shenanigans, tomfoolery, etc.
You'll like it if: You're a psych major, interested in the social experiment of four marginally insane, highly incompatible young adults sharing a questionably hospitable living quarters, affecting one another's already feeble psychological states of being. Or you're a zoologist, intrigued by the introduction of a new species into a long established but notably self-destructive habitat. Or maybe you just think fast-paced character-based humor is funny.
You won't like it if: You're not a fan of Zooey Deschanel. The series is basically a showcase for the adorkability motif, and she plays it up to 11. It's not for everyone.
Breakout star: The mononymous Schmidt has spawned more quotable one-liners than the rest of the cast combined.
Weak link: Does it even need to be said? When are they going to figure out what to do with Winston?!
Quotes to pick up: The pronunciations of chut-a-ney, calling someone "turtle-faced," and habitual "derps," courtesy of Zooey.
Practices to adopt: Top of the list — True American, the overly complicated, high-stakes, no victims drinking game invented by Jess and her roommates (rules have been devised!). But a close second is the Douchebag Jar, a worthy tool for penalizing your close friends for using phrases like, "Has anybody seen my driving moccasins?"
Reasons to watch this season: Same as last, with a few fun story arcs promised: Schmidt will have to compete with nice guy Nelson Franklin for Cece's heart, and fans will get to meet a formidable thespian pair as Mr. and Mrs. Day.
Educational benefits of watching: You'll learn how to fix a sink with a baseball bat and a faulty wire with a cardboard cone, and you might pick up a few handy hair-care tips from Schmidt. (Please don't use them).
Oh, the places you'll go: New Girl is set in the culturally riveting city of Los Angeles… unfortunately, you wouldn't really know that. Aside from the occasional trip to Nick's bar, the gang barely left their apartment last season. This is fine, because it offers the psychologically claustrophobic feeling that a show like New Girl thrives off.
How it rates among its peers: Not as biting or innovative as Girls, but funnier and more heartwarming than 2 Broke Girls. Definitely the most upbeat of the lot, and ranks high with the laugh-out-loud comedy.
Water cooler standings: Sure, nothing much happens on New Girl. It's like Three's Company with the genders reversed and one extra dude; or Friends minus Monica and Rachel. The show isn't about forwarding plot excitingly, it's about keeping us in love with and entertained by the starring players. And it does. As such, not a show to miss if you want to be up on the Schmidt quotes.
[Photo Credit: Fox]
More:
Miley Cyrus Drops in on Ashton Kutcher on 'Two and a Half Men' — PHOTOS
'The Mindy Project': Everything To Know About Your New Favorite TV Rom-Com
'Ben and Kate': What You Need to Know Before Watching Tonight's Premiere