Hey 'Girls', Hey: The Love-It-Or-Hate-It Series Is Back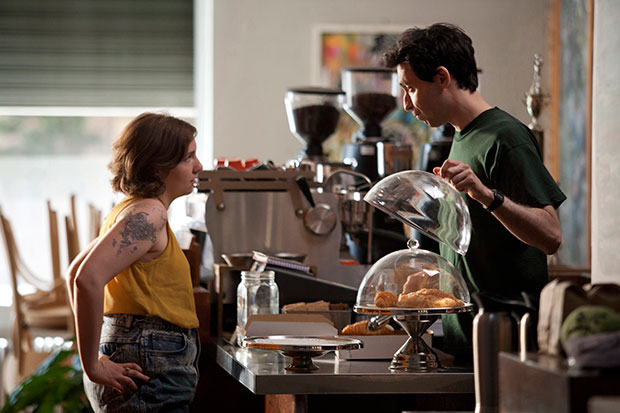 If you haven't seen HBO's controversial, Golden Globe- and Emmy-nominated comedy Girls, then you've most certainly heard about it. Lena Dunham's ballsy, realistic, hilarious, and oft cringe-inducing depiction of a group of self-involved twenty-somethings living in New York City (an oxymoron, perhaps) had people talking in 2011 when Season 1 debuted. Talking about how much they loved it, talking about how much they hated it, talking about how much they hated how much people hated it, and talking about Dunham's total disregard for pants.
No matter what your feelings are on the messy, lovelorn Hannah (Dunham) and her group of friends the beautiful, but lost Marnie (Allison Williams), the hilariously uptight Shoshanna (Zosia Mamet), and boho basket case Jessa (Jemima Kirke), you've got to admit something: it's always great when TV creates a dialogue.
Season 2 of Girls kicks off tonight on HBO at 9 PM ET. Before you reunite with Hannah and her band of merry (and more often times than not) hipsters, or meet them for the first time to find out what all the fuss is about, we wanted to catch you up to speed.
Where We Left Off: After witnessing the rushed, ridiculous nuptials of Jessa and douchey venture capitalist/freelance DJ Thomas John (Chris O'Dowd), the rest of the girls found themselves in some unexpected romantic situations. Well, maybe not Hannah. We could have seen her inevitable break-up with the hot-and-cold Adam (Adam Driver) from a mile away. While she wound up sad, robbed, and tired after their split in Coney Island, Adam wound up in the hospital after getting hit by a car. These two can't even break up like a normal couple. On the unexpected end, sweet Shoshanna lost her virginity to polar opposite Ray (Alex Karpovsky), while Marnie hooked up with a goofy wedding guest (Bobby Moynihan) as a reaction to seeing her ex Charlie (Christopher Abbott).
Biggest Jaw-Dropper Of The Fall: Well, Jessa and Thomas John's wedding was a shocker, to say the least, considering how much she hated him when they first met. Although, Jessa's compulsive, reckless behavior certainly isn't. Actually, Shoshanna hooking up with the snarky Ray made jaws drop, and heads scratch, even more.
Biggest Let-Down Of The Fall: Hannah's total lack of effective communication with Adam. Granted, he's impossible to read or talk to or put up with, but the fact that Hannah couldn't muster up the courage to tell her boyfriend that she's moving in with her gay ex-boyfriend Elijah (Andrew Rannells) or tell him to get lost when he whined that she "chased him around like The Beatles" is just sad. She told Adam off once, why couldn't she do it again?
Most Improved Character: Some would argue Adam resembled more of a human as Season 1 went on, but the only actually improved person on Girls was Shoshanna. She started off as something of a visual and verbal gag, but by the end of Season 1, Shoshanna was a fully fleshed-out character (kudos to Mamet on her brilliant, balanced performance) who did what none of the other girls could do: be honest with themselves and get what they really want. Even if that thing is a night with Ray.
Least Improved Character: Hannah stayed pretty stagnant in terms of her career and her love life, but no one digressed more than Jessa. In addition to almost ruining the marriage of the couple she was babysitting for and toying with her engaged fiance, Jessa continued her downward spiral by entering into a loveless, shotgun wedding. Jessa may be fun to watch, but out of the whole gang, she's the one you'd least want to have around as a dependable friend.
5 Reasons You Should Keep Watching: Season 2 promises more Rannells (hooray!) and even more guest stars including Donald Glover and Patrick Wilson as Hannah's new love interests. There's also the return of can't-miss Sunday night HBO programming, being in on the inevitable Monday morning Girls discussion, finding out all the hip locations in Brooklyn, and, of course, plenty of nudity!
What We Ultimately Want To See: For Dunham to continue making the daring, unflinching TV show she set out to make. She's caught a ton of unnecessary flack (would a man get the same criticisms?) and hopefully it hasn't gotten to her. We don't expect these characters to be perfect or likable all the time (people aren't in real life) but we do expect to see them exactly for who they are. Not what critics and critical viewers "want" from them. After all, beloved shows like Seinfeld and It's Always Sunny In Philadelphia are filled with self-involved jerks. If they could get away with it, so can Girls, and they can actually do it with some heart. 
What Would Make Us Turn Our Backs: If Hannah gets back with Adam and she's clearly learned nothing from the first go-around and he's treating her exactly the same way, it will feel like watching your friend get back with her terrible ex. We don't like that in real life, so why would we pay to watch it on cable? These people don't have to be nice or perfect, but they still have to learn something and grow up a little bit, otherwise we're watching a car crash for no good reason.
[Photo credit: HBO]
More: