Highlights From This Weekend's Jon Stewart and Bill O'Reilly's Debate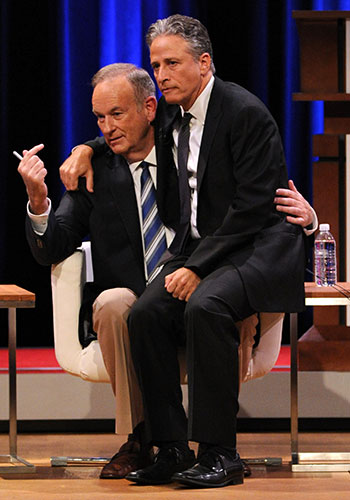 Joe Biden and Paul Ryan had better bring their A-game this week, because Jon Stewart and Bill O'Reilly may have made for this election year's best — and most effective — debate. And these guys aren't even in the running. 
On Saturday, October 6 the two basic cable friends/foes met for The Rumble in the Air Conditioned Auditorium (the Lisner Auditorium at George Washington University in D.C., to be precise) for a smart, hilarious, aggravating, enlightening, and damn entertaining
debate
about everything from health care to the budget to… 
Oprah
. Yes, Oprah. 
The hour-and-a-half-long debate, which was streamed on
TheRumble2012.com
for a fee of $4.95 (though many paying users ran into server overload problems and couldn't watch it live, prompting refunds for the popular broadcast), played out like a gloriously extended version of Stewart and O'Reilly's visits to one another's respective shows. And, much like those visits, and prior debates, it was chock full of memorable moments and soundbites. 
Here are the top highlights from this weekend's Stewart/O'Reilly showdown: 
- Moderator E.D. Hill (who, despite getting cut off a few times by both men, wasn't even close to Jim Lehrer territory) described Stewart as "Hobbit-like" in stature, while Stewart called O'Reilly a "yeti". Stewart also used a motorized lift throughout the event to raise (and lower) himself against his much taller opponent. 
- Jon Stewart's opening statement: "My friend Bill O'Reilly is completely full of s**t". Throughout the debate Stewart beckoned the Fox News pundit down from his post as "Mayor of Bulls**t Mountain." "Bulls**t Mountain" came from a recently popular segment on
The Daily Show
. 
- O'Reilly saw the signs. In fact, the author brought a series of flash cards to further emphasize his point on further topics, including blaming Bush and birth control. 
- After O'Reilly complained that he doesn't want to pay for things like PBS and women's birth control (which Stewart quickly pointed out, should also include Viagra), Stewart noted that he'd fund children's television and "rubbers for everyone" rather than have had to pay for the Iraq War, which caused one of the biggest eruptions of applause during the evening. 
- "I learned that on Sesame Street"- Stewart, after O'Reilly asked him about the deficit.
- Stewart, 49, made O'Reilly, 63, feel his age when the Fox News host made an outdated reference ("Gerry and the Pacemakers", anyone….anyone?) "This is on the Internet, Bill," Stewart reminded him. Of course, O'Reilly seemed none-too-interested in the medium, despite the fact that the debate was taking place on it, after he slammed the culture of Internet commenting and told the "pinhead" youth of America, to "get off the Internet and go outside" in his closing statement. 
- The hilarity that ensued regarding the "war on Christmas." As Stewart succinctly put it: "Walk a mile in Hanukkah's shoes!" Later, Stewart sat on O'Reilly's lap, prompting the latter to ask, "And what would you like for Christmas, little boy?" 
- Cover your ears, Stephen Colbert! Your beloved Papa Bear made not one, but two, zings against you in the debate. 
- "Dude?!" – A flummoxed O'Reilly after Stewart referred to him a "dude". Uh oh, remember who else he called  
"dude"
? 
- "We're only as good as CNN? Are you kidding me?"- O'Reilly, after Stewart said the United States is only as strong as its weakest link. 
- The debate seemed to turn the most heated when the topics of Muslim brotherhood, redistribution of wealth, and health care came up. O'Reilly earned, arguably, the biggest boo of the night when he suggested, "Health care has to be basically run by insurance companies, not the government." 
- Believe it or not, the two man actually agreed on some things. O'Reilly concurred that the war in Iraq should have never taken place (to which Stewart urged those in the audience to "live-tweet that"), and both men acknowledged Oprah would be the one celebrity worth saving if America was on fire. 
- "Now I know I'm right" – O'Reilly's closing remark. 
- "Bulls**t Mountain is tall… and wide… and deep" – Stewart's closing remark. 
While Hill suggested that, unlike most debates, both parties walked away winners (in fact, they both received awesome wrestling belts), the Internet is giving
the edge to Stewart
for his one-man army invasion of Bulls**t Mountain. The entire debate is still available to watch online, and the small fee goes to various charities. So you can still decide for yourself, and add to the ongoing debate about the debate. 
[Photo credit: TheRumble2012.com] 
More: 
Jon Stewart and Bill O'Reilly to Debate in D.C.: Bring. It. On.