Is the Hillary Clinton Biopic Going to Cause a Problem for NBC News?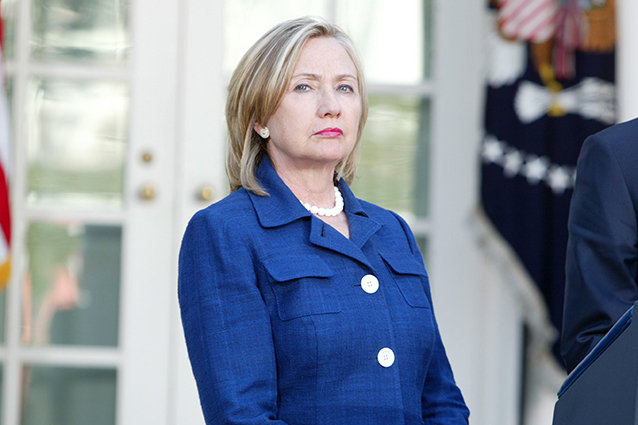 No, Chuck Todd was not bashing Hillary Clinton, nor the idea of a biographical miniseries about her. But yes, we thought he was, too… before actually watching the below video and giving a moment of thought to what he was saying. See, NBC News anchor Todd isn't speaking from a place of politics, of policy, of any ideology, really… he's speaking from a place of occupational affiliation. Todd is a member of the NBC News syndicate, and as such must bear the brunt of all attacks waged upon said organization. And the number of such is likely to multiply, as Todd hypothesizes, come the development of a Hillary Clinton miniseries on NBC.
Not because NBC is going to do a poor job with the program. Not that they are bound to sway too far to the left or to the right. But that won't matter, Todd says, because people will find fault with the show. And those people who find fault with it will find fault with the network. And from there, with the network's news team.
Here, Todd expresses his apprehension over the arrival of a Clinton show on his home station:
Of course a television network's programming slate should be held independent from the political leanings of its news appendix. Todd agrees with that. But he knows that, inevitably, he and the rest of the NBC News members will find themselves staring down a steady barrel with offended liberals and conservatives alike assigning the flaws found in the Hillary miniseries as the fault of the news station's leanings.
Honestly, he's right. We wish he wasn't. We wish the world could watch a program — the story of a human being — without stirring up a political rally before the end credits roll. And we wish said world wouldn't shoot out the gate looking for the most readily available parties to blame for the described atrocities. But we don't live in that world. We live in a different world. Sometimes, oftentimes, a great world. A world with banana nut pancakes and bubble wrap and Pokemon and the movie Groundhog Day. All truly wonderful things. Hopefully, the Hillary Clinton miniseries will join these ranks. And hopefully, so will all the people who watch it, embracing it as and interesting story about a groundbreaking woman.
We hope you're wrong, Todd. But we get where you're coming from.
Follow Michael Arbeiter on Twitter @MichaelArbeiter | Follow hollywood.com on Twitter @hollywood_com
More:
NBC Announces Hillary Clinton Miniseries
Why Doesn't Anyone Want to Play Hillary Clinton
10 Reasons 'Rodham' Will Never Get Made
---
From Our Partners


Battle of the Bikini Bodies (Celebuzz)


Fangbanging: Complete Guide to All of 'True Blood's Sex Scenes (Vh1)