'HIMYM': Nobody Asked You, Patrice! Well, Actually… We Did Ask Patrice!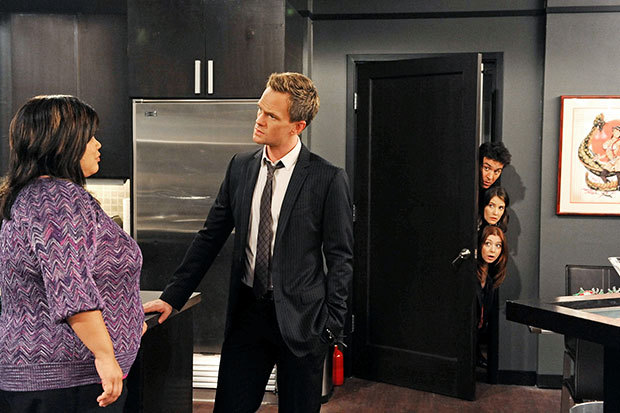 Last night's How I Met Your Mother solved the mystery that has been plaguing this entire season: How were Barney (Neil Patrick Harris) and Robin (Cobie Smulders) going to end up at the altar together? It seemed as if they were as far from an engagement as possible: they began this season with significant others, Barney going as far as proposing to his stripper girlfriend, Quinn. Then, when they both broke off their respective relationships, mishap after mishap kept these two soulmates from coming together. The final straw? Barney's unexpected relationship with Robin's co-worker/archenemy, Patrice (Ellen D. Williams).
Of course, in last night's midseason finale, HIMYM revealed that Patrice was actually working with Barney to create one last play for Robin's heart, called "The Robin." Their relationship was fake, perpetuated to make Robin realize her true feelings for Barney, culminating in their engagement on the roof of the Worldwide News Building.
While we knew these two crazy kids would find their way to each other, we had no idea how Patrice would factor into their relationship until the end of last night's supersized episode. Hollywood.com got the chance to chat with Patrice herself, Ellen D. Williams, about the big reveal, how a one-line joke turned into a major recurring character, and Patrice's future.
Hollywood.com: How did the character of Patrice come about?
Ellen D. Williams: It's kind of a funny story. I feel like the acting gods above were smiling upon me that day. I was actually on jury duty and got the call from my manager and she said there was a one-line costar audition tomorrow, and so I was like, hopefully I can get out of jury duty! So I was able to get out of it. And actually, the part was written and created by Kourtney Kang, who is one of the executive producers and she's Korean-American and she specifically wrote a character asking for a Phillipina. There's only a handful of us, and there's only a handful of my type, and we always see each other at auditions. It literally was just that one line from the "Stinson Missile Crisis" which was the first episode I did. Robin said, "Nobody asked you Patrice!" And I say, "He's so dreamy." And I found out a week later that I had booked it! It was neat because that was my TV debut. 
How did Patrice transform from a one-line joke to such a central recurring character?
It's great that we can talk about it now. I've done some interviews before but I couldn't really say anything until now. It's great that we can now, after the reveal last night. They told me back in the summer that they were working on this bigger character arc and I was like, that's great! In my mind I was trying to think of what it might be. I actually thought that maybe they would make Patrice Marshall and Lily's nanny. And then when I had seen the first couple episodes I thought oh, it's going to be something about Barney and Robin. And I was right! But I wasn't sure until I really got that first script. It was exciting to know that I was going to be helping out with them. I was excited. I was supposed to be just this one-line costar, and then to have it recurring and then getting to be a part of this great story arc was exciting and amazing. I knew that there was no way Patrice and Barney would really be together. The whole playbook thing, the entire thing, I knew from the beginning as an actor and Patrice knew from the beginning that this was all just a big play.
How did the fans react during this big arc?
I knew that the fans were going to feel something about it, and I was just like, just hold out! Just a little longer! You're going to be big Patrice fans after Monday night! I knew that there was never going to be anything between Patrice and Barney. I think everyone was intrigued. Absolutely. They all were like, she's so different than any of the girls he'd been with. I think that was the great thing about the episode, "The Over Correction," because it kind of helped people along to go, oh she's completely different than anyone he's ever been with in every kind of way. People could make sense of it for another week.
Do you think this showed growth on Barney's part, or is he just the same play-running ladies man?
I still think it was growth on his part. I really think his character had to go through all of those women to figure it out. And I loved every play. Every play was so thought out for his character. First he had to find the person that annoys Robin the most and talk to her to see if she'll go for this. And of course my character would do anything for Robin. She loves Robin more than she ever had a crush on Barney. And she's so naïve and innocent. She's not like someone who would go, oh yeah, I'm dating Barney! This is happening for me! She's not like that. And with all of her prior episodes with her healthy obsession with Robin, I think she would do anything for her. Patrice knew from the very beginning, and the way he approached her created this backstory, so it was perfectly fine and okay. And there was not a part of Patrice that was like, oh I can't be with Barney, because she's not like that at all.
Let's talk a little bit about that special relationship between Patrice and Robin.
I always think back to characters on other sitcoms like Michael and Toby on The Office, there are all these characters who just don't like another character but we can't figure out why. And I think that's kind of what Robin and Patrice is like. And Patrice is just someone who sees the best in everyone and wants the best for everyone. She is super nurturing, sweet, warm and I think things just roll off her back. When she gets yelled at by Robin, it doesn't affect her. There is just very much a naiveté to her. And yet she's also smart. She's not dumb in any way. And one of the biggest things she shows in the past four episodes is that she's a really great actress to pull it off. And to me, that just shows how much she really adores Robin and would do anything for her.
I have got to ask: have any strangers yelled, "Nobody asked you, Patrice!" yet?
I haven't had anyone yell it out to me on the street yet. But I'm sure at some point it will happen! My friends and family think it's hysterical to yell to me, but so far no one has come up to me to yell it. I'm sure I'll get a "Nobody asked you, Patrice!" at some point. I'm waiting for it!
Do you think there was ever any potential for Barney and Patrice to have a real relationship?
There have always been a group of fans that love Patrice, and once this whole story arc began there was a lot of "what," "no way," "I can't believe it," and "what are you doing," and HIMYM fans are crazy! Just crazy about the show. And I had to learn what "shipping" is. That's when you want two characters to be together. It's just such a different generation of fan admiration because you can say anything on the internet. There were some people that were for Barney and Patrice, and there were a lot of people against it. But you know Patrice would never do anything to hurt Robin. I think for Patrice it was fun to be a part of this grand scheme. It gave her something to do and it was fun to be a part of this group of people she thinks is really cool. And so of course people are tweeting now, "Oh I hated you up until last night! We love you so much, I love you so much now! Thank you for bringing back the ultimate one true pair! OTP!" So I knew this whole time but the past few weeks I kept being like, just hold out! I just wanted to say, hold on! But I couldn't give away spoilers. And I knew everyone would come around late Monday night. And they have.
What do you think the future holds for Patrice?
I don't know where her future is headed. I'm not sure. We'll see. I hope that Patrice is at least one of the bridesmaids at Barney and Robin's wedding. I think the ideal dream would be that Patrice gets her own spin-off! For the immediate future I think it would be great if Patrice could be a part of the wedding since she helped bring them together.
Do you have any idea who the mother will be?
I have no idea who the mother could be, or how it's going to be revealed, but I know it's going to be exciting. I'm a fan of the show, and I'm excited to find out how it's going to happen. There is just not another show out there like this. It's all about time and flashbacks. It's like one of those mystery novels in some ways. As a kid I used to read these novels all the time, where they go, "If you think the character should go this way then turn to page forty-five!"
The create your own adventure books!
Yeah, create your own adventure! It's like that for me. Someone once said, "Why do you think she was called the arch-nemesis," and I didn't even know! People have to remember that everything's in flashbacks so we weren't going to find out right away. I think this is the reason why she was Robin's arch-nemesis. I think that's what makes HIMYM really different. You have to look for the clues. That's what makes it like a mystery novel. What are the clues?
Yes, there are so many Easter eggs hidden throughout all the seasons.
Exactly! And you never know when you're going to get glimpses of it. It's exciting. It keeps people on the edge of their seats. It's just so good. And there isn't really that many other sitcoms who are going on as long as this. It's kind of up there with Will and Grace and Friends of sitcom run times. So I do hope for the best for them.
Follow Sydney on Twitter @SydneyBucksbaum
[Photo Credit: Ron P. Jaffe/CBS]
More:
'How I Met Your Mother': Why Was a Real Barney/Patrice Romance Out of the Question?
'How I Met Your Mother' Recap: BIG TWIST… That We Already Knew About
TV Tidbits: Sandy Hook Shooting Leads to Show Cancellations, '90210' Star Heads to 'Client List…

'Jack Reacher': The Beginner's Guide To The New Tom Cruise Movie

'Les Miserables' Unscripted: Hugh Jackman, Anne Hathaway On Singing And Being Modest