'HIMYM' Premiere: What Does Our Magic-8 Ball Reveal about Barney and Robin?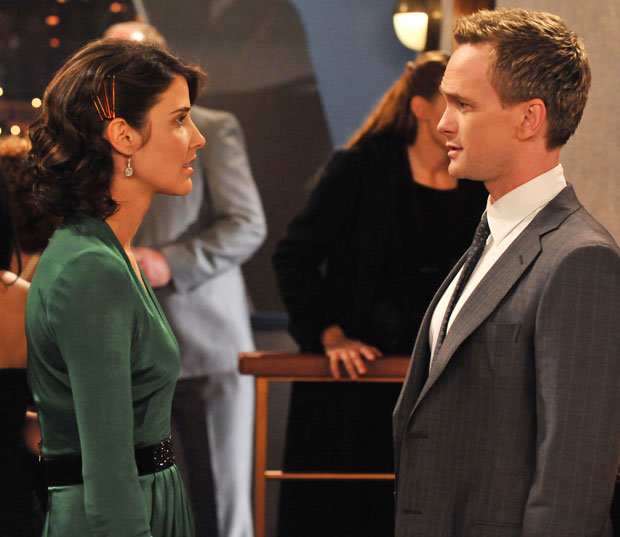 While the majority of viewers still tune in to How I Met Your Mother every Monday night to finally find out just who the elusive "Mother" is, there are some of us out there — ahem, me — who tune in for Barney (Neil Patrick Harris) and Robin (Cobie Smulders).
For seasons, I have been 'shipping these two crazy kids, and co-creators Carter Bays and Craig Thomas gave me a short reprieve. For those of you who don't remember or didn't see the evolution of one of the most entertaining relationships on TV, let me give you a short timeline (not that I'm obsessed or anything):
S3E16, "Sandcastles in the Sand": After being dumped by her old Canadian boyfriend Simon — whattup, James Van Der Beek! — Robin and Barney sleep together.
S3E17, "The Goat": Barney and Robin try to keep their tryst a secret, but Robin comes clean to Ted (Josh Radnor). This temporarily ends the bromance between Barney and Ted.
S3E20, "Miracles": After a brush with death, Ted forgives Barney, who himself was hit by a bus and realized he loved Robin.
S5E1, "Definitions": Barney and Robin finally begin their relationship.
S5E7, "The Rough Patch": Barney and Robin break up after realizing they weren't happy together… i.e. Barney got fat and Robin was losing her hair.
S7E10, "Tick Tick Tick": Barney and Robin both cheat on their significant others with each other. They agree to break up with their respective girlfriend (Nora) and boyfriend (Kevin) to be together. However, Robin stays with Kevin.
S7E16, "The Drunk Train": Kevin breaks up with Robin. Barney doesn't jump at the chance to be with her again since she had picked Kevin over him.
S7E24, "The Magician's Code": Barney proposes to his girlfriend, Quinn. However, at the end of the episode, it is revealed that Robin is in fact Barney's future wife!
So as we look ahead to season 8, premiering tonight at 8/7c on CBS, we can look forward to seeing the progression from Barney and Quinn's engagement to Barney and Robin's wedding. And while we may have to wait until the end of this season to see the actual nuptials, Smulders followed Robin's cue and, after eight years of dating, tied the knot with Taran Killam (SNL) on Sept. 8th.
Season 8, eight years of dating, September 8th… is there something important in the number eight, or is it just some crazy coincidence of life imitating art? Bays and Thomas do have a reputation for using numbers as clues in past episodes. For example, in season 6 episode 13, "Bad News," numbers counting down from 50 appeared on props until the end of the episode when Marshall (Jason Segel) found out his father died. Hopefully these numbers lead to better news.
Will you be tuning in (and overanalyzing every detail) with me tonight?
[Image Credit: CBS]
More:
Neil Patrick Harris Talks the End for 'How I Met Your Mother'
'The Avengers' Cobie Smulders Marries
'How I Met Your Mother' First Look: Ted Reaches for New Heights!