Hoda Kotb Might Be Leaving 'Today' — Where Could She Be Tomorrow?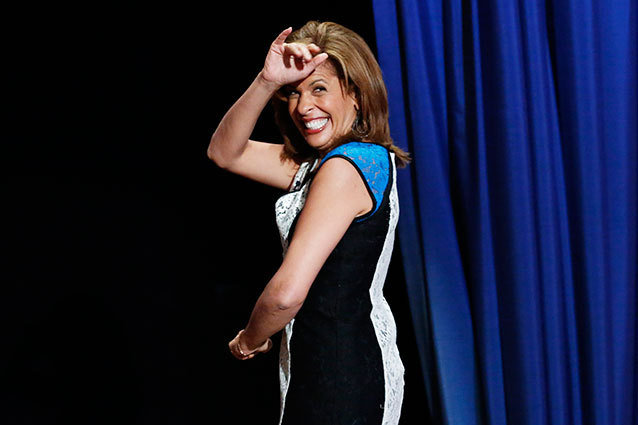 For years, the NBC family boasted a picturesque stature that rivaled the subjects of a Norman Rockwell painting. The network's central figures upheld the sort of wide-smiling unity that even the most saccharine of Brady Bunch episodes would be hard pressed to achieve. But these days, the Peacocks are looking a bit more like our actual families in the 11th hour of Thanksgiving — rivarlies, harsh words, people threatening to up and leave the table… in the wake of the Tonight Show cacophony that resulted in Jay Leno being ousted from his hosting duties in way of Jimmy Fallon, some similar stirrings have reached the network's Today: Hoda Kotb is rumored to be leaving the program.
Entertainment Weekly reports that Kotb has been meeting with studios in hopes of crafting her own talk show series, or some similar manifestation of her daytime talents. Of course, the same post also includes a comment from a rep for Kotb that states, "Hoda loves her job at the Today show and adores everyone she works with on the show. Her contract is coming up and she's just expanding relationships and having coffee with a few people." At this point, we can interpet such a remark in a number of ways: she is seeking new employment; she's tacking a new project onto her current slate; she's dating. But with these rumors afoot, we have to wonder where Kotb might find herself in the scenario of a Today leave.
RELATED: Barbara Walters Makes 'No Announcement' About 'The View'
The EW reports mention the possibility of a new show altogether — something that Kotb can build from the ground up. While this might well be the direction in which the TV personality heads, we have to acknowledge the timing of this scoop with another noteworthy exit rumor: that of Barbara Walters. For some time now, fans have wondered if Walters would be announcing her plans to retire from showbiz, leaving behind her position on The View. Walters has yet to address these rumblings head on, leading our imaginations to land Kotb as a candidate for her replacement.
What with Matt Lauer also at the center of dismissal speculations, the Today we know today might change up quite a bit — and consideting the explosion that overtook Tonight yesterday, that Today might take form as soon as tomorrow.
Follow Michael Arbeiter on Twitter @MichaelArbeiter
[Photo Credit: Ira James/NBC]
---
From Our Partners


Hayden Panetierre Bikinis in Miami (Celebuzz)


Every Jurassic Park Dinosaur Ranked From Best to Worst (Vulture)