Hold Your Tears: 'Idol' Auditioner Matheus Fernandes Has Lived His Dream Before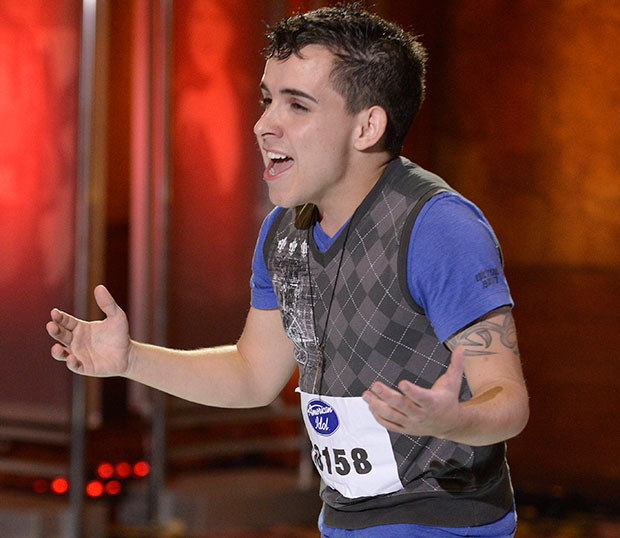 Well, this is all a little familiar. Wednesday night, American Idol delivered its fifth audition episode of Season 12, and with that came an onslaught of sob stories, culminating in the life-long struggle of young Matheus Fernandes, a 21-year-old singer who measures in at 4'9″. He sang "A Change is Gonna Come" for all four judges aboard the Queen Mary in Long Beach, Calif. and even drove a gushing Mariah Carey to tears, but it might be time to check our tears for a moment. We've been here before.
Fernandes has actually travelled the reality road before, and not simply as someone in an audition, but as a full-fledged contestant. He was chosen as one of the top 12 on Season 1 of Ryan Murphy's The Glee Project, and not only did he last through five episodes of the series, he gained a bit of notoriety as one half of a completely unnecessary vocal tussle. Using the same life-long struggle with his height, Fernandes worked his way into Murphy's good graces, who told him to up his confidence level. This advice came despite Fernandes' initial introduction reel, which featured him lifting up his shirt like a PG-rated version of The Situation to show off his abs for his housemates and the cameras.
Many fans were on the fence about Fernandes, who played the adversity card time and time again but still appeared cocky, rather than pleasantly confident in the face of his troubles. He was often taped showing off, especially in one memorable moment in which he played into Season 1 runner-up and current Glee star Alex Newell's overbearing battle of the egos. Newell started to show his fellow contestants just how high he could sing, and, while it was an incident that should have been brushed off as one would a four-year-old who taunts the older kids about how high he can jump, Fernandes took the bait — and in the process showed off his own arrogance. The result was basically a squealing match between two singers who've overcome their insecurities to become self-important. Even later, when runner-up Damien McGinty says in a talking head interview that Fernandes deserves a little slack because his life has been difficult, it's missing the point. Murphy's show aims to level the playing field between the Rachel Berrys and the Artie Abramses of the world: everyone is and can be a star in this world, so why would anyone receive special consideration for bad behavior? In the end, Fernandes' attitude is his undoing. When McGinty defends him to judges, saying Newell (whose struggles with his gender orientation have served up troubles for him) was bullying Fernandes, but as soon as Fernandes gets backstage, he fights with Newell yet again. From what we saw on television, it appeared that Fernandes wasn't exactly a helpless victim, but someone with a bit of an attitude issue. 
With a past this testy and widely broadcast, it brings into question Wednesday night's portrayal of Fernandes as a miracle singer, overcoming the challenges he's been served up. Idol is careful not to give any weight to Fernandes' rather sizable run on another singing competition, a back story that is usually a bit more welcome on a show like The Voice. This is because if the Idol audience had known, in that moment, what Glee Project viewers have witnessed, the weight of Fernandes' triumphant tale would be completely undermined. And as we know, those stories are the Idol auditions' bread and butter.
Fernandes has been given one of the fairest shots available at becoming a professional singing performer on Oxygen's Gleeful singing show, but he was cut out because he didn't match up to the rest of the competition. While his back story is good for Idol, with his experience on The Glee Project it doesn't hold nearly as much weight. He's already proved that his height doesn't keep him from succeeding, but that rather, when the chips were down, he didn't have what it took to make it past his competitors. And unlike Idol, The Glee Project cast-offs are determined by Murphy and the judges and not a popular vote. He didn't face the prejudices of the American public, but the whims of a man who's determined to give everyone a shot. Fernandes won vocal challenges on the show, but was still sent home after five weeks by a group who strives to make Glee a place where people from absolutely every walk of life have a chance. With that in mind, auditioning on Idol doesn't give him a chance he's been robbed of by his height (as his talking head interview would have us believe), it gives him an opportunity to be exploited by the Fox reality series for being different, which is the exact thing his last reality stint was trying to dispel.
Anything is possible, but Idol fans love the prospect of a singer being plucked from actual obscurity and thrown into the spotlight. Fernandes doesn't fit that bill; and if his past is any indication, he's not an Idol-lover's cup of tea.
Take a look at Fernades' Glee Project moments and decide for yourself:
Matheus, the shirtless, gyrating wonder:
How high (and shrill) can you go?
Woe is Matheus:
Follow Kelsea on Twitter @KelseaStahler
More:
'American Idol' Recap: The Panel is Haunted… By Complete and Utter Civility
Colton Dixon Live Blogs The 'American Idol' Premiere
'American Idol' Recap: What Made Nicki Minaj Walk Out in Charlotte?

'Hunger Games: Catching Fire': Spoilery Pics From Google Maps