Holy Catfish! 'American Idol' Auditioner Matt Farmer Lied About Military Injury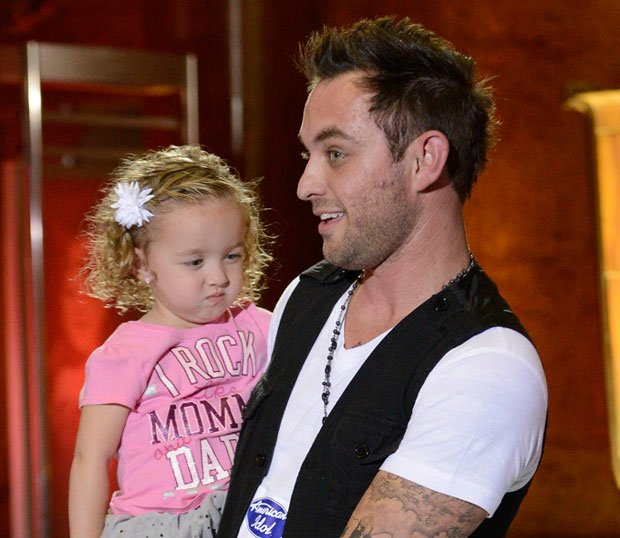 It took the entirety of the audition rounds, but it appears we have our very first scandal of American Idol Season 12: Matt Farmer, who tried out for the show in Long Beach, Calif. in the Wednesday, Jan. 30 episode and made it to Hollywood Week, has admitted that he totally lied about his sob story.
Farmer said in his pre-audition interview that he'd suffered a traumatic brain injury after being hit by an IED in Iraq. "I just remember waking up in the hospital in Kuwait," he said.
RELATED: 'Idol' Recap: The Panel is Haunted…By Complete and Utter Civility
His 3-year-old daughter was a miracle because the medication he took for his alleged injury was supposed to make him sterile. "I want her to look back in 15-20 years and say 'My dad never stopped. He gave it everything he had,'" he said of his reason for trying out for Idol.
Now, Farmer has admitted on the site GuardianofValor.com, dedicated to exposing people who lie about military service, that he wasn't completely truthful. Men who served with him overseas revealed that he mixed illicit acne medication with illicit whiskey, and had to be medi-vaced out of Iraq because he had seizures. At first he maintained that the Idol producers chopped up his interview to make it sound like he said those things about the IED when he didn't, but after some more prodding (and proof that he'd made those claims before), he came clean.
"I do in fact take FULL responsibility for the actions and words I have said, and know that this will never go away. In NO way was I looking to take from everyone who has served. I started to believe my own lies. And after I believed them… I would catch myself talking like it had happened to me my entire life," he admitted.
RELATED: Colton Dixon Blogs the 'Idol' Season 12 Premiere
Here's the full truth, according to Farmer: "I at no time was a sniper, was never deployed to Afghanistan, did a single tour in Iraq, and was never at any time hit or wounded by an IED." Farmer also revealed in his statement to the site that he's no longer with the show, not specifying whether he was cut or if he pulled out of the competition.
A spokesperson for Idol producers 19 Entertainment had no comment on the incident.
Here's the real question: Farmer is a not-horrible-looking guy with a cute daughter and actual military service. He already has a good enough back story for reality TV. What compelled him to lie? If he was still in the competition, would you want him to quit? If so, why? He didn't lie about a criminal past, he just enhanced his story to make himself look more appealing (and made himself look worse in the process). Share your thoughts on the incident in the comments!
Follow Jean on Twitter @hijean
[PHOTO CREDIT: Michael Becker/FOX]
---
You Might Also Like:

Who Wore This Crazy Hat?

Stars Who Changed Their Look