Holy Crap, Jennifer Jason Leigh Is Going to Be on 'Revenge'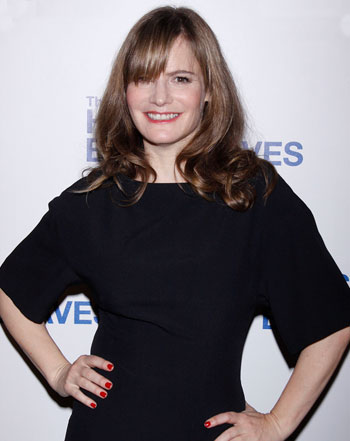 This post is being written by a ghost because the writer and Revenge superfan known as Brian Moylan is dead. He keeled over in a state of joy when he heard that Jennifer Jason Leigh is going to be co-starring in the second season of Revenge, which is a much better place for this noted screen actress than in the nine jillionth season of Weeds, which is where she is now. And get this — she's going to play Emily's mom!
There hasn't been a better casting moment since Joan Collins lifted up that black veil in the first episode of the second season of Dynasty and revealed the queen bitch of all of television. I mean, this is Jennifer Jason Leigh! Do you remember the s**t she pulled in Single White Female? And now she's going to be on Revenge! Madeleine Stowe better sharpen her knives and thaw out her frozen forehead because between these two mean girls and Amanda Clarke/Emily Thorne #1 (who is a blonde billionaire with ninja powers) and Amanda Clarke/Emily Thorne #2 (who is a murderous stripper), there are going to be some serious cat fights this season.
We don't know much about her character other than that Emily/Amanda thought that her mother was dead but she was secretly alive the whole time. We'll find out why she disappeared and where she's been hiding. The show's creator Mike Kelley told EW.com that she has "deep psychological issues." Like she's going to move into Grayson Manor and take over Victoria Grayson's life? Someone is going to have to bring me back to life before September 21, because I can not wait one more moment for Season 2.
Follow Brian Moylan on Twitter @BrianJMoylan
[Photo Credit: WENN.com]
More:
2012 Emmy Longshots: 'Revenge' Diva in Residence Madeline Stowe
'Revenge': How Could You Leave Us Like This? 16 Frustrating Unanswered Questions
Get Red Hot Like 'Revenge,' Plus More TV Summer Style Trends