Holy Heck, History's 'Hatfields & McCoys' Sets Ratings Record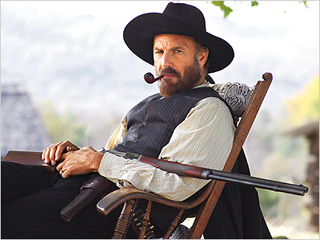 This morning I was sitting around thinking, "Oh, I forgot to watch Hatfields & McCoys. Oh well. I'm probably not the only one. Who debuts a show on Memorial Day anyway? Someone with a death wish!" Well, who's looking like the biggest idiot this side of Hurricane Holler? Me. That's who. Those smart programmers over at History know something I don't because 13.9 million people watched the premiere.
According to Deadline that is the largest non-sports telecast in ad supported cable television history. Sure, that's kind of like when my mother says, "You're my favorite child named Brian who makes fun of TV shows on the internet," but still 14 million people on History watching a mini-series about fighting Civil War families is historically huge. (The New York Times says that High School Musical 2 got higher ratings than Hatfields &McCoys but apparently the letters H & M are key to success. Look for the retailer to have a show next fall right after the cable movie Hillary and Martin in Haunted Manhattan.) Between the "encore presentation" later in the night 17 million people watched what I forgot to. That's 7 million more people than watched America's Got Talent (and those are 7 million very intelligent, discerning viewers).
And you probably don't know any of them. Well, you might, if you're the kind of person who watched Two and a Half Men and is mourning the passing of Dog the Bounty Hunter or if you're the kind of person who has a Pawn Stars T-shirt and really likes documentaries about World War II. Basically all the world's dads watched this show. Well, that's not entirely true, since about 4.8 million were between the ages of 18 and 49, and I hope not all of those are dads because that means Teen Mom is doing something crazy to high schoolers.
The other amazing thing is that this is History's first scripted show and it went gangbusters, with two more nights of Kevin Costner and Bill Paxton yelling at varmints before the series is over. Welcome to the big leagues, History. I guess now is the time to pitch that show about Al Capone I've been working on. Did you know he had a vault?
Follow Brian Moylan on Twitter @BrianJMoylan
[Image: History]
More:
Costner & Paxton to lead The Hatfields & The McCoys Epic
Bill Paxton Studied Old Civil War Letters for New Miniseries Role