'Homeland' Recap: Carrie Is a Double Agent (Season 3, Episode 4)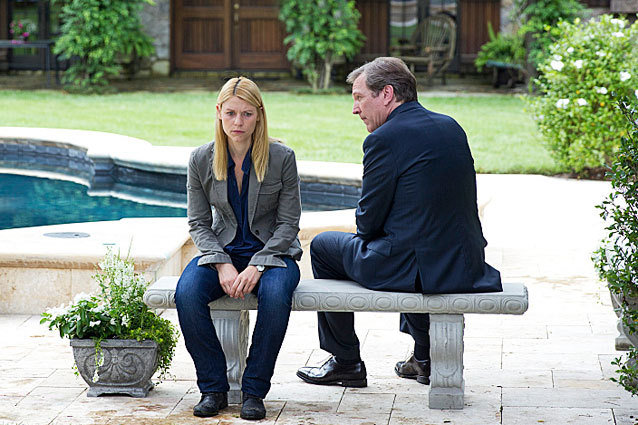 Showtime
Where we left off: Brody is locked away in Venezuela and being watched over by a man named El Nino, El Nino's daughter, and a super creepy doctor, and Carrie is still trapped in a mental ward. Basically, they're meant for each other because their lives are so similar (rather, that's what the writers want us to think).
"Game On"
In this episode, Dana acts like a horrible teenager (she helps her slightly-off-kilter boyfriend, who turns out to have murdered his brother, escape from the psych ward, and then recites poetry from memory while drinking champagne in a cemetery), Saul does a terrible job of explaining what's happening in CIA world, and Carrie is a double agent. Wait, what? Carrie is a double agent? That's right, folks. It looks like we've been duped.
After an hour of watching Carrie frantically avoid the CIA (she even goes as far as sleeping with a guy to have a place to stay for the night), we find out that she and Saul have been working together on a mission. An Iranian man, Javadi, is apparently the culprit of the Langley attack, and Carrie's job was to lure him out of the shadows so she can have a face-to-face conversation with him via the lawyers that contacted her in the previous episode. When Homeland fails us, we can always count on one thing: Carrie being an awesome spy. Unfortunately, what is supposed to be the biggest move of the episode quickly turns into a vat of questions that have no answers.
How deep does this mission go? Did it start before she was put in the mental hospital, or did it happen sometime while she was there? If Carrie was in on the plan the whole time, why did she sleep with the man from the liquor store? Was it really just to make the whole thing convincing for the lawyers following her? Why was her phone call with Virgil being tapped by the CIA? Does the CIA not know what Saul is doing? If the CIA doesn't know what Saul is doing, then is Saul really on Carrie's side? And finally, why is Dana still the focus of this show? And where is Quinn?
The good news is that Carrie isn't actually willing to turn on the CIA and reveal all of its secrets to Javadi. The bad news is that Homeland has resorted to last-second reveals to keep us hooked. Yes, they may work for now, but how long are we going to watch a show that only becomes interesting in the last five minute?
Highlight of the episode: Carrie is finally released from the hospital. There's only so much more forced arts and crafts that we could have taken.
Upset of the episode: Last week's episode had us finally gripping our seats as we saw Brody for the first time in the season and watched him battle a bullet the to the gut, a captor named El Nino, and plenty of murder. One would reasonably think that signaled the return of Brody, but because Homeland never wants us to be happy or satisfied, it seems like they've decided to dangle the promise of Brody right above our reach. This episode had absolutely zero Brody, which might have been a bad move. Not only did it leave the audience anxiously wondering when the now bald Brody would appear on screen, but it left us feeling like there was something very big missing by the end of the episode.