'Homeland' Recap: No Brody Family Means a Better Show (Season 3, Episode 7)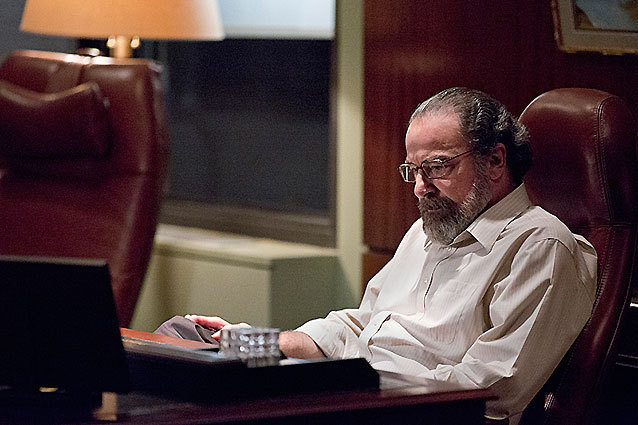 Showtime
Where we left off: Dana skedaddled out of the Brody household, leaving Chris to figure out life on his own (probably for the best). Plus, Saul finally caught Javadi, and it was revealed that Carrie is totally pregnant.
"Gerontion"
In this episode, Saul reveals his plans for Javadi, Mira is unfaithful, Carrie has a bout of morning sickness, Quinn realizes his whole life is a moral nightmare, and, cross your fingers, the Brody family might be gone forever.
Okay, so if we're being serious, the Brody family probably hasn't been booted from the show; however, none of the Brodys appear in this week's episode. The thing is, I didn't realize that they weren't in it until the morning after, when I started writing this recap. It just goes to show that Homeland can survive without its lesser characters and the unfortunate sophomoric (and annoying) storylines that come along with them.
With the Brodys out of the picture, specifically Dana, the episode is able to focus entirely on the spy drama we love. The majority of the episode revolves around Saul and his plan to send Javadi back to Iran as a double-agent. The last thing the cruel money-lusting murderer wants to do is be sent back to Iran where he could be killed for one of the many things he's done, but Saul has a long-term plan for him that will hopefully result in Saul "changing the Middle East forever," or at least that's what he thinks he can do. (We'll see how far this plan goes, seeing as how Javadi is a sneaky rat.)
Things get even better when Saul pulls one of the most badass moves of his career and royally burns Senator Lockhart. The soon-to-be CIA director is about to tattle-tale on Saul to the president for sending Javadi back to Iran, but Saul literally locks Lockhart in a conference room with a disconnected phone (and turns the lights off for good measure). Yes, the move is completely ridiculous, but it works because there's probably not one person watching Homeland that hasn't wanted to see Lockhart get his. And to rub even more salt in his wound, we find out that Adal, who has been quite shady and two-sided, finally shows that he's on Saul's side. (This isn't to say that Adal won't betray Saul again if the right opportunity presents itself in the next episode.) While the senator is locked away, it will be interesting to see how the show continues to function once Lockhart becomes director. Even though Saul only has 10 more days to call the shots, it seems quite unlikely that the writers would put us through the last half of the season having to listen to Lockhart insult Saul every chance he gets, mostly because that storyline would grow tired within five seconds.
As for Quinn, the super spy might be having a mid-life crisis. It seems like he's seen enough death and bloodshed for a lifetime, and his moral compass is pointing as far away from Saul, Carrie, and the CIA as possible. Towards the end of the episode, he says to Carrie: "You f**kin' people. Have you ever done anything but made things worse?" The problem is, I don't think they have. We've been rooting for the CIA because we think they're supposed to be the good guys, but they've been the cause of a lot of unnecessary murder. Yes, if we're listening to Saul, the plan in the long run will help more people than it will (and has) hurt, but is that a good plan? Without Quinn's conscience, we might have never questioned everything that Saul and Carrie do. Hopefully we'll be able to see some good come of their actions in the upcoming episodes so we don't all have meltdowns like Quinn.
Highlight of the episode: The Brody family seems to have vanished. (Anyone know where the grandma from Episode 1 went?).
Upset of the episode: Quinn's shirt was only off for 10 seconds.