'Homeland' Season 2 Finale Refresher, Because Most of Us Forgot What Happened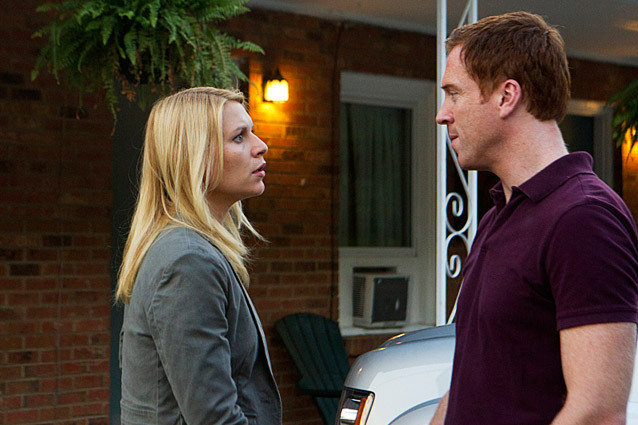 Showtime
I don't know about you, but I'm in serious need of a Homeland Season 2 refresher. Yes, I remember the whole "Brody might have just killed over 200 people at CIA headquarters with a bomb" thing, but it's the smaller details that have slipped through the cracks. Like, remember when Brody basically gave Mike permission to keep on screwing Jessica and taking care of their kids? How selfless of him.
Here are a few other gems you might have forgotten:
1. Estes (David Harewood) ordered Peter Quinn (the devilishly good looking Rupert Friend) to kill Brody (Damian Lewis). Lucky for Brody, it looks like Quinn might have a heart (and maybe the hots for Carrie?) because he couldn't go through with it. Instead, he told Estes to back off or he'd kill him instead. Stick it to the man, Quinn.
2. Brody and Carrie (Claire Danes) revisited the cabin and had something of a romantic getaway that involved Brody "fake" aiming a gun at Carrie's head. (Now that's what I call a relaxing vacay.)
3. Brody decided to officially leave politics. (I would say that after you've killed the VP of the United States and gotten away with it, it's a good time to get out of the limelight.)
4. Brody told Mike (Diego Klattenhoff) that he and Jessica (Morena Baccarin) were splitting up.
5. Saul's (Mandy Patinkin) polygraph death sentence was redacted.
6. Brody basically confessed to Dana (Morgan Saylor) that he almost set off the bomb in season one, and Dana was predictably offended by it.
7. Saul went to Abu Nazir's (Navid Negahban) burial at the sea.
8. Saul called out Carrie for loving Brody and working at the CIA. In an epically truthful Saul-way, he told her, "You're the smartest and dumbest f**kin' person I've ever known." True that, Saul.
9. Carrie, Saul, Brody, and a bunch of other people went to CIA headquarters for VP Walden's (Jamey Sheridan) funeral. Carrie and Brody snuck off to an office, and Carrie told Brody that she was choosing him over her career, causing 21st century women to roll their eyes in disgust.
10. But uh-oh, someone moved Brody's car closer to the CIA building, and the next thing we knew a bomb exploded and killed over 200 people, including Walden's family (including Dana's bad-boy love interest, Finn) and Estes.
11. Apparently the blow to the head caused by the bomb made Carrie believe that Brody didn't set off the bomb (WHAT??), and she proceeded to help him cross the border and escape into the Canadian woods.
12. Brody's confession tape in season one was released to the public confirming that he's a terrorist. Whoops.
13. Saul was finally put in charge, and we found out that Mira (Sarita Choudhury) is coming back!! (Now that's a relationship that I can root for.)
And that about sums up the end of season two. Who knows if the Homeland writers will be able to pull it together and make season three a success, but I'm willing to give it a shot. A lot of people have been talking about giving up on the show, but I think that's just the frustration talking. And I get it. We've been toyed around with, and by keeping Brody alive and us wondering if he did it or not seems like a cheap way to keep us hanging on, but if it leads us to another adrenaline filled season of suspense, then I'm all in. My one request is that Dana cools her jets and stops being so mopey. Get a grip, Dana. Get a grip.
Season three of Homeland premieres Sept. 29 at 9 P.M. on Showtime.
More:
'Homeland: The Musical' Brings Out a Whole Other Side of the Showtime Drama
Who Do You Trust?: Watch New 'Homeland' Season 3 Trailer
'Homeland' Season 3: Damian Lewis Thinks Brody Won't Survive
Follow @CaseyRackham  
Follow @hollywood_com
---
From Our Partners:

A Complete History Of Twerking (1993-2013) (Vh1)


20 Grisliest TV Deaths of 2012-2013 (Vulture)