'Homeland' Teaser: 5 Important Questions We Need Answered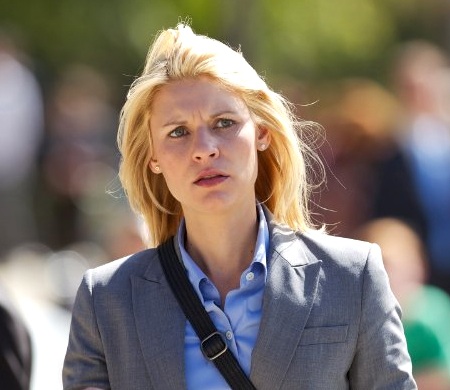 It feels cruelly fitting that the teaser trailer for Season 2 of Homeland leaves viewers waiting with baited breath and a flurry of questions. After all, it's those very things that hooked fans in during the Golden Globe-winning Season 1. 
It's also fitting that the criminally short clip (10 seconds, to be exact) puts an emphasis on the word "obsession," as it's both the thing that drives CIA op Carrie Matheson (a continually impressive
Claire Danes
) to prevent terrorism on U.S. soil and discover the truth about POW Nicholas Brody (
Damian Lewis
) and that drives us to keep watching. "You wait. You lay low. And then you come to life," Danes says in a voiceover, leaving us with the notion that Carrie may have been down in the Season 1 finale, but she is most certainly not out of the game. Watch the preview here:
"Her obsession hits home." Damn. What does it all mean?! Rather than break down every frame of the teaser by printing them out, tacking them to our wall and making a detailed timeline with laser-like focus and unrelenting determination, instead we'll ask the questions that need to be answered in Season 2 of the Showtime drama. Well, other than why in the hell does Jessica call her own husband Brody? (Seriously, that's just weird.) 
1. How much will Carrie remember? In those devastating last few moments of the Season 1 finale we witnessed the mentally and emotionally drained Carrie undergoing shock treatment in an attempt to manage her bipolar disorder, and maybe to some degree, forget some of the things that haunt her. But will the treatment simply level her out or give her all-encompassing amnesia like Rory Gilmore (okay, fine, Beth) on Mad Men? Right before undergoing the procedure Carrie had a flash back to Brody calling out Issa's name in his sleep during a nightmare and asked those around her to help her remember that important detail, but it fell on deaf ears. Will Carrie be able to recall that major revelation? How long will it take? Or will it, tragically, be gone forever? 
2. Will Brody actually run for Congress? While the former Marine Sergeant turned Al-Qaeda operative didn't carry out his suicide bomb mission, he assured Abu Nazir that he could do what he needs and infiltrate U.S. policy from the inside if he were to win a seat in Congress. But, as evidenced by his change of heart, Brody's allegiances tend to change. If he were to win, would he actually attempt to make changes in the name of Issa or would he wield his power to his own benefit? More over, hasn't he left too dirty a trail — including that damning post-suicide confession tape, killing and his affair with Carrie —  to run an effective campaign? 
3. What happened to Aileen Morgan? Like Brody, another homeland terrorist, Morgan was brought back by Saul as she attempted to flee to Mexico. Morgan had allies and help all over and those tied to her were likely not thwarted by her capture, nor Raquim's death. What happened to Aileen when she was brought back to D.C. and, more importantly, what happened to those who were working with her? 
4. How much will Saul be able to do alone? Since Saul spent the better half of Season 1 kicking ass and taking names, including terrorist accomplices, the horrible VP and David Estes, it's unlikely the newly single (sorry, Saul) CIA chief will let this case, especially now that he knows about the drone attack that killed all those children, will let this one rest. After the suicide bomb attack and sniper shooting in D.C., can Saul crack the case that Carrie was so close to doing without her help anymore? 
5. WHO IS THE MOLE? Seriously. This one is killing us. 
Those questions and so many, many more will hopefully be questioned when Homeland returns to Showtime on September 30. 
[Photo credit: Showtime] 
More: