Hoping To Keep Visiting 'The Neighbors' For A Longer Time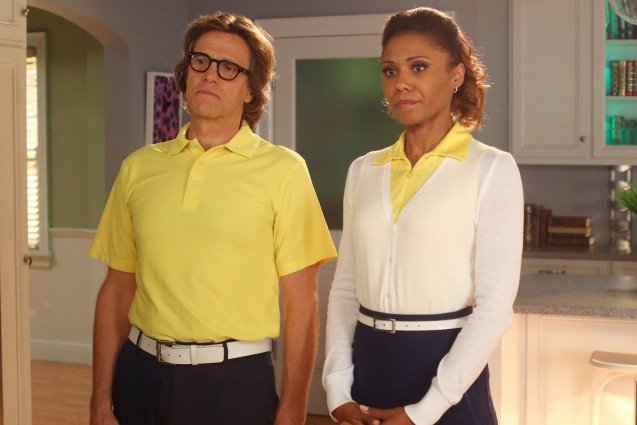 ABC
I'm always behind in popular trends, it seems, like starting to watch and really enjoy a show when its in danger of being cancelled. (Hi, Firefly!) The day that I actually get a verified check mark on Twitter is when its death knell will ring as a relevant social media portal. (Seriously though, it's @literateartist, if you're one of those people tasked with doing this.) I'm hoping to beat the odds with The Neighbors. It's a fantastically funny show, but I keep hearing that it may be on the chopping block.
What makes it so hilarious? The fact that the aliens all use the names of sports figures — Larry Bird, Jackie Joyner-Kersee, etc. — tickles my funny bone because I 'm a huge sports addict. But you knew that after reading my MLB Network piece, right? The second is that Toks Olagundoye is such a great comedic find and Simon Templeman is perfect as her husband. Jami Gertz and Lenny Venito are the perfect foils as the human neighbors.
The show seems to be hitting its stride comedically. The Shark Tank crossover episode was fantastic and the ones after it, including the cameos by Reginald VelJohnson and Meredith Baxter (I still keep mentally adding 'Birney' to the end of that – I think it's because I'm seeing a ton of Family Ties reruns) was great too. There seem to be at least five or more quotable lines each episode. In terms of wit, I'd compare it to the freshman sitcom Brooklyn Nine-Nine.
So what's causing the problem with the ratings? Well, the main bad thing was having ABC put it in the Friday night slot. Sure, it was a lead-in to its strongest Friday show, Shark Tank, but not even that can dissuade the people that are going to go out for weekend fun. There's also the DVR factor; apparently not enough people are programming it to record. If these poor numbers continue, the show may be axed, which would make me sad.
I know that TV history is littered with smart, funny shows that just couldn't garner a wide enough audience base to keep going for more than one or two seasons. It's the nature of a medium that tries to appeal to a broad base of people and each network needs enough eyeballs on it. But if ABC does let it go, I hope that a cable channel like TBS or maybe even Netflix would grab it and keep the momentum going by producing more new episodes. Hey, if it could happen to Cougar Town, it could happen here.
In the meantime, I'm just going to keep waiting for that blue Twitter check mark.