'Hot In Cleveland': 3 Things You Need to Know About The Season 4 Premiere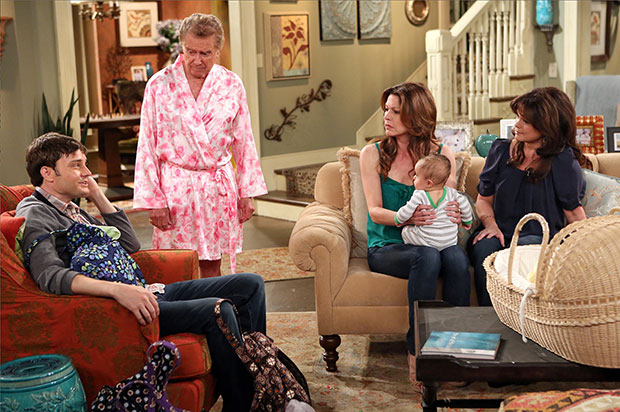 The show that brings our weekly dose of Betty White goodness is back — and it looks like this season is going to be the most hilarious one yet. Melanie (Valerie Bertielli), Joy (Jane Leeves), and Victoria (Wendie Malick) are kicking season four off with an adorably awesome game-changer that you don't want to miss. To help get you ready for all the hilarity that is sure to come this year, here are the top three things you need to know…
1. Oh Baby! The premiere picks up right where we left off: with a baby on the doorstep! Within the first two minutes audiences will not only know who the parents are, but also why this bundle of joy was dropped off. We can't reveal who brought the babe to Cleveland, but we can tell you that we've seen this person before. Plus, the little tyke's name will definitely make you laugh out loud — or in our case, spit your Diet Coke all over your desk.
2.
Heather Locklear is a Lil Bit Crazy:
The ex-
Melrose Place
vixen is joining the cast this season as Chloe Summerlin, a former Miss Ohio who is now the founder and owner of Cleveland's best public relations agency. Oh, and we should probably also mention that she is Melanie's new blouse-stealing boss. Be warned, that's not the only thing she's hoping to steal from our optimistic divorcee…
3. Regis is Still Rockin' The Ascot:Our favorite former talk show host makes his first appearance in a short yet sassy silk number, and it's clear that Pierre and Elka are going to be quite the pair. Well, that is until jealousy creeps into the mix. Get excited for a lot of yelling, scheming, and a drastically different hairdo. Plus, is seems that in addition to being a skilled hair-stylist, Pierre is also quite the baby whisperer. "Over the past three seasons, we have seen some astounding guest stars stop by the show," says Larry W. Jones, president of TV Land. "This season is sure to please the fans as even more storylines develop and new characters emerge. We've got an irresistible combination on our hands with our favorite Clevelanders, a baby, and Heather Locklear – it's sitcom magic." You can catch the premiere of Hot in Cleveland Wednesday on TV Land at 10 p.m. 
Follow Leanne on Twitter @LeanneAguilera
[Photo Credit: TV Land]
MORE:
Modern Family and Hot In Cleveland win at GLAAD Awards White wins another honour for Hot in Cleveland TV Roundup: Kristen Chenoweth on 'Hot in Cleveland', 'Grey's' Welcomes 'Firefly' Vet

Jennifer Lawrence Bikinis in Hawaii: Her 15 Sexiest Pics

Beaten, Bloody Gabriel Aubrey After Fight With Halle Berry's Fiance: Shocking PICS