'House' Creator Talks Series Finale, House & Cuddy, and that Car Incident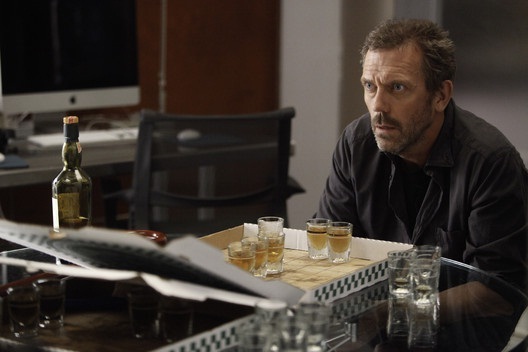 On Monday, May 21, Hugh Laurie will make his final acerbic, marginally racist diagnosis: Fox's long running medical drama House is coming to an end. With the finale and the relationships and misadventures of the past eight seasons fast approaching, executive producer David Shore teases a "bittersweet" ending.
Unsurprisingly, he doesn't divulge much detail about the big finale. However, he assures fans that we're not in for an open-ended conclusion. "It's definitely an ending," he tells Hollywood.com. "We never do happy endings, but we also try not to do simply miserable endings. Bittersweet is the most you can hope for from us."
But perhaps it's not about the destination, but the journey. Shore says he wants fans to walk away knowing "who [Dr. House] is and what he stands for." The way Shore sees it, "It's really about the character and what the character stands for, which is, really, the pursuit of truth. Not just blindly following things." Of course, Shore couldn't have accomplished that character without "Hugh Laurie's eyes, the character's sense of humor, and the fact that he's a bit of a 15-year-old boy."
Speaking to some of the more controversial bits in House history, Shore is empathetic to fans' concerns, but maintains that he is generally proud of the creative choices he and his staff have made. While the House-Cuddy (Lisa Edelstein) romance has been critiqued all over the Internet, Shore insists that doing something with this pair was unavoidable. 
"I think it was going to be a lightning rod no matter what we did," Shore says. "I'm not saying we did everything perfect. I'm not saying we did things horrible either … But fundamentally, we had to do it. You can't have sexual tension go on and on and on and on. It was there from the beginning … but at a certain point, we had to put them together," he added.
As fans know, House's relationship with Cuddy came to a climactic end in the Season 7 finale, when the title character crashed his car through his ex's home — a move that Shore calls, "a logical and motivated irrational act, but it was still an irrational act" noting that the doctor "never meant to do [Cuddy] harm." House's destructive move got a lot of heat from fans and critics, but Shore is confident in the writers' big twist. "The saying within the writers room … was, 'The punishment doesn't have to fit the crime, but there has to be a crime.' As long as there was a motivation, as long as there was a House-like motivation … pretty much anything went," he says.
But although Shore can identify the mentality behind the act, he's not unsympathetic to fans' outcry. "We had to pay a price the next year," he says. "But that may have been why that act got more of a reaction than any of the other, shall we say, reprehensible things he did … He has come closer [to causing harm] in an effort to saving lives. There was no upside, I suppose, to driving that car, except for a satisfaction of lashing out."
Finally, the creator speaks passionately about what he considers the life blood of the show: House's friendship with Dr. Wilson (Robert Sean Leonard). "I think one of the things that we've done very well on the show, if I do say so, is the House-Wilson relationship. There's a lot of exploration on TV of romantic relationships … there are very few explorations of male friendship — not just a wingman type friendship, not just an opportunity for humor."
Of course, this friendship wouldn't work if Wilson weren't somewhat as mentally deranged as his starring partner. "I think there's something clearly wrong with Wilson as well [as with House]," he says. "When we were casting Wilson, Robert Sean Leonard was reading for the network, and he came in and did a great job. The network wanted him to be a little kinder, a little nicer … And Bryan Singer, when I was directing it, went off to give him a note outside the room."
But Shore knew this wasn't the right move for the character: "I'm sitting there in the room, thinking about it, and going, 'I think that's a bad idea. He can't be too soft. There has to be something about this guy, something that would make him be friends with House. There has to be a bit of an edge to him.'" Clearly, Shore got his way.
After eight years of cracking medical mysteries, berating his friends and coworkers, and pill-popping himself into oblivion, Dr. Gregory House is saying goodbye to the spotlight. If Shore's comments are any indication, the show was handled with the same passion and dedication that fans gave to it throughout the years. What do you really need from the House series finale?
[Image Credit: Fox]
More:
Fox to Cancel House After Eight Seasons
Fox Renews Touch, Drops Alcatraz: Why Heroes Still Works & LOST Doesn't
NBC's Series Pick-Ups: Bit o' Ryan Murphy, a Dash of J.J. Abrams, & an Old Friend