Adam Brody Takes Kristen Bell on a Dildo Tour on 'House of Lies' — EXCLUSIVE NSFW VIDEO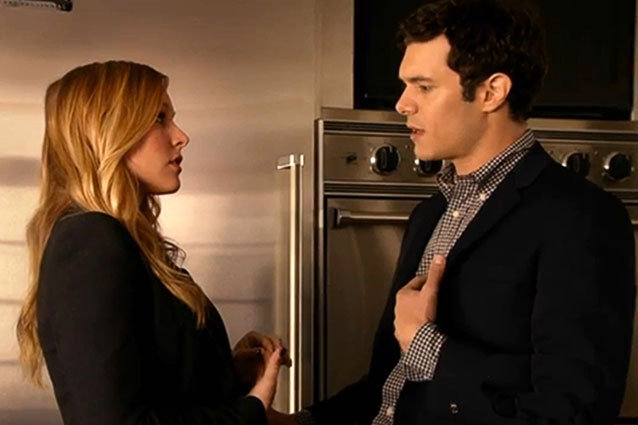 Seth Cohen and dildos, together at last. And not in some weird fan fiction from 2003! It's all for Showtime's House of Lies, which will introduce guest star Adam Brody as the pod's newest client on Sunday, March 10.
Brody appears in three episodes as Nate, the head of an adult toy company who hires the consultants at Galweather Stearn, headed by Don Cheadle's Marty, to assist his business. And his business is dildos.
RELATED: Seth Cohen and Blair Waldorf are Dating?!
In Hollywood.com's exclusive clip from the episode, Nate meets Kristen Bell's Jeannie for a tour of his sex toy factory. You know the Food Network show Unwrapped, where they tour food factories set to jaunty music? Picture that, but with skilled artisans painting veins on fake penises instead.
Don't worry, it's hilarious, not weird. (Well, possibly weird, but that's on you.) Be warned: It is not exactly safe for work, unless you, too, work at a sex toy factory. Or, like, an entertainment website. They let us watch anything here.
House of Lies airs Sundays at 10 PM ET/PT on Showtime.
Follow Jean on Twitter @hijean
[PHOTO CREDIT: Showtime]
---
From Our Partners:


Kim Kardashian's Maternity Style: So Wrong? (Vh1)


60 Celebrity Bikini Bodies: Guess Who! (Celebuzz)