How Bravo Can Make Its 'Heathers' Remake Tolerable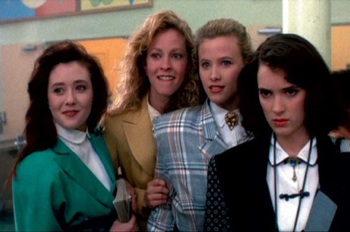 When I saw the headline in The Hollywood Reporter that Bravo was going to remake '80s cult classic movie Heathers, I involuntarily made the same choking, wretching, gasping sound that Heather Chandler made when Veronica gave her a Drain-O Smoothie. Why does Hollywood have to mess with everything that is sacred and amazing? And why do they keep calling it "original" programming when everything is based on an old movie, a canceled show, a long-forgotten novel, or a repurposed reality program? That doesn't sound very original.
But, yes, this Heathers remake is going to happen. Andy Cohen and his tree full of magical cookie-baking elves over there at Bravo are trying to get into the scripted TV business and have greenlit (greenlighted?) this show by The Big C and Sex and the City scribe Jenny Bicks. It also has four other dramedies in the works. That's a lot of cookies in that there tree! As for Heathers, it takes place 20 years after Christian Slater tried to blow up the school and Veronica returns to Sherwood with a daughter of her own. Now Veronica's daughter has to deal with The Ashleys, a power clique in their own right who are the daughters of the Heathers who didn't die at Veronica's hand.
I'm sorry, but I am naturally skeptical, especially when TV execs are messing around with one of the beloved gems from my formative years. (And also, how are they going to have so many fake suicides for seasons of this show?) I'm also skeptical because this sounds pretty much like every other ABC Family show that is already on the air. It's not that there's anything necessarily wrong with ABC Family, it's just that the Real Housewives and Top Chef fans out there, like myself, don't necessarily want to watch ABC Family.
Here are some things that Bravo can do to keep their brand identity and create a show that I'll actually want to watch:
Creative Casting: OK, Winona Ryder has to be in this. What else is she doing? It's not like she's turning down scrips left and right or anything. She doesn't even have a reality show. (OH! A reality TV tie in just like a real life Comeback. Yes, please.) The only way that Veronica will be the same Veronica is if we get the same Veronica. Also, I think Bravo owes it to Real Housewife of Beverly Hills and former Disney star Kim Richards to cast her as one of the old Heathers. Sure, she's a little dodgy these days and definitely seen better days like back in the '80s when she was gorgeous and popular. If that doesn't sound like an arc for TV, then what is?
Add a Gay: I know a boy named Ashley. A mean gay boy named Ashley, nonetheless. It wouldn't be Bravo without at least one homosexual.
Catfights Galore: In the movie there was some shade throwing and a few murders, but there weren't really any good fights. A war of words is what defines the different episodes of each Real Housewives franchise. Without them, we'd be lost. Think more Dynasty.
The Wardrobe Department: These girls better be wearing some clothes! Sherwood is out in the middle of the suburbs, but these girls have Net-A-Porter, they can order some cutting-edge fashion. They better be dressed better than the girls who gossip, or I am going to be seriously pissed.
Sex Appeal: There is going to have to be a hot, shirtless guy in every episode. Maybe Veronica has a gorgeous nudist neighbor who is always popping by to give sage advice and flex his muscles. Maybe there is a comely gym teacher who doesn't like to wear a tank top. Who knows, make it happen.
Forget It: Sure, there is nothing new under the sun, but do we really have to mess with Heathers, something that was already perfect? Why not just make up a new high school drama? Maybe Bravo should just can the Heathers name and go with something else. Maybe that's just best.
Follow Brian Moylan on Twitter @BrianJMoylan
More:
Movie's 8 Meanest Onscreen Bullies
Christian Slater and Winona Ryder Reunite for 'Heathers' Sequel
From Our Partners:

Bill and Giuliana Rancic Share First Photo of Baby Edward Duke — PHOTO
(Celebuzz)

(Celebuzz)