How 'Brooklyn Nine-Nine' Can Reach The Level of 'Parks and Rec'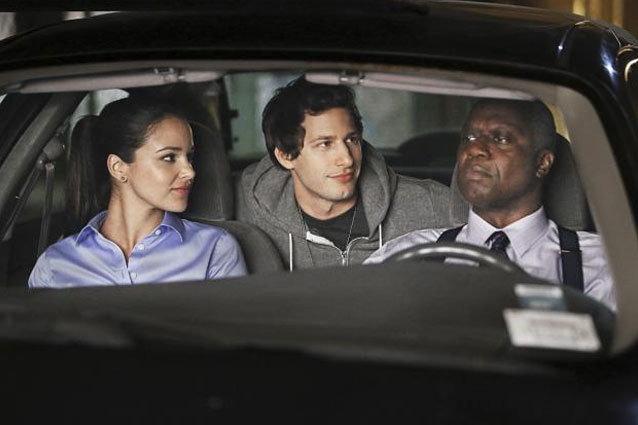 FOX
Brooklyn Nine-Nine, the squadroom comedy starring Andy Samberg and Andre Braugher, is the best new situation comedy of 2013. However, given that its competition includes shows like The Millers and the recently-canceled Welcome to the Family, that's not saying a whole lot. The show at this point is good but not great, although it's been showing signs of improvement after an awkward first couple of episodes. And series creators Michael Schur and Dan Goor obviously have experience in making improvements on a series that had a rocky start: they came to this show from Parks and Recreation, which went from an absolutely terrible first season to becoming the sharpest, funniest and sweetest comedy on TV. (By the way: up yours, NBC, for putting Parks on hiatus until 2014.) So what cues can the showrunners take from their former series to make Brooklyn Nine-Nine better still?
Open Up The Characters
Now that the leading characters have their basic traits down, let's see them expand on them. Samberg's Jake Peralta is supposedly a cocky slacker who gets results, but for the most part, they've forgotten the second half of that. Show us that, like Parks and Rec's Leslie Knope, Jake is really good at his job. Similarly, giving more layers to Braugher's Captain Ray Holt, who so far has been so stoic that he makes Ron Swanson look like Chris Trager (to continue the Parks and Rec comparisons), would give Braugher more to work with.
Juice Up The Support Team
There is a potentially great supporting cast here, but so far, their characters haven't been given enough depth. The worst offender is hapless Detective Boyle; though I've been a fan of Joe Lo Truglio since his days with The State back in the early '90s, Boyle is so far a one-note character. Similarly, Stephanie Beatriz's Detective Diaz and Melissa Fumero's Detective Santiago haven't been able to expand beyond their initial descriptions as The Tough Cookie and The Overachiever. Only Chelsea Peretti as the snarky administrator Gina and Terry Crews as Sgt. Jeffords, a former hard case who has lost his edge since his wife had twins, have shown much dimension. Recent episodes where these supporting characters have had the opportunity to bounce off each other have been promising, such as a subplot where Boyle helps Jeffords build a dollhouse for his daughters. The show needs more of this.
Fox clearly has faith in the series, which last week was given next February's coveted post-Super Bowl slot alongside an episode of New Girl. And the series has been showing steady improvement in quality if not ratings. Giving it a better lead-in than the disappointingly unfunny Dads (a show that's wasting an amazing cast with terrible scripts) would be a help, too. Shifting Brooklyn Nine-Nine to 8PM, followed by Raising Hope, then New Girl and The Mindy Project, would be a solid evening of comedy.