How Many Times Did Jimmy Fallon Say 'Excited' on His First Episode of 'The Tonight Show'?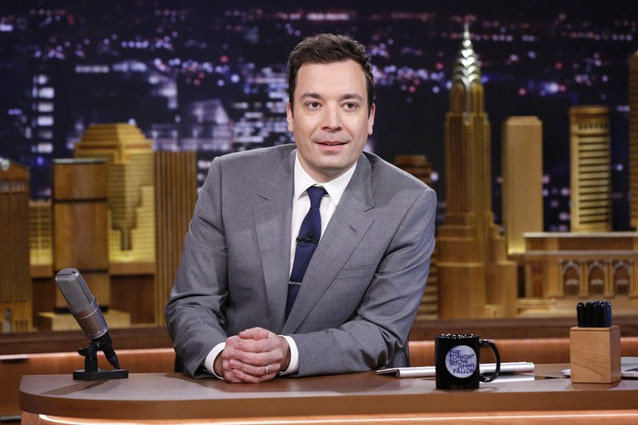 NBC Universal Media
Monday night marked the beginning of a new era in late night talk shows, as Jimmy Fallon made his debut as the new host of The Tonight Show. Beside Fallon were his announcer, Steve Higgins, and house band, The Roots, with Will Smith and U2 stopping by as the new show's first guests. They were all joined by Fallon's parents, who watched from the audience, and a slew of celebrity guests, including Tina Fey, Tracy Morgan, former Mayor Rudy Guiliani, Joan Rivers, and Robert De Niro… none of whom, apparently, ever believed that Fallon would actually wind up with the gig. 
But even though fans of Late Night were likely excited to see that familiar bits like "Evolution of Dancing" and "Athlete Superlatives" made the jump over to The Tonight Show, nobody was more thrilled about Fallon's new job than Fallon himself. How do we know? Only because he happened to mention how excited he was just about a dozen times during the course of the show. In honor of Fallon's big move to 11:30, we counted up every one of the incurably effusive funnyman's most frequently uttered exclamations of joy in order to officially determine how excited he is about the new series, because, if we're being entirely honest, we're pretty excited about the new Tonight Show as well. So, just how many times during the first episode of The Tonight Show Starring Jimmy Fallon did the host… 
Describe something as "great?" 10 times. His childhood, yes. Saugerties, N.Y.? Not so much. 
Say that he loved someone or something? 9 times. Mostly people, but it turns out that Fallon's a big fan of two-man luge. 
Call something "amazing?" Only twice, but it's still early in the show's run. 
Bring up New York, the new host city of The Tonight Show? 4 times, which is much less than we were expecting.  
Say that he or his parents were proud of the show? 6 times, although it was mostly in reference to Fallon's high school graduation. 
Mention that he was happy? Only 5 times, although it was pretty obvious from the way he reacted to everything. 
Tell the audience that something was fun? 7 times, although it turns out that "Evolution of Hip Hop Dancing" is more dangerous than anything else. 
Describe someone or something as "beautiful?" 9 times. 1o if you count him calling the set "gorgeous." 
Welcome the audience or guests to the new Tonight Show? 8 times, only half of which occurred after a commercial break. 
Thank somebody for contributing to the show, or the audience for watching? 27 times! 6 of which happened during his $100 bet sketch with his surprise guests. 
Describe someone or something "huge?" 3 times. Will Smith is a pretty big deal. 
Call someone by the nickname "buddy?" 5 times. He just really wants to be everybody's friend. 
Mention that he was excited or psyched? 11 times. We don't know if you picked up on this, but Fallon's super excited about his new gig.