'How I Met Your Mother' First Look: Ted Reaches for New Heights!

With How I Met Your Mother season premiere less than a month away, fans are scrambling for any glimpse into the most legendary show on television. CBS has asked their loyal HIMYM fans to ban together through Twitter to unlock a new never-before-seen photo from the show's upcoming eighth season. After countless #UnlockHIMYM's tweets, CBS has released the new photo and we're excited to show you that our beloved storyteller, Ted (Josh Radnor) is still hanging in there this season. Literally.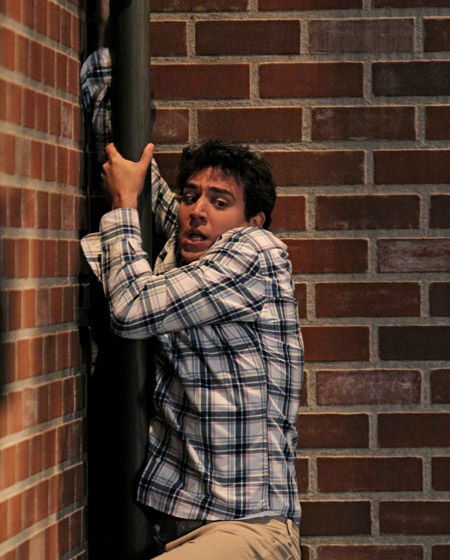 When we last saw our favorite Star Wars loving architect he was driving off into the sunset with Victoria (Ashley Williams). Cute right? There's only one problem: they were riding off into the sunset right after Victoria left her fiancé at the alter, wedding dress and all. Yikes!
In the season eight premiere "Farhampton," fans are going to get a closer look at exactly what else happened that night before the adorable twosome jumped in their getaway car. CBS's photo caption reveals, "Robin's (Cobie Smulders) anxiety on her wedding day to Barney (Neil Patrick Harris) prompts Ted to recount the time he insisted on leaving Victoria's jilted fiancé a note before they drove off into the sunset together."
What do you think about the new HIMYM photo? Is Ted just wasting his time with Victoria? Excited to see more of Barney and Robin's wedding? Shout it out in the comments below!
How I Met You Mother premieres Monday, September 24 at 8 PM on CBS.
Follow Leanne on Twitter @LeanneAguilera
[Photo Credit: CBS]
MORE:
Create Your Own Adventure: 'How I Met Your Mother'
TCA 2012: CBS Boss Talks 'How I Met Your Mother' Will it Ever End?