'How I Met Your Mother': Preparing for Barney and Robin's Wedding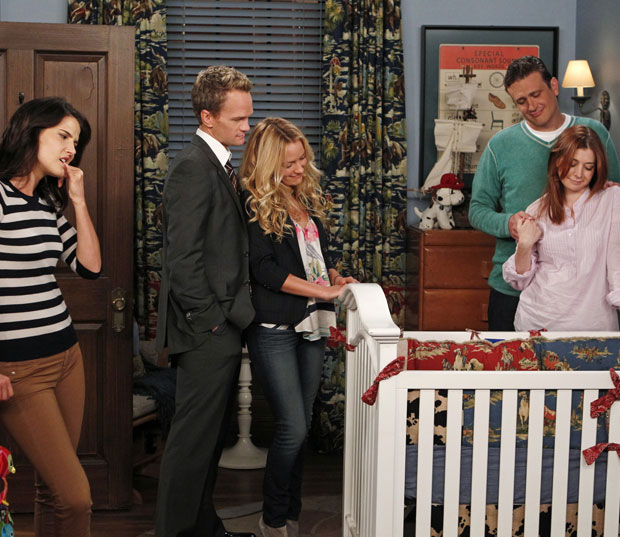 Over the next few months, we'll see new series soar, old series sour, and so much Jersey Shore madness, we'll want to shower. Let's face it: The Fall TV season is intimidating. With dozens of new and returning shows hitting our small screens, we know we have some big choices to make. So, to help you determine what to watch, we're digging deep into the most notable series premiering this season. Where did each show leave off? Where is it headed? And who should you watch it with? Next up is CBS's returning comedy How I Met Your Mother, the continuing adventures of Ted Mosby on his quest to find the eventual mother of his children, with a bunch of people who haven't realized that they don't have to do TV anymore along for the ride.
Series: How I Met Your Mother
Premiere date: Monday, September 24 at 8 PM
Number of seasons on air: Seven going on eight
Cast: Indie director Josh Radnor, Apatow regular/Muppet rebooter Jason Segel, friend-of-Buffy/band camp attendee Alyson Hannigan, perpetual awards show host Neil Patrick Harris, and S.H.I.E.L.D. Agent Cobie Smulders.
Synopsis: In the year 2030, Ted Mosby is a happily married father of two, looking back fondly (sometimes regrettably) on his days as a single sad-sack searching for the love of his life in New York City. The audience joins Ted's children in hearing about the once young man's romantic forays that would eventually lead up to the meeting of his future wife: a woman who, even eight years into the story, we still haven't met. Joining Ted in his adventures: man-child Marshall (Ted's college roommate and best friend), Marshall's occasionally conniving wife Lily, the hypersexual suit-addict Barney Stinson, and gun-loving Canadian newsanchor Robin Scherbatsky — an on-again-off-again love interest to both Ted and Barney (and Lily, kind of).
Where we left off: Marshall and Lily had just given birth to their first child, Ted had whisked ex-girlfriend Victoria off on her wedding day, and Barney had just proposed to Quinn… only for a time jump to reveal that he would actually be getting married to Robin.
You'll like it if: You can forgo the laugh track and the occasional weak joke, and appreciate the likable characters, plentiful running gags and callbacks weaved in to reward dedicated fans.
You won't like it if: You're a single camera purist, spoiled by the greats like Arrested Development and 30 Rock, whose very soul is eroded by the sound of canned laughter.
Greatest use of the New York cityscape: The inside of MacLaren's pub. That's the problem with four-camera sitcoms: even though main character Ted is an architect fascinated with the Big Apple's skyline, we rarely see much of the city — the characters' apartments, their hangout pub, and maybe the inside of a cab.
Hum-worthy originals: "Nothing Suits Me Like a Suit" (the ballad of Barney Stintson), and Marshall's hit number: "Bang-bang-bangadee-bang!"
Games to adopt: Marshgammon… but it'll take a good deal of patience and studiousness to actually understand the rules.
Reason to watch this season: The same reason we watch every season. Maybe, just maybe we'll find out who the #$@%& mother is!
Things you're bound to hear: One or two or nine of NPH's "Legen — wait for it — dary"s, an enthusiastic "Hello!" from recurring limousine driver Ranjit, and a whole bunch of jabs at Canada.
Things to look out for: Hidden numbers counting down in consecutive scenes and background appearances by Conan O'Brien… this show loves secret jokes.
Required reading: As shocked as you might be to learn this, there is actually a series of "Bro Code" books by author "Barney Stinson"