'How I Met Your Mother' Recap: A Sitcom Where Someone Hides In a Closet? Never!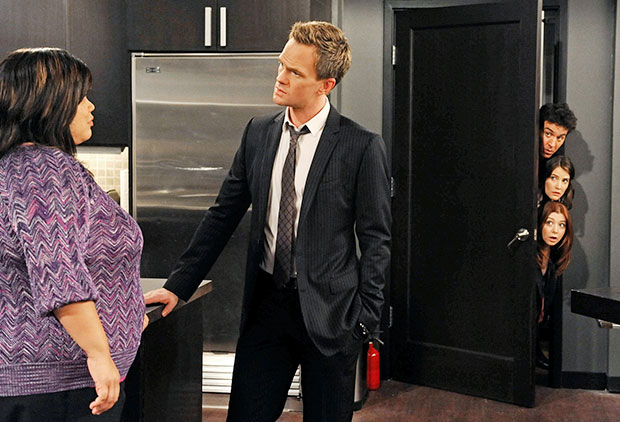 I think I've finally found the secret to what makes an enjoyable eighth season episode of How I Met Your Mother: watching it while half asleep. I know this sounds like a cheap shot, but it is meant with the utmost sincerity — allow me to explain. See, the show's featured gaggle of New York-based sociopaths stuck in a carbonite of suspended adolescence pride themselves on unorthodox lifestyles. Whereas most city dwellers their age might spend their afternoon working at the law firms/elementary schools/news stations/corporate offices/architecture… places at which they're allegedly employed (or at least taking care of their freakin' newborn baby), these nut jobs have extensive time to concoct harebrained schemes that involve hiding out in one another's closets for entire days at a time. With lifestyles like these, and value systems that encourage them, we've got to imagine some degree of sleep deprivation to have overtaken the HIMYM crew long ago: an psychologically paralyzing insomnia that stunts the bounds of good judgment just enough to provoke the self-absorbed quests pioneered by Ted and company week after week. As such, the only way to truly relate to these characters, to understand them, to actually root for them even, is to become one of them. And such was the journey upon which I set this week when I watched How I Met Your Mother's latest episode, "The Over-Correction," at 5 AM on only two hours of sleep. Trust me, it works.
GALLERY: Best and Worst TV Episodes of 2012
So, picking up from
where we left off last week
, Barney is engaged in an affectionate romantic relationship with Robin's detested coworker Patrice… one that Robin thinks is just a ruse to make her jealous. To put an end to their affair (which is, pretty clearly, making her jealous), Robin tries to convince Patrice of the heartless womanizer that Barney really is, to little avail. As such, Robin engages in the most mature course of action imaginable: she breaks into Barney's apartment to reveal his secret Playbook for duping women into sexual congress, hoping to reveal it to Patrice and in turn encourage her to leave Barney once and for all. But in true
How I Met Your Mother
/
Happy Endings
/
Three's Company
/
I Love Lucy
/
Frasier
/
Perfect Strangers
/
Father Ted
/
3rd Rock from the Sun
/
Mr. Belvedere
/
Who's the Boss?
fashion, Barney returns home at the most inconvenient of times, forcing Robin to hide out in the closet until they're gone. As everyone else she knows has just as minute a neocortex, Robin is able to rope Ted into helping to free her from the confines of Barney's bedroom closet; Ted rushes over to the apartment, tricking Barney into believing that his idol, Hugh Hefner, is downstairs in his lobby. But even with these minutes bought does Robin fail to escape, as she is hell bent on finding Barney's hidden Playbook. See, as her friends point out to her at the end of the episode, Robin is unhealthily obsessed with Barney and with her suppositions about his relationship. The latest in their string of Interventions is enacted to provoke Robin to let go of her attachment to Barney and to try and move on. When Lily (oddly, also hiding out in Barney's closet, simply for a little "me time") and Ted (harangued into the closet as well after a second failed attempt to drag Barney away from his apartment) witness Barney destroy his Playbook as proof to Patrice that the con artist life is behind him, they conclude that he is truly devoted to her, and a changed man. For the better.
GALLERY: 8 TV Characters Who Turned It Around in 2012
But if we know
How I Met Your Mother
, then we can predict what's coming next: some reveal that the whole thing — Patrice, the burning of the book, whatever else I probably missed when I started hallucinating from lack of sleep — is, in fact, a ruse to get Robin back. How exactly he can pull this off without looking like the worst person in the world? Well, he might not. He's done some pretty horrible things in the past, and the show still seems to think he's worth our emotional investment. In fact, all of these people are just kind of… horrible. But hey, blame it on the insomnia. It's a disease, people. They're suffering. And while all of his friends are off having closet adventures, Marshall is forced to wade through the nightmare of his own widowed mother shacking up with Lily's divorced father. Make way for uncomfortable C-stories, viewers. [Photo Credit: Ron P. Jaffe/CBS]
More:
'Amazing Race' 21 Winners Josh and Brent: 'The Twinnies Helped Us Win!'
'Real Housewives of Atlanta' Recap: The Ecstasy of Kenya Moore
Cast of 'Downton Abbey' Realizes Pun Potential, Takes Subway Downtown

Lea Michele Calls Her Breasts 'My Prizewinners'

Kim Kardashians Best Bikini Moments (PHOTOS)