'How I Met Your Mother' Recap: Great, Now Dishwalla Is In My Head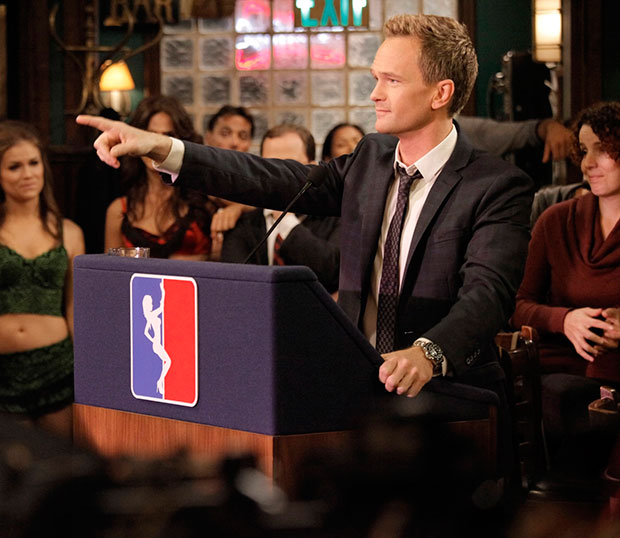 Must have been late afternoon (mid-evening is actually a bit more accurate). I could tell by how far the child's shadow stretched out, and also by the fact that a new How I Met Your Mother was on — an episode that would effectively launch me into a state of irreparable madness via the injection of the 1995 Dishwalla hit "Counting Blue Cars" into my auditory cortex, provoking an estimable lifetime of cognitive itching. And this isn't the first offense for the CBS sitcom. Just when I finally got over How I Met Your Mother's infernal devotion to The Proclaimers' "I'm Gonna Be," they spring Dishwalla on me. Stupid Ted and his stupid motherless kids.
But aside from its breeding of the most dutiful of earworm, this latest episode of How I Met Your Mother doesn't offer much to keep in mind. Sure, Barney and Robin further their plight of romance, but through a vile of energy that is almost bone-dry. Whereas HIMYM would have once, long ago, delivered romantic twists of passion and interesting character exploration, it now instead only does so out of habit and expectation. On this episode, titled "The Stamp Tramp," Barney seeks a new strip club to make up for the Lusty Leopard, which he has been forced to abandon ever since breaking up with Quinn (who works there as a stripper, if you don't recall). Robin plays "agent" to the hot commodity that is Barney, negotiating with club after club for the claim to this most valuable of clientele. And in the end, after all of that nonsense is over and done with without so much as a single solid joke, Barney and Robin kiss. It's sudden, lazy, and unsurprising. Even the most adamant of Stinson/Scherbatsky shippers will roll eyes at the cavalier nature of the pair's latest union. All of the romance has seeped out of this show, I'm afraid. I perish the thought of Ted actually meeting the mother of his children in this passionless era.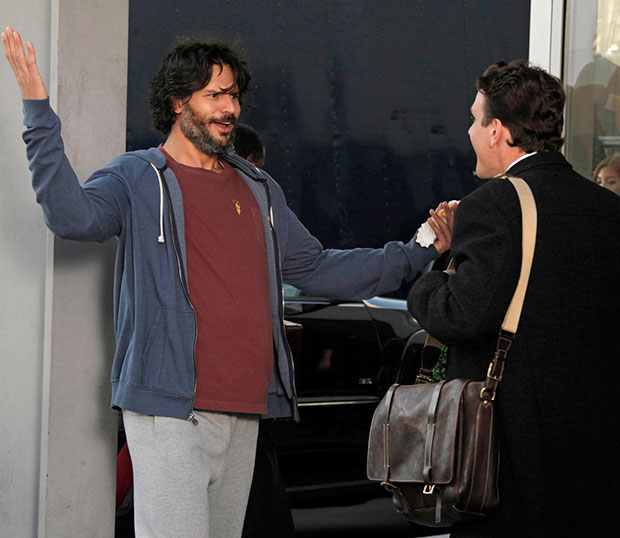 A plotline that earns its very own "We'll get to that later" has Marshall crossing paths once again with his old law school pal Brad (Joe Manganiello). Ostensibly down on his luck and jobless, Brad is given a break thanks to kindhearted Marshall, who convinces his short-tempered (and just plain short — he's played by Joe Lo Truglio) boss to hire the far from acceptable candidate. Marshall's unbridled optimism and humanistic valor are a ready source of mockery at MacLaren's, especially when compared to Lily's far preferable (for some reason) cynicism. But Marshall perseveres, staying true to his love of everything and everyone. He stands up for Brad, even when he botches the interview with aplomb, effectively destroying his own reputation with his boss to the point of hindering his own position at the company. But it's nothing a few well-placed recommendations can't fix: a hilarious viral video of Ted piercing his own ear and the inexplicably delicious combination of caramel and cheddar popcorns, and boom — Marshall's the big dog yet again. But lo and behold, so is Brad… for a rival law firm with which Marshall's is facing off in court. See, the whole ordeal was a scheme by Brad to get up close and personal with Marshall's company, earning all the information he'd need to win his case. I guess How I Met Your Mother isn't concerned with maintaining the sanctity in a fellow who used to be Marshall's close friend; in exchange for an easy plot twist they'll sell old Brad's character down the river. And how does the trial turn out? "We'll get to that later."
As a fervent lover of the very idea of story, I would never go so far as to call any plot line utterly "useless." But Ted's story this week is the closest thing to it. Sparked by jabs about Marshall's propensity to approve of anything and anybody, the gang teams up on Ted, accusing him of only approving of things preapproved — essentially, of never having an original thought. Thus leads Ted to an ill-conceived exploration of hours upon hours of college-era home videos in search of something he once said or did that was, in some way, cutting edge. The result: a whole lot of embarrassing footage followed by his original "stamp of approval" on Lily, an affirmation that she was truly the girl for Marshall when he was having fleeting doubts back during freshman year. And the gods ring out in triumph.
But do you think I'm being too harsh? If so, please feel free to share. In fact, I implore you: tell me all your thoughts on Ted. 'Cause I'd really like to read them. Tell me am I very far… from an accurate depiction of his onscreen misadventures. Damnit, I'm never going to get this song out of my head!
[Photo Credit: Richard Cartwright/CBS (2)]
More:
'iCarly': the Best Sitcom Since 'Arrested Development'?
'The Walking Dead' Recap: Hounded
Secret Santa: What If Your Favorite TV Characters Swapped Presents?

American Music Awards 2012: The Complete Red Carpet Arrivals (PHOTOS)
(Celebuzz)

Justin Bieber, Selena Gomez Seen Together at American Music Awards After-Party
(Celebuzz)