'How I Met Your Mother' React: This Show Still Has Its Heart (Season 9, Episode 3)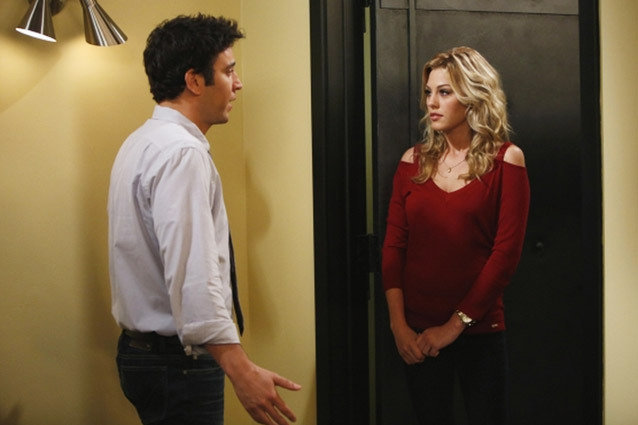 CBS
It's always a little disarming — and more than a little embarrassing, if you're in the company of friends — when a show like How I Met Your Mother makes you tear up. But if in the same half hour of television viewing, you witness hordes of geriatrics swarming like zombies hungry for any mention of Mandy Patinkin and tremble over a heartwarming speech delivered by a woman concerned for her longtime friend's happiness, you've got a pretty good program on your hands. Now, we're likely all in the boat that HIMYM has been running steamless for the past few years. But three episodes in, Season 9 seems to have a little more pep than we've come to expect. Not quite early era pep, but definitely enough to remind us of the show we loved way back when. It's been funnier, livelier, and — as proven by the final moments of this week's ep, "Last Time in New York," even more emotional.
And as has always been the case with How I Met Your Mother, the real meaty emotional moment didn't occur between two lovers. Yes, we feel for Ted when he professes to Robin that he loves her. We're impressed when Robin and Barney showcase their mutual affection despite a ganglion of self-destructive behaviors. But the best, most tearful instances in the show's history have been entirely platonic. I particularly love when Lily, who has grown on me quite a bit since her days of hyper-manipulation, doles out some compassionate advice to her dimwitted chums. In the latest ep, the recipient is Ted, who has vowed to leave New York for good after Robin and Barney tie the knot.
While its present day resonance might pale in comparison to that of days past, what How I Met Your Mother has done consistently well is keep us believing that these people are and should be friends. Ted and Marshall make sense as friends who would have hit it off in college and stayed close throughout the years. Barney is the sort of person who'd attach himself to a guy like Ted and keep his haunches embedded in the marginally cool and intelligent but ostensibly non-threatening, reliable average Joe. And it makes sense that within this beehive of nincompoops, that Lily would serve as confidant for the sadder members of the troupe. Sometimes it's Barney. Occasionally it's Robin. Most often, it's Ted. And thanks to their mutually somber vantage points (a fact that is highlighted in partnership with their tangible bond taking the form of Marshall, the most merry and humanistic of the group by far) and long history together, Ted and Lily have a realistic, meaningful relationship. One that really pays off in moments like the ending of "Last Time in New York."
Lily begins by spelling out all of the reasons she doesn't think Ted should leave, but settles (seeing the misery in the eyes of her friend) on just insisting that he leave on the best terms possible, growing misty herself at the thought of her pal departing with such heartbreak in tow. It's a genuine moment, the likes of which we recall from the earlier seasons, but that is even stronger now thanks to our own extended investment in these people (and nostalgia for their better days). 
So sure, How I Met Your Mother might not consistently manage the wit and oomph of its first few years, but it still has shines of the heart we fell in love with way back when we realized this was more than just a goofy show about a guy who liked a girl he met in a bar. Bravo, HIMYM. Bravo, Lily.
More:
How Will 'How I Met Your Mother' End?
'How I Met Your Mother': The Wedding Season
'HIMYM' Season Finale Recap: OH MY GOD, IT'S HER!
Follow @Michael Arbeiter
| Follow @Hollywood_com
---
From Our Partners


Stars Pose Naked for 'Allure' (Celebuzz)


20 Grisliest TV Deaths of 2012-2013 (Vulture)