'How I Met Your Mother' Recap: Ted and Robin?! Oh, Wait, No, That's Impossible. (Season 8, Episode 23)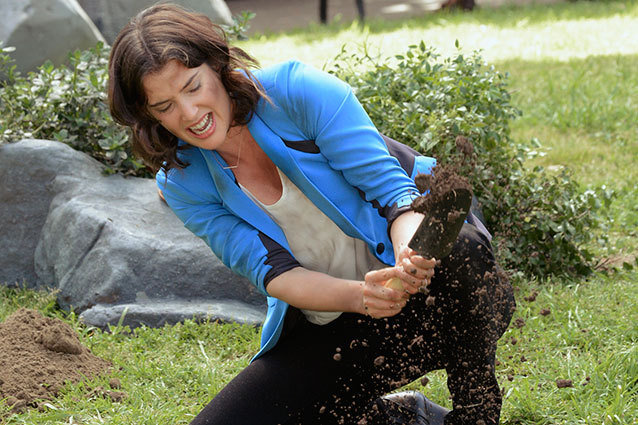 All right, How I Met Your Mother fans. Let's pool our comprehensive knowledge of the long running sitcom, channel our proclivity for scientific reasoning, and think: is there any way, any possibility at all, that Ted and Robin can end up together?
Now, at first glance, the question might inspire a brash "Of course not!" After all, HIMYM introduced the character to Ted's future kids as Aunt Robin, has inserted countless details about Ted's future wife that would contradict a Mosby/Scherbatsky union, and has even flat out revealed that our fair Canadian would never go on to have children. But still… maybe. Just maybe.
It's not even so much that I'd love to see Ted and Robin end up together. I just don't want to endure any more of these romantic teases without so much as a hope that the two might have a future. This week's How I Met Your Mother plants another seed in the "Will they/Won't they?" garden, skewing Robin's attentions from her self-absorbed betrothed Barney to the always-there-for-her Ted.
See, Robin spends the entire episode searching for a locket she buried in Central Park during a teenaged trip to New York with her father. Convincing herself that the piece of jewelry is branded with some cosmic significance, being the determining factor in the question of whether or not she should, indeed, marry Barney, Robin desperately claws through the dirt for hours, while a callous Barney and her equally inattentive father bond over a game of laser tag.
And while her husband to be ignores her subtle pleas for help, Ted picks up on Robin's anxiety and blows off an important business meeting to show up and lend her a hand. And a hand he gives her: a weeping Robin grasps Ted's hand, just as the rain picks up, some temperate music plays, and the credits begin to roll. While Ted tries to quell Robin's worries about the upcoming wedding, his affirmation that there are no "signs from the universe," and that you just have to trust your heart to tell you what you really want, seem to convince Robin that what she wants is, in fact, Ted.
Now, we can assume that this will only act as a segue to the realization that she and Barney might not belong together, and not an actual path toward a reomantic union with Ted. And that's what's so… frustrating. We don't need any more false promises from you, HIMYM. We don't want to be teased anymore. It's been done. The wool has been pulled over our eyes so many times that it's worn translucently thin. It's pretty much just mesh now.
So what's to gain? Having spelled out that Ted and Robin will and cannot end up together, what is the show expecting to convince us with episodes like these? Does it think we just… forget? Does it think we're stupid enough to be unable to do the math? Or does it expect us to be so naive and hopeful that we'll ponder if there is any way, despite all of the hints, that the two can actually work out.
Well, I guess you've got me there, HIMYM.
Follow Michael Arbeiter on twitter @MichaelArbeiter
More:
'Mad Men' Recap: The Great Merger
'Once Upon a Time' Recap: A Darling Take on a Classic Tale
'Game of Thrones' Recap: The Climb Makes Killers of Us All
---
From Our Partners:


Watch Justin Bieber Attacked in Dubai (Celebuzz)


33 Child Stars: Where Are They Now? (Celebuzz)