'How I Met Your Mother' Recap: Stop Dancing Around Like That, Robin! You're Like 35!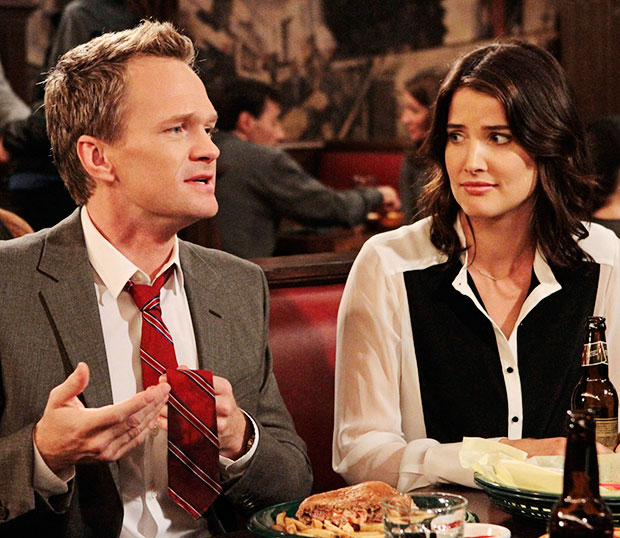 "Wouldn't it be interesting," proposed one Craig Thomas to his friend and writing partner Carter Bays back during their youthful days of creative exploration at Wesleyan University, "to craft a television series around a grown man's recollection of all the paths that led to the union of he and his eventual wife?"
"Perhaps," Bays countered, "but what would really be interesting if we had that same man recalling all the paths that led to the union of his friends Robin and Barney."
"Yes," Thomas agreed. "We should probably just focus on that." And they did. Thus, How I Met Your Mother.
Even as one of the better episodes of the present season, this week's "Lobster Crawl" falters in regards to one incredibly important element: Ted. All season long, with the exception of the filler material involving him with Victoria, Ted has been used as set dressing. He offers a nerdy quip or a… well, actually, no. There is no "or." Even his comedy is pretty one-dimensional these days. Ted is there to push the episodes to their full 22 minutes while Robin and Barney bat around their confusing feelings for one another, and while Lily and Marshall deal with the nonissue of having a kid that can be conveniently placed offstage and forgotten about whenever a scene calls for it.
It's okay to have an episode or two that shafts Ted to the background — his friends, as full and important characters, deserve their due time at the center of the plot. But week after week lately, we learn nothing about Ted or his journey. We don't delve further into his quest to meet the future Mrs. Mosby, but instead pass the time, without witnessing any evolution for the so-called star, until the eventual introduction of whoever she's supposed to be. It's hard to really invest anymore — the show has long run dry on passion.
Sure, even long after The Office tumbled to deplorability did it manage the great sendoff it gave hero Michael Scott. So maybe, just maybe, we'll still manage a wonderful, magical conclusion for Teddy Westside. But with all respect to Josh Radnor, he hasn't yet displayed the tragic sensibilities exhibited by Steve Carell (an underrated dramatic actor, for sure). Furthermore, the four-camera format doesn't lend as generously to fulfilling emotion as does the single camera perspective. But all that aside, acting and direction notwithstanding, it's the writing that dominates. And How I Met Your Mother, while still capable of cranking out a fine joke here or there, or a feasibly well-crafted speech about friendship or love or mayonnaise salads or whatever it be, doesn't hold the golden pen it once did.
This week, Ted plays the devoted babysitter for Lily and Marshall, reveling in all of young Marvin's "firsts" that he witnesses, much to Lily's chagrin. It is realized by the married couple that their friend is overcompensating with Marvin due to the emptiness in his own life resultant of both a lack of family and children and having no projects to work on since he finished designing that building… wait, is anyone else having a hard time remembering Ted finishing a building? Was it a really long time ago, or is it just a really uninteresting plotline?
At the forefront of the episode is Robin, working desperately (and pathetically) to attract Barney sexually in an effort to have one last fling and get him out of her system. In a sequence calling back to HIMYM's favored "The Playbook" episode, Robin attempts a slew of half-cocked ideas (the "damsel in distress" routine, flirting with a bunch of guys in front of him, and putting on a seductive show with another woman) to woo Barney. And this series of scenes, the latter especially, brings up an important question.
How old are these people? On my count, they should be about 35 by now, give or take. Now, I'm not shooing the idea of remaining youthful and fun loving into maturity. But there comes a point at which dancing up on a brain-dead coworker to arouse a dude who says the word "bro" about 18 times a day is no longer charming. Perhaps I'm taking this too seriously, but it isn't funny when Robin wrangles her weathergirl Brandi to turn Barney on, it's uncomfortable. They're too old for this kind of shtick now. On with the mother-meeting, please. Adulthood is inevitable, stop pushing it away!
Robin's final attempt to attract Barney, a candid expression of her desires, is yet another failure. She shows up at his apartment only to find him engaged in a game of Crazy Eights with her nuisance of a coworker Patrice. See, following the Robin/Brandi show, Barney high tails it back to the television studio to sleep with Brandi… before realizing that she and this life are hardly what he really wants. As such, he forms a bond with the earnest Patrice, there working late, and the two begin a courtship of sorts bound to drive Robin batty. She really hates Patrice.
We haven't long until the winter finale — the possible union of Robin and Barney, meeting of Ted and Whoever, jokes-about-sex-and-ghosts of Lily and Marshall. Surely Patrice will serve as some vehicle to get Barney to the altar (whether he'll remain there is as of yet ambiguous). And as much as I have traditionally rooted for Barney and Robin, I'm ready for their back-and-forth to be done with. It's tiresome, crowded, without any of the ballerina's balance that an early seasons Ross and Rachel once shared… and I know, they're always the control group, but what are you gonna do? They kind of nailed it.
So hopefully, we'll soon see Barney and Robin tie the knot for good. Hopefully, we'll see Ted and his wife-to-be find one another. I'm ready for these people to grow up, to start their lives, to get their payoff. I, as do many fans, still hold onto the great characters we once knew. And they deserve to find happiness, once and for all.
[Photo Credit: Carin Baer/Fox]
More:
Staff Picks: The 15 Best TV Shows of 2012 (And the 5 Worst)
The Best and Worst TV Episodes of 2012 — Staff Picks
'Revenge' and the Ridiculous 'Legion of Doom' Moment

Inside 'Bachelorette' Stars Ashley Hebert and J.P. Rosenbaum's Wedding — EXCLUSIVE DETAILS

Mario Lopez, Courtney Mazza's Wedding Pictures Revealed!