'How I Met Your Mother' Recap: Saying Goodbye (and Good Riddance) to the Bro Code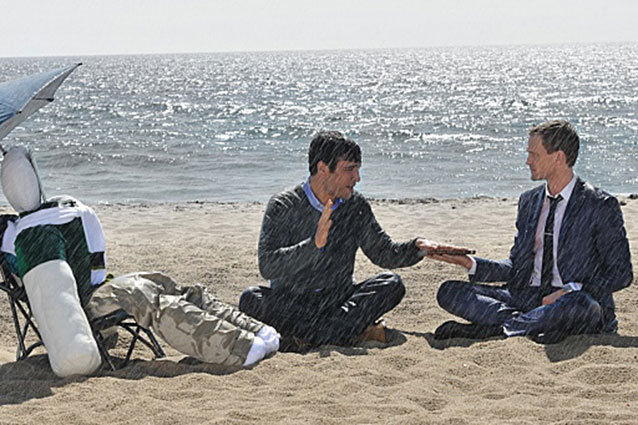 CBS
We can take solace in one thing: it seems like this might have been How I Met Your Mother's send-off to the Bro Code — the most reprehensibly irritating running element in the show's nine season history. After last week's abrupt revelation that Barney was angry with Ted for having rushed to Robin's aid in the park last season (during that whole buried locket debacle), Season 9's fourth episode attacks the tarnished relationship between the two best pals with a painfully insistent presence of the Bro Code, Barney's set of guidelines for loyal, egregiously chauvinistic friendship.
At first, Ted challenges Barney's citation of the code in his castigation of Ted for his inappropriate attentiveness to Robin, but in an ultimate admission of guilt over what might be misplaced intentions with Robin, Ted succumbs to his pal's pseudo-religion in order to make things right. Placing such a great focus on the Code, and capping its story with an ultimate reversal of attitudes about its validity — with Ted finally embracing the Code and Barney, in coming to terms with the fact that he's not so much angry with Ted as he is disappointed in himself for not being the one who was there for Robin, dismissing it as stupid — the episode does indeed look like it might be How I Met Your Mother's way of finally breaking its worst habit.
In addition to its retirement of the obnoxious gag, the episode also trucks slowly along the plotline of Ted realizing that he might never be over Robin. And although we know his future wife is right around the corner, we wonder if these longstanding, overpowering, unconditional, clinically alarming feelings for his best friend's fiancée can ever be put behind him.
It is unlikely that Ted will ever have a normal, healthy platonic friendship with Robin, or that the Cristin Milioti to whom he is destined can ever approach their rapport without even a lingering paranoia. On this token, we don't know for sure that the relationship to follow their union will be an entirely happy one. Maybe Future Ted is so fixated on recounting the days of yore because his present life is jagged and loveless, his heart still beating only for Robin. It might be someething he can never truly get rid of.
But at least he got rid of something else this week: the Bro Code. That horrible, horrible, viciously unfunny Bro Code. Goodbye, you dead weight material.

Footnote: Barney (and the How I Met Your Mother writers) appears to think Christopher Columbus arrived at the Americas in 1776. That is not accurate.
More:
'How I Met Your Mother' Still Has Its Heart
Will 'HIMYM' End in a Nightmare?
'How I Met Your Mother': The Wedding Season
Follow @Michael Arbeiter
| Follow @Hollywood_com
---
From Our Partners


Stars Pose Naked for 'Allure' (Celebuzz)


20 Grisliest TV Deaths of 2012-2013 (Vulture)