'How I Met Your Mother' Recap: The Highlight Is a Math Joke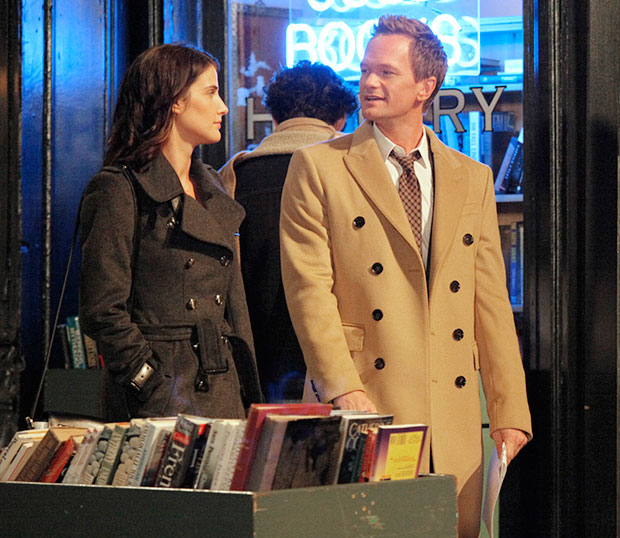 If you're like me, you enter each new episode of How I Met Your Mother with a positive, albeit slightly delusional, attitude. "This is the week!" you say, out loud, to your cold, empty apartment. "This is the week the show gets good again!" It has to happen eventually, doesn't it? After all, it still has the same creative team of Carter Bays and Craig Thomas, the same regular director of Pamela Fryman, the same cast… all the people who wowed us, roped us in, and had us "Laywered"-ing our friends and humming "Let's Go to the Mall" throughout our college years. But the difference between those golden days and these of present seems to be the ostensible effort put into the episodes. "Splitsville," the latest installment of HIMYM, is just another showcase of how lazy the program seems to have become.
Throughout this season, we've been made to understand that all of the featured relationships (Barney's with Quinn, Ted's with Victoria, and Robin's with Nick) are doomed. We lost the first a while back, Ted/Victoria went out the window last week, and so we're left with Robin and her generally formless boyfriend Nick, who has basically taken whatever embodiment necessary to further each episode's story. And this latest shape to which Nick has shifted is the grossest example of lethargic writing yet: he's just stupid now.
When we met Nick, he wasn't much of anything. Since, we've seen him as the hypersensitive type (in contrast to Robin's cold composure), as a devoted boyfriend jealous of Robin's friendships with Ted and Barney, and as just sort of an out-of-touch dork, as exhibited by his trusty scooter and goofy cable access cooking show. But the show needed a reason to end the Nick and Robin relationship, and I guess any of those (seemingly perfectly opportune) characteristics would have been too complicated. So they made him stupid. He's stupid now. That's all he is.
So, Robin wrestles with the decision to break up with her suddenly idiotic boyfriend, provoked to stay with him by his impressive physique and sexual prowess (and by Marshall's insistence that the two remain together, as Nick is the best player on his intramural basketball team). But Barney, claiming to be acting solely in the interests of Robin, blackmails her into ending things with Nick by threatening to invite Robin's obsessive coworker retreat to a "Day of Fun" for the two of them (in case you don't recall: Patrice loves Robin, Robin hates Patrice). Even with this unholy fate facing her, Robin is unable to end things with Nick, prompting Barney to rush to her "aid" and declare himself madly in love with Robin in a speech that he claims to be all for show, but that we know has layers of sincerity.
But here's the issue with that. There has been hardly any immediate lead-up. For the past several weeks, we've been made to understand that Barney has been struggling over his breakup with Quinn. Of course there is the long history between the two characters to back up whatever feelings he might have, but without something more recent to institute the surface presence of these feelings, it seems a little out of the blue and unsubstantiated. Most fans do really want to root for Robin and Barney. But they need a real, vivid, earnest Robin and Barney for which to root. Not just an odd, displaced profession of love planted wherever convenient. Where these characters used to show consistency, they now just operate on a week-by-week basis: whatever works to wrap things up in 22 minutes is what they'll opt for.
But there is one thing I must say on behalf of this episode: it did make me laugh. For the first time in quite a while, How I Met Your Mother landed a joke with aplomb: a visual gag about Ted's architectural skills coming in handy when he determines the ideal angle at which to bounce a basketball in order to score a basket in a heated intramural game. Two points for you, HIMYM.
[Photo Credit: Richard Cartwright/CBS]
More:
'The Voice' Recap: The Power of 12
'Nashville' Get's Full-Season Order, Y'all!
Daniel Radcliffe Plays Young Jon Hamm in Miniseries, Bathes With Him — TRAILER

Selena Gomez Flies Out of Los Angeles Following Justin Bieber Split (PHOTOS)
(Celebuzz)