'How I Met Your Mother' Recap: There's a 'The Wire' Reference, But Not Much Else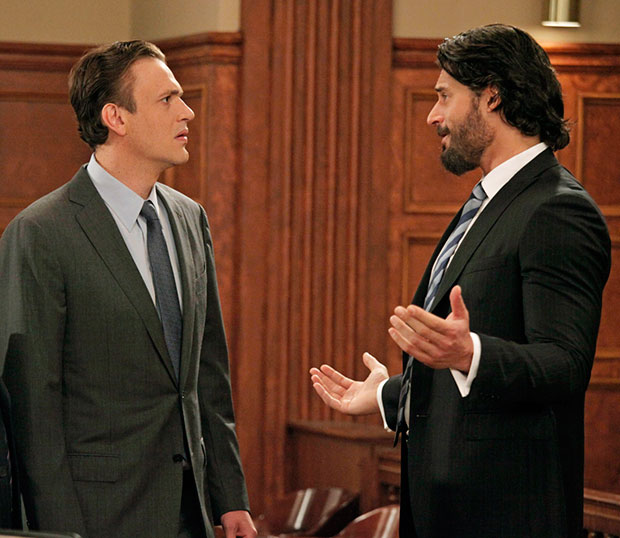 A long time ago, CBS featured a comedy series about a young man living in New York City, enduring relatable ups and downs of adulthood with his clique of best friends, all the while furthering his journey (be he aware of it or not) toward the eventual union with the love of his life.
Somewhere along that line, How I Met Your Mother tossed out the slanted realism, quirky but honest situations, and devotion to character and story development, and instead opted to have Joe Manganiello take his shirt off in a courtroom. Now, that's not in and of itself a problem — nobody is here to make that claim. It's the reality surrounding the toplessness of Alcide Herveaux with which issue should be taken.
Last week, Manganiello revived his recurring character Brad, a law school buddy of Marshall's who seemed to have up the ante in douchebaggery since we last saw him. Brad went undercover at Marshall's law firm, using his old pal's sweet nature against him to muster up some info on the firm's case against a pharmaceutical company that has been polluting Frog Lake (which exists where in the New York metropolitan area, exactly?). Brad is actually representing the defendants, and faces off with Marshall in a trial featured on this week's episode.
Where Marshall comes to court prepared, earnest, and ambitious, Brad opts to channel his god-given physique, wooing the jury of, as Marshall (and the title of the episode) will have viewers understand, "12 horny women." This is where the eye-rolling becomes face-palming.
One dozen adult women, determined by the judicial system to be fit to stand as members of a jury, all systemically fall like helpless victims to the every wink and muscle bulge of a manipulative Manganiello. The judge, as well — whose homosexual urges are played over and over as one wacky punchline — is powerless when Brad struts his stuff. The case is his to lose.
Of all the cheap, thoughtless, idiotic, and lazy ways to give Brad the upper hand in this episode, nothing beats "Brad flexes his bicep and every woman in the room melts into a stammering puddle." The idea that nobody with two X-chromosomes is safe from the smarmy grin of this unshaven behemoth… it'd be downright offensive if it weren't so… stupid.
In the end, Marshall manages to prove the lake dangerous by prompting Brad himself, who has admitted to swimming in the polluted waters, to remove his shirt and reveal the skin rash resultant of the chemicals. However, while Brad's company is found guilty, it is only ordered to pay a small fraction of the desired fee toward cleaning up the natural grounds. However, the silver lining of this story: Marshall's good nature reminds Brad of why he got into law in the first place and convinces the confused traitor to leave the "dark side" and find his way back into environmental law. It also convinces Marshall to begin upon his own new path: at the end of the episode, Marshall files an application to become a judge for New York State.
He'll probably get it.
Meanwhile, the Barney/Robin romance (if you can call it that) takes a minor step forward when, in a scene shafted to the last two minutes of the episode — do the writers even care about these people anymore? — Barney admits to wanting to move past his and Robin's history so they can just be friends. This candor seems to spark something in Robin, although we won't quite see what it is just yet. Hint: there's a wedding, eventually.
And finally, and most notably, a reference to The Wire: a flashback reveals teenaged Lily to have been her neighborhood's Omar Little, whistling "The Farmer in the Dell" whilst sauntering down the alleyways of New York City, emotionally manhandling a frightened young Scooter into joining up with her (little did she know…).
And that's about the size of it. Marshall a judge, Barney and Robin a couple-to-be, Lily a Michael K. Williams of her own, and Ted… was Ted in this episode? Was he looking for a wife, or something? Is he still on this show?
[Photo Credit: Richard Cartwright/CBS]
More:
Cory and Topanga Are In! 'Girl Meets World' Pilot Nabs Danielle Fishel, Ben Savage
'Revolution' Midseason Finale: We Want Answers Before the 4-Month Hiatus!
Blimey, They're British?!? Can You Guess TV's Most Surprising Accents?
You Might Also Like:

Cory and Topanga Are In! Big 'Boy Meets World' Spinoff News